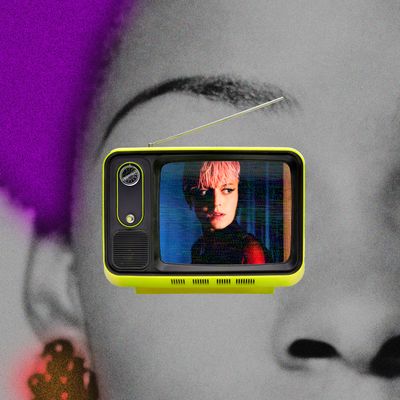 Photo-Illustration: by The Cut; Photos: Christopher Saunders/FX
We get it: There's an overwhelming number of television shows right now. The streaming landscape is an impractical maze, and the good stuff easily gets lost in the shuffle. But most of us can still find one show that cuts through the noise. We call this "appointment viewing" — or the time you carve out in your busy schedule to watch the show you'll want to unpack the next day with your friends while it's still on your mind. Tune in here each month to read what writer Michel Ghanem, a.k.a. @tvscholar, deems worthy of a group-chat deep dive.
Over the last nine installments of "Appointment Viewing," we've covered a handful of buzzy prestige dramas like HBO's The Last of Us and Prime Video's Dead Ringers. This month, fans of Netflix's The OA, rejoice — Brit Marling and Zal Batmanglij return in top form with A Murder at the End of the World, a captivating whodunit miniseries that takes place on an Iceland compound with a stunning performance by Emma Corrin.
Wait, The OA is back?
Well, not quite. That Netflix cult favorite wrapped up in 2019 after a mere two seasons, despite creators Brit Marling and Zal Batmanglij's wishes for a five-season arc. We've been waiting for the filmmaker duo's return in any capacity with eagerness, and FX's A Murder at the End of the World does not disappoint. Although there are reverberations of their Netflix series here, A Murder is very much in its own lane as a whodunit with a standout performance from Emma Corrin as Darby Hart, an amateur sleuth with a penchant for hacking. This is their first starring television role since playing the young Princess Diana on The Crown, for which they were nominated for an Emmy.
After the successful publication of a true-crime nonfiction book about a murder she solved with her now-estranged partner, Bill (Harris Dickinson of Triangle of Sadness fame), Darby is handpicked by tech billionaire Andy (Clive Owen) and his wife, Lee (Brit Marling), to attend a retreat in snowy Iceland with a handful of other uniquely talented individuals. Among the guests: an astronaut played by Alice Braga, a smart city developer played by Joan Chen (yes, from Twin Peaks), and, of course, Bill himself. Once at the compound — which is circular, like the basement prison in The OA — a guest is murdered. But Darby is the daughter of a coroner who spent her childhood seeing dead bodies at crime scenes, and as she later tells another guest, this will be her 57th murder to solve.
Where can I watch it?
A Murder at the End of the World premieres on Hulu with its first two episodes on November 14. Subsequent episodes will air every Tuesday until December 19. All episodes of the limited series are thoughtfully directed by either Marling or Batmanglij and co-written by both of them, but they brought a few other writers to the table — like Melanie Marnich, who previously worked on The OA and is co-showrunner of the upcoming Nicole Kidman–led series Expats, and speculative fiction writer Rebecca Roanhorse. The show was originally set to debut in August but was delayed due to the Hollywood strikes (SAG-AFTRA's strike is still ongoing, meaning the actors will not be promoting this project). As it turns out, the series works better as a "cozy" murder mystery to watch as fall turns to winter.
Okay, but does it get truly weird?
You may want to temper your expectations in this department, at least slightly. Marling and Batmanglij's work has historically walked the line between sci-fi, mysticism, and the supernatural. (Remember those choreographed "movements" on The OA that heal the sick or bring back the dead?) One of the first Marling movies I watched was Another Earth, a 2011 film in which her character comes face-to-face with an identical self from a parallel earth. A Murder at the End of the World is decidedly a more straightforward whodunit.
I went into the series thinking a portal would open to another dimension at some point in the second half of the season, but the writers are much more interested in technology here: deep fakes, AI, facial recognition, DNA, and the lengths the elite one percent will go to in order to survive the eventual climate apocalypse. Owen's Andy is an Elon Musk–type character we've seen satirized repeatedly on television this year, from Alexander Skarsgård on Succession to Jon Hamm on The Morning Show, but he feels fresh because the narrative takes place on Andy's home turf. The Iceland compound's contrast against the endless horizon of untouched snow feels both claustrophobic and apocalyptic, offering a blank slate for a meditation on our acceleration toward an increasingly tech-reliant future.
A Murder is also telling a more character-focused story about Darby herself, who we follow through a current-day timeline and carefully placed flashbacks that recall her and Bill as they work to solve their last cold case together. It's a little bit Girl With the Dragon Tattoo meets The Glass Onion and a good old game of Clue, and if you're paying close enough attention, you might be able to piece together the mystery ahead of the last reveal. I didn't, by the way — I gasped my way through the final exposition monologue, but I'm thankful any time a show is able to outsmart my many, many hours of previous murder-mystery watching.