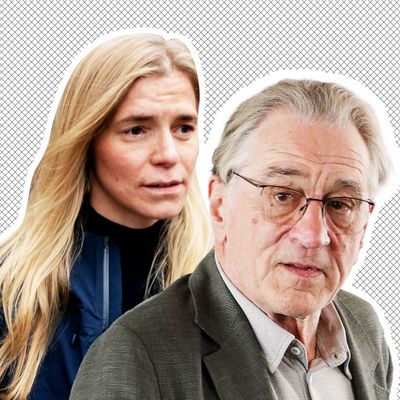 Photo-Illustration: by The Cut; Photos: Getty IImmages
For the past few weeks, Robert De Niro has been in court with one of his former employees, Graham Chase Robinson. The legal battle began in 2019 when De Niro's production company, Canal Productions, sued Robinson shortly after she suddenly left the company, accusing her of embezzling money and binge-watching Netflix while on the job. In a countersuit, Robinson claimed that De Niro had underpaid her, discriminated against her, and generally behaved like an irrationally demanding creep during her time working for him. More than three years later, their dueling lawsuits went to civil trial in New York, where De Niro; his girlfriend, Tiffany Chen; and Robinson all testified with varying levels of drama. Chen accused Robinson of trying to be De Niro's wife, De Niro was forced to apologize for a mid-testimony outburst, and a fair amount of time was devoted to hashing out whether Robinson was authorized to take 5 million Delta SkyMiles from De Niro's account.
Unfortunately for him, it looks like he won't be getting those back: On November 9, after deliberating for five hours, the jury returned their verdict. Though they did not deem De Niro personally liable, they found that Canal Productions had engaged in gender discrimination and retaliation, awarding Robinson $1.26 million. According to The Hollywood Reporter, jurors also decided that Robinson had not stolen the SkyMiles or committed any financial malfeasance. Though De Niro was not present to hear the verdict, his attorney told Deadline, "Obviously, they got it right as to Mr. De Niro, that's for sure. So that's gratifying."
Here, the weirdest details that emerged during the proceedings.
.

Robinson was accused of watching an inordinate amount of Friends while on the job.
In August 2019, Canal Productions sued Robinson for $6 million, citing all the ways she allegedly took advantage of the company and its finances. Robinson was hired as De Niro's assistant in 2008 and, starting in 2017, served as Canal's vice-president of production and finance — a position that was apparently supposed to help prevent employees from using company funds for their own personal gain. Instead, De Niro's lawsuit claimed, she used the corporate card for unauthorized Ubers, thousand-dollar flower arrangements for her own birthday, trips to Dean & DeLuca and Whole Foods, and a lot of meals at a restaurant called Paola's. There was also the aforementioned alleged theft of 5 million frequent-flier miles — more on that later — and falsifying unused vacation time to get reimbursed.
Also, Robinson was accused of devoting "astronomical amounts of time" to streaming popular Netflix shows like Arrested Development and Schitt's Creek while on the job. In what I can only presume to be a pointed, humiliating blow, the documents accuse her of watching 55 hours of Friends in four days.
According to the suit, Robinson abruptly resigned in April 2019 after "suspicions arose" about her "honesty, integrity, work ethic and motivation."
.

Robinson says De Niro discriminated against her and made sexist comments.
In October 2019, Robinson and her attorney filed a $12 million countersuit, claiming that De Niro sued her only to intimidate her after being notified that she was contemplating suing him for gender discrimination. According to her side of the story, De Niro paid her less than male employees with similar jobs, called her a "bitch" and a "brat," and subjected her to "gratuitous unwanted physical contact" while she worked for him. She claimed he often made inappropriate comments, like asking her to imagine him sitting on the toilet in order to properly place his bathroom television, and gave her "stereotypically female job duties" that were "inconsistent with her job title" — including laundry, vacuuming, scratching his back, buttoning his shirts, and waking him up in his hotel room. In a 2019 interview with the New York Times, Robinson called De Niro "verbally abusive" and said she resigned that April because her job had become "so unbearable."
Robinson's legal representation also claimed that Chen had "falsely accused Robinson of being in love with De Niro" and that when Robinson complained about how Chen was treating her, De Niro retaliated, "stripping Robinson of her job duties and driving her to resign."
In a statement released after Robinson's suit was filed, De Niro's attorney called all her allegations "beyond absurd."
.

De Niro admitted to some of Robinson's claims about her job duties, including several back-scratching incidents.
Neither lawsuit saw the light of day until October, when De Niro and Robinson went to civil trial in New York. De Niro testified first, maintaining that Robinson's allegations are "nonsense" but copping to a few instances in which there may have been some truth in her claims. He said he may have asked her to scratch his back — "Okay, twice? You got me!" he exclaimed — and asked her to Uber him a martini from Nobu at 11 p.m. When questioned about calling Robinson to book his son a bus ticket while she was at her grandmother's funeral, he said, "So?" In another line of inquiry, De Niro also said he might have "berated" her and called her a "fucking spoiled brat" after she failed to wake him up for a meeting but was "never abusive." "I've raised my voice," he said. "I don't yell." Later, he reportedly turned to Robinson, who was in court, and said, "Shame on you, Chase Robinson!"
De Niro also addressed Robinson's relationship with Chen while on the stand, admitting that it was tense. Chen, he said, "might have been saying stuff because she was annoyed … because Robinson was disrespectful to her. Period. And that is unacceptable." In screenshots of messages between Chen and De Niro reportedly shown in court, Chen appears to have called Robinson a "nasty bitch" with some "demented imaginary intimacy."
.

One of the biggest sticking points was De Niro's frequent-flier miles.
De Niro seemed especially incensed at Robinson's alleged theft of his 5 million Delta SkyMiles. Although De Niro had approved of Robinson's access to transfer miles, as substantiated in an email shown to the court, he apparently did not realize she would move a whopping $60,000 worth of miles to her own account — miles that he had planned to bequeath to his seven children. "That's all I'm asking," he said on the stand. "Return my things, return my air miles."
.

Chen called Robinson "psychotic" and accused her in court of thinking she was De Niro's wife.
De Niro's girlfriend, Tiffany Chen, with whom he recently welcomed a child, took the stand on Thursday to back up her partner's claims, albeit with slightly stronger language. "She's a mean, insecure, territorial girl," she said of Robinson, accusing the former employee of trying to be De Niro's wife. Chen also called her, at various points, "psychotic," "nuts," "crazy," and "Dr. Jekyll–Mr. Hyde." Apparently, Chen found Robinson's behavior — which she claims included stealing things from De Niro's house — so problematic that she threatened to break up with De Niro if he didn't find a replacement.
.

Robinson testified that De Niro made her scratch his back multiple times.
Following De Niro and Chen, Robinson was questioned in court, alleging that De Niro called her a "bitch" twice during her tenure and made a host of other "creepy" and "disgusting" requests. During one of the back-scratching incidents, she recalled, De Niro told her, "I like the way you do it." She denied being attracted to her former boss, instead describing him as a highly demanding individual who called her at all hours of the night and frequently lashed out. "He yelled at me two days ago," she added, referring to the "Shame on you!" outburst De Niro had unleashed during his own testimony. When questioned about the frequent-flier dispute, she described a prearranged "policy" that allowed her unlimited use of De Niro's SkyMiles and claimed she was told to transfer the miles in the first place instead of getting the $24,000 raise she had requested.
This article has been updated.