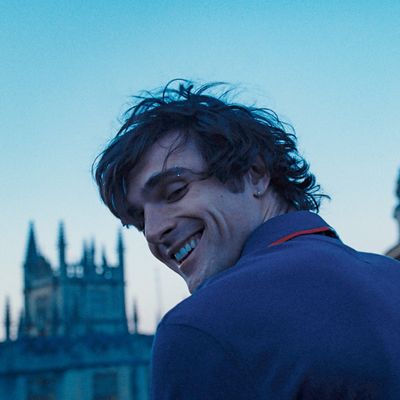 Just wanted to take another look at you(r eyebrow piercing).
Photo: Courtesy of MGM and Amazon Studios
Let's state the obvious: Jacob Elordi is hot in Saltburn. His character, Felix, coasts around his tony boarding school like an Ivy League Adonis, rugby shirts cheekily lopsided and blue-blooded English accent in full swing. Felix is a golden boy — beautiful, popular, rich, carefree — and his irresistible charm immediately captures the attention of Oliver (Barry Keoghan), a loner who claims to come from a broken home and weasels his way into Felix's high-rolling friend group, all the while not-so-secretly drooling over his new buddy. But there's one thing that makes Felix a different beast, that lifts him from a flat trope into something more mysterious: his eyebrow piercing.
The eyebrow piercing is small and mighty, two devastatingly sexy silver orbs that hover above and below Elordi's left eyebrow like a finely chiseled ocular sandwich. Even though these little guys take up maybe two millimeters of Elordi's face, it is impossible not to notice them while gazing up (always up) at him. Obviously, Elordi can wear the hell out of any tiny piece of man jewelry, but he has channeled every ounce of his abundant charisma into these two metal drops for this film. The eyebrow ring looks uniquely at home on his visage, as if it has been waiting all 26 years of his life to claim its rightful place embedded in his face cartilage.
Within the movie, the piercing adds a weirdly alluring punk twist to Felix's preppy vibe, like a rowing captain who sneaks into CBGB on weekends to play drums for a grunge band. It asks questions. It pushes against the constructs we would like to build around Felix and his sartorial choices. The key to understanding this guy has nothing to do with his privilege, his family dynamics, or his penchant for half-unbuttoned oxford shirts. It lies in his eyebrows.
The eyebrow charm only sticks around for the first act of the movie — once Felix brings Oliver to his family's estate, Saltburn, for summer vacation, he explains that his mother won't let him wear eyebrow jewelry at home because she finds it vulgar. Its scarcity works in its favor, so that by the time Felix is unsubtly wearing literal angel wings to a costume party, we can reflect upon the eyebrow piercing with fondness, a relic of simpler times when we were not being hit over the head with cherubic metaphors. Absence makes the heart grow fonder, and for Oliver's entire stay at Saltburn, my heart was yearning for Felix's long-lost eyebrow piercing.
But, you are wondering, can any piece of jewelry really be sexier than Paul Mescal's chain in Normal People? Yes and no. If Connell's chain was a delicate wisp of tenderness revealed only by meditative close-up shots, Felix's eyebrow piercing is a bold declaration quite literally splashed across its wearer's face. It says, "I am piercing, hear me roar." Coincidentally (or not?), Keoghan's character, Oliver, does wear a thin silver chain, in what may or may not be a desperate attempt to exude social clout via jewelry. His rusty little string cowers in the glint of Felix's glorious baubles.
Saltburn is filled with scenes that are high on shock value but low on eroticism: mid-period oral sex, two men reading Harry Potter in the nude, Barry Keoghan fucking a grave. And yet, to me, Felix's eyebrow piercing is non-negotiably hot. If you don't believe me, see for yourself. But be warned — you may find yourself lusting over an eyebrow.