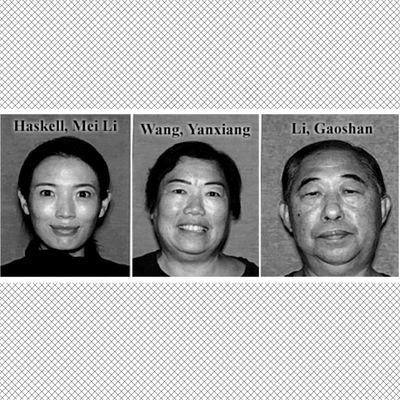 Photo: Los Angeles Police Department/Associated Press
Last week, police in Tarzana, California, received a call about a dead body in a plastic bag in the driveway of a home. However, detective Efren Gutierrez of the Los Angeles Police Department told reporters that when police arrived, "nothing was located." Then, a day later, someone going through dumpsters about five miles away from the residence found what appeared to be a woman's torso.
While the body has not been identified, the New York Times reports that police believe it is Mei Li Haskell, 37, the wife of Samuel Haskell. Mei Li's parents, Yanxiang Wang and Gaoshan Li — who lived with the Haskells — haven't been seen since November 6. Authorities believe they were also murdered, though no additional remains have been found. Haskell, the son of Hollywood agent Sam Haskell III has been charged with three counts of murder. Here's what we know about the case so far.
A group of workers says Haskell hired them to move trash bags from his home the day before a woman's remains were found.
A group of day workers told NBC that Haskell hired them to move three large trash bags from his garage last week. Haskell apparently told them the bags were filled with rocks, but when the workers picked them up, they said they felt soft and soggy. When they opened the bags, "I started seeing body parts, a belly button," one of the workers told NBC. "I was astonished. Of course, I felt bad. We had been tricked."
The workers reportedly returned the bags to Haskell's home and gave him his money back, saying they didn't want to be involved. They say Haskell claimed the bags were Halloween props. The workers later called 911 to report the incident. By the time police arrived at the home, the bags were gone, but authorities say security-camera footage appears to show Haskell throwing something in a dumpster in Encino on the same day. "We suspect that the torso … is the body of Mei Haskell," Deputy District Attorney Beth Silverman said on Monday. "No other bags containing body parts or remains have been recovered to date, but I don't need a body to charge a murder."
Haskell has been charged with three counts of murder "with special circumstances."
According to the Los Angeles Times, when investigators went to the Haskell residence last week, they found blood and "other evidence consistent with a killing and dismemberment." They arrested Haskell on suspicion of murder and he was held on $2 million bail. On Monday, he appeared in court, where he was officially charged with three counts of murder with special circumstances of committing multiple murders. According to the L.A. County district attorney's office, Haskell could face life in prison without the chance of parole if convicted. He is now being held without bail. His arraignment is been scheduled for December 8.
Haskell is the son of a Hollywood agent.
The case has gathered interest in part because of Haskell's family. He is the son of Sam Haskell III, a retired agent with William Morris who once represented A-listers like George Clooney, Ray Romano, and Whoopi Goldberg. Haskell's mother, Mary Haskell, and sister Mary Lane Haskell are both actors.
Per the L.A. Times, Samuel Haskell was arrested and charged with two counts of assault with a deadly weapon in December 2008. He pleaded "no contest" and was put on probation for three years in 2010.
This post has been updated.