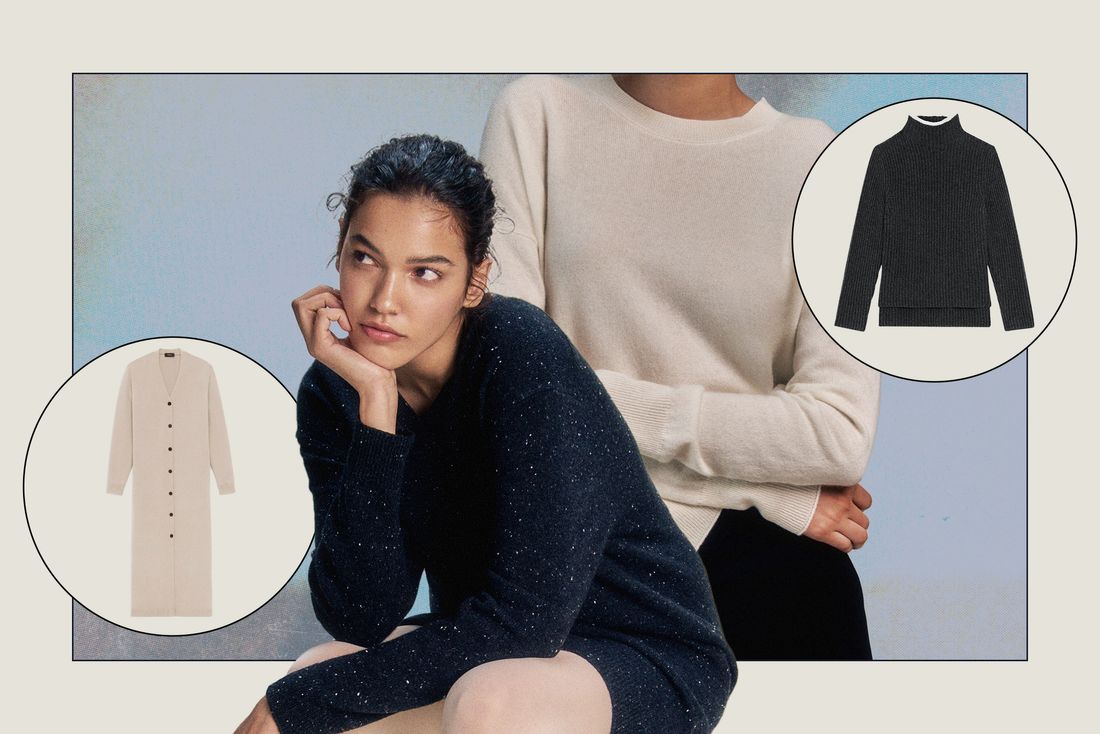 Photo-Illustration: Rebecca Hoskins; Photos: Theory
As someone who takes their sweaters seriously, there are a few lessons I've learned over the years. Hand-washing goes a long way; fold, never hang; and the answer is always cashmere. I've spent years curating products for a living, even longer curating my own wardrobe, and literally minored in textiles, so I feel pretty confident when I declare there is nothing out there that feels as luxuriously comfortable, wears as well, or lasts as long as a cashmere sweater. Just ask yourself these three questions when evaluating knitwear: Does the sweater drape well? Is it soft? Will it last longer than a season? Like I said. The answer's cashmere.
I may be a sweater snob, but funnily enough, I was never a cashmere snob — at least I wasn't until I experienced my first Theory cashmere sweater. The brand may be known for its tailored takes on contemporary classics, but it's how Theory does cashmere that you really need to keep an eye on. The timeless styles, the exceptionally soft hand feel, the innovative new recycled cashmere blend; it's all elite. And all it took was one reverent stroke of the bestselling Karenia Sweater to make me a believer. Remember those three questions? I have a new answer, and it's Theory cashmere.
1. It Drapes Well
I'm convinced you won't understand quite how luxurious a sweater can truly be until you've experienced a single-ply, fine-gauge cashmere one. Cashmere naturally moves with the body and follows the contours of your shape; add to that the delicate fabrication of the Karenia Sweater, and it hangs on your figure more like your favorite tissue-thin T-shirt than a typical sweater. The dropped shoulders and split hem only enhance that relaxed, but sophisticated, fit that's been synonymous with quiet luxury in 2023.
2. It's Soft
Listen, all cashmere is soft (that's what happens when a fabric is knit using the fine fibers combed from a goat's undercoat), but Theory's cashmere is exceptionally so. This season, Theory also introduced new styles, like the Duster Cardigan and V-Neck Sweater, using certified post-consumer recycled cashmere produced by a leading Italian mill that's just as luxurious. But don't just take it from me — you have to feel it to believe it.
3. It'll Last Longer Than a Season
In general, cashmere is known for its longevity. The long, fine fibers are less prone to pilling than shorter, coarser fibers, and don't wrinkle easily, which helps a piece maintain its shape and drape for a long time with minimal upkeep. Durability aside, longevity also comes into play in terms of style. Because they can be so long-lasting, cashmere sweaters are often designed in classic silhouettes so they can serve as wardrobe staples for years to come. But what I appreciate most about Theory's cashmere sweaters is the addition of subtle design details that help make each piece feel more thoughtfully considered. Just like the split hem on the Karenia Sweater that makes it easy to partially tuck, design gestures like the specks of color that mimic the look of tweed in the Donegal knits, or a stylish cropped or dropped shoulder silhouette bring fresh context and personality to timeless shapes. It's details like these that prevent a sweater from feeling tired and ensure I continue to reach for it season after season.
This advertising content was produced in collaboration between Vox Creative and our sponsor, without involvement from Vox Media editorial staff.