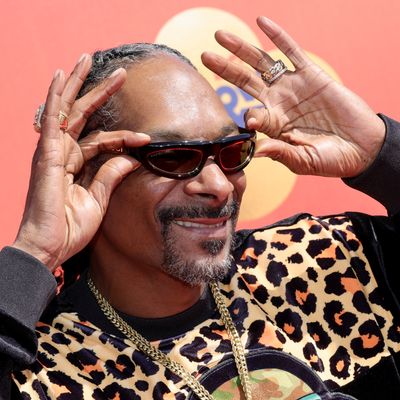 Photo: Emma McIntyre/WireImage
Everyone can relax — Snoop Dogg isn't giving up weed. Last week, when Snoop announced to his millions of followers that after "much consideration & conversation" with his family, he had decided to "give up smoke," he sent fans into a frenzy. Some were confused — marijuana being central to the Snoop ethos — while others assumed he was simply getting ready to launch a line of edibles.
The latter group had the right idea, but instead of edibles, it turns out the rapper was actually teasing his new role as "smokesman" for Solo Stove, a company that makes smokeless firepits.
"I love a good fire outside but the smoke was too much. Solo Stove fixed fire and took out the smoke," Snoop said in a statement announcing the partnership on Monday. The Snoop Stove collection, available now, includes a bonfire, bucket hat, firepit stand, and sticker pack. The bundle costs $350.
Silly of us to so easily believe that a man who enjoys weed daily, employs a professional joint-roller, and owns a marijuana company would abruptly abandon a central part of his persona without any explanation. But honestly, firepits were the last thing we expected.