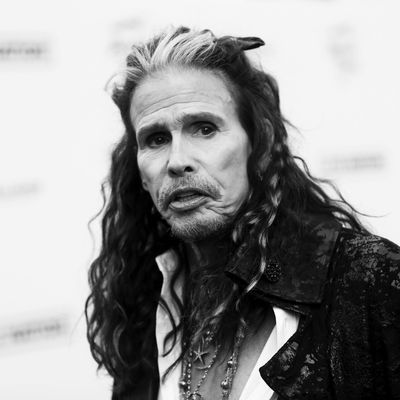 Photo: Phillip Faraone/WireImage/Getty Images
Last week, a woman named Jeanne Bellino filed a lawsuit in New York Supreme Court alleging that Aerosmith's lead singer, Steven Tyler, sexually assaulted her in the 1970s — when she was about 17 years old and he was about 27.
It's the second such lawsuit lodged against Tyler in the past 12 months alone: In December 2022, Julia Misley (formerly Holcomb) sued Tyler on allegations of sexual assault, sexual battery, and intentional infliction of emotional distress of a minor. She says that in 1973, when she was 16 and he was 26, Tyler embarked on a relationship with her, going so far as to become her guardian so that she could travel with him without attracting law enforcement's attention. While Tyler has denied Misley's allegations, he also seemed to confirm her account in his memoir. The Cut has contacted representatives for Tyler for comment and we will update when we hear back.
Here's what we know about both lawsuits.
Bellino alleges that Tyler assaulted her in a phone booth when she was 17.
In a suit filed on November 2, Bellino says she first encountered Tyler around 1975, when she was working as a teen model in Manhattan. Per the BBC, she recalls meeting Aerosmith after a fashion show and walking to an after-party at the Warwick Hotel with the band and their entourage. Bellino alleges that Tyler assaulted her en route after she made a comment about a song lyric and he became "visibly irritated." Bellino claims he grabbed her by the hand and forced her into a phone booth, where he "stuck his tongue down her throat, and put his hands upon her body, her breasts, her buttocks, and her genitals, moving and removing clothing and pinning her against the wall of the phone booth." Per Rolling Stone, the suit goes on to say:
As Tyler was mauling and groping Plaintiff, he was humping her pretending to have sex with Plaintiff. Others stood by outside the phone booth laughing and as passersby watched and witnessed, nobody in the entourage intervened.
When the group got to the hotel, Bellino alleges that Tyler forced himself on her again, this time pinning her against a wall, forcibly kissing her, and trying to convince her to go into a hotel room with him. Once he was upstairs, a hotel employee told Bellino that Tyler was waiting for her in his room. She says that she shook her head and refused to go up, running out of the hotel instead.
The suit says Bellino was hospitalized and medicated because of the alleged incidents and to this day requires medication "to cope with the sexual assault" and its long-term effects on her. The filing also claims that Bellino "has suffered and will continue to suffer, great pain of mind and body, severe and permanent emotional distress, physical manifestations of emotional distress, embarrassment, humiliation, physical, personal & psychological injuries."
Tyler was previously accused of assaulting another teen in the 1970s.
Bellino's suit comes nearly a year after Misley sued the singer for sexual abuse during the same time period, under California's 2019 Child Victims Act. The law temporarily lifted the statute of limitations on sex crimes against minors, making it possible for survivors of childhood abuse to come forward. In December 2022, Misley filed her complaint just before the act's lookback window closed, alleging that the musician began a relationship with her in 1973, when she was 16.
Misley claims that, after she confided in him about her troubled home life, Tyler convinced her mother to give him guardianship over her. That made it possible for Tyler to "travel with, assault and provide alcohol and drugs" to her, the filing contends, while she was "powerless" against his "power, fame and substantial financial ability." Ultimately, the lawsuit alleges, he "coerced and persuaded [her] into believing this was a 'romantic love affair.'" Misley's complaint further accuses Tyler of forcing her to get an abortion when she became pregnant with his child at the age of 17. After having the abortion, Misley returned home and later became a devout Christian anti-abortion activist.
According to Newsweek, Misley said in her complaint that she always planned to move on with her life without mentioning Tyler. As Rolling Stone reports, she has given interviews to far-right outlets and talked about her experience at anti-abortion rallies, but she didn't initially name Tyler in the suit. Nonetheless, his identity was clear because her lawyers pulled heavily from his 2011 memoir. In it, Tyler wrote about the relationship, recalling how when he was 26, he almost "took a teen bride." The girl's parents, he said, "fell in love with me, signed a paper over for me to have custody, so I wouldn't get arrested if I took her out of state." He also acknowledged her young age explicitly, writing that though "she was 16, she knew how to nasty, and there wasn't a hair on it."
Although he didn't name Misley in the chapters, Tyler mentioned her in the book's acknowledgments, which her attorneys have argued "imposed involuntary infamy" on Misley. (She also appeared, as Julia Holcomb, in a 1976 Rolling Stone profile of Aerosmith, which portrays her as Tyler's then-partner.) The lawyers have also said that Tyler portrayed an alleged assault "as a romantic, loving relationship."
Tyler has denied Misley's accusations and claims that the relationship was consensual.
Tyler denied Misley's allegations, and though he conceded that the two had sex, he insisted it was consensual. In April, Tyler asked a judge to strike the portions of Misley's suit that mentioned his book, arguing that what he wrote is protected free speech. According to Vulture, Jeff Anderson, one of Misley's attorneys, previously called Tyler's denial "astonishing, galling, and arrogant." He has not yet responded to Bellino's complaint.