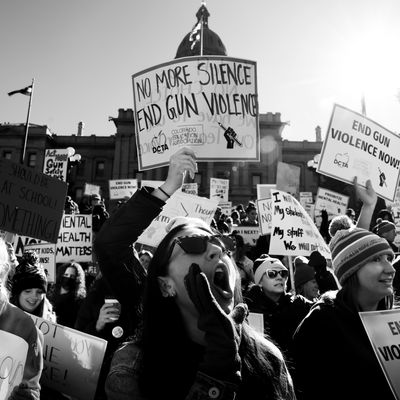 Photo: Michael Ciaglo/Getty Images
On Tuesday, the Supreme Court heard oral arguments in United States v. Rahimi, a case that could dramatically expand gun rights and have deadly consequences for victims of domestic violence. It's the first major gun-rights case since the Court's conservative supermajority broadened the scope of the Second Amendment last year, saying courts must use "the historical tradition" as the standard to evaluate whether gun regulations are unconstitutional. Rahimi will determine whether that decision invalidates a law banning people subject to domestic-violence restraining orders from owning firearms.
Advocates say the restraining-order law, which has been in place since 1994, is one of the most effective tools that survivors — particularly women — have to protect themselves from their abusers. In the United States, women are five times more likely to be killed by their intimate partners when those partners have access to a gun. Here's what to know about the case.
Who is Zackey Rahimi, the man at the center of the case?
The case was brought forward by Zackey Rahimi, a 23-year-old man in Texas. In December 2019, Rahimi got into an argument with his then-girlfriend, with whom he shares a child, and allegedly assaulted her in a parking lot. He was accused of firing a gun at a bystander who tried to intervene; when the woman escaped, he also threatened to shoot her if she told anyone about the incident, according to court records.
A judge placed Rahimi under a domestic-violence restraining order and banned him from possessing guns in February 2020. He violated the restraining order on two occasions, and police say Rahimi was involved in five separate shootings over the next three months, including firing an AR-15 at someone's home over social-media comments; shooting at a driver in a road-rage incident; firing his gun outside a fast-food restaurant after a friend's credit card was declined; shooting a police car; and firing his gun in front of children in a residential neighborhood. Separately, he was charged with aggravated assault after allegedly threatening a different woman with a gun in November 2020.
Police searched Rahimi's home in January 2021. They say they found two firearms, a .45 Glock pistol and a .308 semi-automatic rifle, both of which were illegal due to the restraining order. A grand jury indicted Rahimi on charges of violating the federal law banning him from possessing firearms while under the restraining order. His public defender argued that the 1994 law was unconstitutional and that Rahimi kept the guns for self-defense, which is protected by the Second Amendment.
The argument failed to convince either the federal judge overseeing the case or the Fifth U.S. Circuit Court of Appeals. Rahimi pled guilty to the charges and was sentenced to 73 months in prison and three years of supervised release. He is currently in jail in Fort Worth and awaiting trial on charges connected to the other alleged assaults. This summer, he wrote a letter to a local judge and prosecutors apologizing for his actions and saying he vowed "to stay away from all firearms and weapons," the New York Times reported.
What are the arguments in the case?
After the Supreme Court's July 2022 decision in New York State Rifle & Pistol Association v. Bruen, the Fifth Circuit reversed its previous decision, vacating Rahimi's conviction and ruling that people under restraining orders have a right to own a firearm — even if a court has determined that they are "a credible threat to the physical safety of such intimate partner or child." The Fifth Circuit is notably considered the most conservative appeals court in the nation.
Gun-rights advocates say the restraining-order law violates the Second Amendment. "The Government desires the power to disarm untold thousands of Americans subject to civil protective orders, which are issued based on all manner of marital or relational discord," they argued in an amicus brief filed during the case. They say the law does not fit within the historical tradition, which is the precedent the Court established last year when it struck down New York's century-old law limiting the concealed carry of firearms in public. (Of course, "historical tradition" in this case would date back to a time when women were considered to be their husbands' property, marital rape was legal, and women did not have the right to vote, own property, or keep their own wages.)
However, victim advocates stress that the law is one of the few tools survivors have to stop their domestic abusers from further harming them. In her brief, Solicitor General Elizabeth B. Prelogar reminded the Court that in a separate 2014 gun-rights case, the justices quoted the late senator Paul Wellstone in their majority decision: "All too often, the only difference between a battered woman and a dead woman is the presence of a gun."
What did the justices have to say?
At the hearing on Tuesday, the Court seemed inclined to uphold the restraining-order law and appeared generally skeptical of Matthew Wright, the federal public defender who represents Rahimi. At one point, after Wright seemed to pivot from arguing that the statute isn't rooted in historical tradition to say there was an issue with due process itself, Justice Amy Coney Barrett told Wright she was "so confused." Barrett also said there's no dispute that "someone who poses a risk of domestic violence is dangerous." Justice Elena Kagan also pushed back after Wright acknowledged that other federal regulations, including laws barring people with a history of mental illness from owning firearms, would be in jeopardy if the Court ruled in his favor.
Only Justices Clarence Thomas and Samuel Alito appeared open to striking down the law as unconstitutional. Alito went so far as to parrot the claim of men's-rights activists that courts should dispense protective orders in "he said, she said" cases without considering whether they are needed.
While the Court could rule narrowly in the case, Prelogar in her arguments urged the justices to take the opportunity to clarify the scope of Bruen. She pointed at lower courts' literal interpretation of historical tradition as "a clearly incorrect reading of Bruen" that has led to "untenable results," including competing rulings about the constitutionality of barring felons from owning firearms.
Justice Ketanji Brown Jackson seemed to suggest that Bruen, with its history and tradition framework, should be tossed entirely. She repeatedly asked how it would be possible to apply the Bruen test on the restraining-order law when domestic violence was not understood as a societal problem at the time of the country's founding. Laws disarming enslaved Black people and Indigenous peoples dated back to that era, Jackson also noted, yet they are not considered part of the Bruen framing. "I'm a little troubled by having a history and traditions test that also requires some sort of culling of the history so that only certain people's history counts," she said.
How will the case impact domestic-violence survivors?
There's a mountain of evidence showing the connection between gender-based violence and firearms. On average, about 70 women are shot and killed by an intimate partner in the United States each month. A 2016 study found that about 4.5 million women in the U.S. have been threatened with a firearm by their intimate partner and that nearly 1 million have either been shot or shot at by them. The majority of female homicides in 2020, about 61 percent, were committed with a gun — more than with all other weapons combined, according to a review of FBI data by the Violence Policy Center. According to a new analysis by the gun-safety organization Brady, intimate-partner homicides committed with a firearm increased by 22 percent between 2018 and 2022. And it's not only survivors who are at risk: In the U.S., more than two thirds of mass shooters killed an intimate partner or family member during the shooting or had a history of domestic violence.
Undoing the protection of the restraining-order law would likely leave states and the criminal-justice system with even fewer tools to help curb domestic abuse. The Supreme Court is expected to issue a decision on the case next summer, and the justices have an opportunity to protect survivors by following through on their comments at the hearing to ensure that firearms stay out of the hands of domestic abusers.