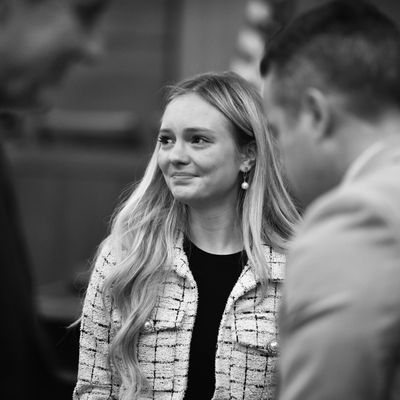 Photo: © POOL PHOTO/Mike Lang/Sarasota Herald-Tribune / USA TODAY NETWORK
A year ago, when this magazine published "What Happened to Maya," about a 10-year-old's mysterious medical condition and the ordeal she suffered at a Florida hospital, it looked as though her family might never get its day in court. The girl, Maya Kowalski, and her father, Jack, had sued Johns Hopkins All Children's Hospital in St. Petersburg for more than $200 million, alleging false imprisonment, medical negligence, battery, fraud, and intentional infliction of emotional distress, among other harms. They'd already secured a $2.5 million settlement with a doctor and a private company involved in Maya's care, but a judge had delayed the larger trial indefinitely, and the Kowalskis worried that their attempt to get justice through the legal system had been thwarted.
Today, that trial finally concluded when a Florida jury found the hospital liable on all counts and awarded the family $211 million.
Maya, who is now 17, took the witness stand two weeks into the proceedings. In October 2016, she had been admitted to All Children's, complaining of excruciating pain. Hospital staff and an investigator specializing in child abuse suspected that Maya's mother, Beata, was harming her, and the state separated the family. Beata died by suicide three months later, and Maya was ultimately returned to her father. The hospital's theory that Maya was a victim of Munchausen by proxy — a rare disorder that has inspired a number of movies and TV series — was never proved.
A Netflix documentary on the case, Take Care of Maya, debuted in June. Its popularity helped the trial, which was televised and broadcast online, go viral on social media with Court TV clips on YouTube routinely drawing more than 100,000 views. On day two, the court heard Jack Kowalski's call to 911 in the moments after his wife's body was discovered. The jury listened as he sobbed into the phone and warned his son, "She's dead. Oh my God. No, Kyle, you can't go in there!" In the courtroom, Maya broke down with her lawyer's arm around her.
In her testimony, Maya recalled being given only an hour with her father after the suicide. "If I'm being completely honest," she told the jury, "it was actually so unbelievably cruel, the amount of time they allocated for me to spend with my family after hearing such awful news."
In its defense, All Children's called expert witnesses who testified that the Kowalski parents' behavior raised legitimate concern, including Beata's request that her daughter be treated with what seemed like a high dose of ketamine. Dr. Elliot Krane, the chief of pain management at Stanford School of Medicine, told jurors that the ketamine doses previously prescribed by Maya's doctors were so high they caused her to develop a tolerance to the drug and that the anesthetic had contributed to her weight loss and abdominal pain.
The jury did not hear one of the case's most alarming revelations: Maya's allegation that a male doctor sexually abused her during her stay at the hospital. She said that a man in a white lab coat entered her room, told her he was going to "take a look," pulled down her shorts and underwear, and examined her for several seconds without explanation. No other staff member was present. At the time, Maya described the encounter to a hospital psychologist, who noted the incident in her medical record. But her attorneys never noticed the document and were unaware of the incident until September. The judge ruled that the matter had been introduced too late to be considered by the jury.
Another sensational moment came on November 1 when defense attorneys revealed photos of Maya that, they argued, cast doubt on her claims of being in persistent pain. In one image, apparently taken before a homecoming dance, Maya sits in a long red dress beside her boyfriend. In another, dressed as a Victoria's Secret Angel, she stands between two girls also in Halloween costumes. Both were taken in October 2023. The New York Post quickly published them under the headline "'Take Care of Maya' Teen Caught Partying in Sexy Outfit After Attorneys Said She Was in Too Much Pain for Court."
Retaking the witness stand, Maya answered questions about the photos. "I cried for an hour to my dad before that picture was taken because of how bad my leg pain was," she said. Maya is thin and fair with long blonde waves, and she speaks quietly but deliberately, her voice becoming more forceful when she recounts an upsetting memory. "I only ended up going because my boyfriend was the one who paid for the ticket, and I felt too bad to say 'no,'" she said, adding that she was dropped off at her school at 9 p.m. and left before 10 p.m.
"What bugs me is this whole concept that Maya's not allowed to be a teenager," Jennifer Anderson, who represents the Kowalskis, told me. "She can never smile for a photo? As if that somehow proves what — that her mom abused her? It doesn't make any sense."
Another of Maya's attorneys, Nick Whitney, told me that in the five years the case progressed through the courts, she had avoided seeking medical care because her records could be obtained by All Children's. "She's never had the opportunity to seek the counseling that she really needs for fear that they'll use it against her," he said. Any time Maya has seen a doctor — her dentist, dermatologist, or psychiatrist — the detailed medical records, including therapy notes, were subpoenaed by defense attorneys. She testified to the jury that she had never seen a gynecologist and once waited days to seek treatment after she broke her pinkie playing football.
The jury needed little more than a day to reach a verdict.
My calls to Maya and Jack Kowalski after the verdict went unanswered. Howard Hunter, an attorney for All Children's, said the hospital plans to appeal "based on clear and prejudicial errors throughout the trial and deliberate conduct by plaintiff's counsel that misled the jury." He added, "The facts and the law remain on our side, and we will continue to defend the lifesaving and compassionate care provided to Maya Kowalski by the physicians, nurses, and staff of Johns Hopkins All Children's Hospital and the responsibility of all mandatory reporters in Florida to speak up if they suspect child abuse."