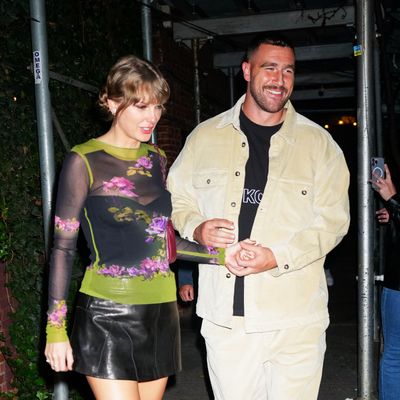 It was a big weekend for Swifties, Chiefs fans, and the many people who can't get enough of Taylor Swift and Travis Kelce's budding relationship. Following weeks of increasingly public appearances, they finally gave us a little kiss. And in Argentina, no less.
After teasing on his podcast that he was considering taking a trip "somewhere sunny" and "close to the equator," Kelce was seen arriving in Argentina on Friday. He would have been just in time for Swift's Friday Buenos Aires Eras Tour performance if she hadn't had to postpone because of rain. Thankfully, the two found time to enjoy a "low-key-dinner" in a private room at Elena, a restaurant at the Four Seasons, where they were reportedly "beaming." 
Kelce got to see Taylor perform the following night, when she made his presence known in a big way. While performing her song "Karma," Swift gave a not-so-subtle nod to her new man, changing the lyrics to "Karma is the guy on the Chiefs, coming straight home to me." Of course, the crowd went wild. Kelce, who was in the VIP tent with Swift's dad, wearing a floral button-down, seemed to take the callout in stride:
After the performance, video shows Taylor running into Kelce's arms before giving him a very dramatic kiss. Seems safe to say they both had a pretty good weekend.