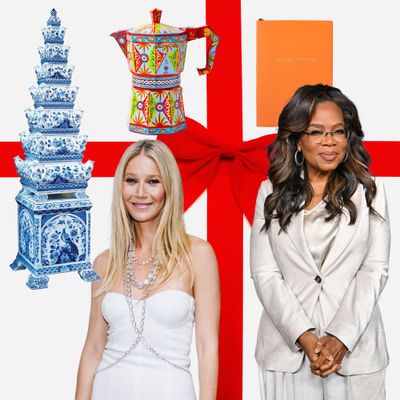 Photo-Illustration: by The Cut; Photos: Getty Images, Retailers
A holiday gift guide can be so many things: a list of the year's popular presents, recommendations for unique gifting ideas, a compilation of overpriced goods, the word candle written several dozen times. In 2023, these lists are so ubiquitous that finding a good holiday gift guide has become as difficult as finding a gift itself. Bah, humbug!
If you're feeling spoilt for choice, fear not. Whether you're looking for an influencer-approved present, suggestions from industry experts, or an excuse to shake your head and say "Oh, Gwenyth," this list has got you covered.
Here is a guide to 15 holiday gift guides from influencers, celebrities, and brands.
For the Person Who's Impossible to Shop For
Nobody is doing it like the Uncommon Goods holiday gift guide. It's got something for everyone, you included. Each suggestion has a name that sounds like the result of putting a bunch of nouns and a couple of adjectives into a hat and picking at random: Peanut Butter Sampler, Glitter Heart Toilet Bombs, Poop Bingo, Custom Message Shortbread Cookies. Every time I see the name Uncommon Goods, I'm dubious — how uncommon can these goods really be? And yet every time I look at the site, I find at least one uncommon good I genuinely want.
Best Gift: Unzipped Glass Zipper Bag
For the Friend Who Appreciates Catalogue Snark
As a high-end kitchen and home-goods retailer, Williams-Sonoma offers an annual holiday gift guide that makes for an excellent hate read. The suggestions range from the approachably kitsch (Novelty Mitten Tongs, $23) to the out-there but sure (Premium Caviar, $349) to the fully deranged (Bouquet of Faux White Roses, $1,200). Something for everyone!
Most deranged suggestion: Bialetti Moka Dolce & Gabbana Espresso Maker, $3,000
For Your Artsy Friends
We all know the magnetism of a museum gift shop. Do you currently have the wall space for a Monet print? No, but still it calls to you. Do you really need a heart-shaped stress ball that says "Nothing Matters"? No, you need two. Your local art museum's gift shop will have everything for the friend whose art-history degree is now a gorgeous piece of décor, but you should also check out gift guides from the Getty, MoMA, and the Tenement Museum.
Best gift (Getty): Monet-inspired Crayon Sticks
Best gift (Tenement Museum): Chicken Handbag
Best gift (MoMA):  Eight skateboards with Andy Warhol's Campbell's Soup Can prints
For Oprah-Approved Gifts
The No. 1 best place to get a list of Oprah Winfrey's favorite things is in her annual Oprah's Favorite Things gift guide. It's like the analogue, longform version of an influencer's shopping haul, and it has the range: a medium Telfar bag in grape; a VR headset; and an apple cake that Amazon currently lists as unavailable, but the real story here is that you can buy a whole cake on Amazon?
Gift that makes me want to check in on Oprah: "I'm Dead. Now What?," a journal to keep track of important documents about your belongings, business affairs, and wishes.
For Your Friends
Courteney Cox's holiday guide in Forbes lists gift ideas for all kinds of friends. (Or should I say Friends? Do you get it?) What does your work friend want? A Dermalogica Best Cleanse and Glow gift set ($109), of course. Your tech-savvy friend? A Blink Home Bundle Video Doorbell System ($102). You're welcome, besties!
Best Gift: Room deodorant for your friend with the stinkiest ass
For Gifts to Feel Like a Morning News Anchor
I know what you've been thinking: When is Katie Couric gonna tell me what to get my dad? Well, the time is now, and it's a pickleball set. The vibe of Couric's gift guide is simply "Katie Couric" in that every item looks like something I could absolutely imagine her enjoying.
Most Katie Couric gift: Nutribullet
For Letting the Rain Fall Down and Wake Your Dreams
Kristin Cavallari emailed her holiday gift ideas to Good Morning America, according to her gift guide published by GMA. The ideas are as follows: candle, phone case, massage thingie, a mask for migraines, coffee. Sure!
Gift that 2004 Kristin would bully 2023 Kristin for wearing: TheraICE migraine-relief mask
For Reading in Elizabeth Holmes's (Formerly?) Deep Voice
Ever the overachiever, Amanda Seyfried made a holiday gift guide for Good Morning America and Town & Country. There is only one (1) item that overlaps the two guides, which I applaud. However, she, like Kristin Cavallari, also recommends the TheraICE migraine-relief mask. Conspiracy? Otherwise, her gift guide, like Seyfried herself, can best be described as "cozy intellectual."
Best Nanotainer Dupe: Sisters of the Valley Plus CBD Gel Caps
For Your Muse
Julia Fox did not hand-select the items on her holiday gift guide. However, she did do a holiday interview with SSENSE in which she talked about the kinds of gifts she likes to give (anything vintage, and regifting is fine) and receive (a "cheap PC" that she used to play The Sims).
Gift from SSENSE's holiday guide that I would like Julia's perspective on: Blue Heirloom Tomato candle
For Your Friend Who Goes to Church But Not Like That
Joanna Gaines's holiday gift guide is, of course, a curated list of items from her brand, Magnolia. Entertainment Tonight's compilation of the list says a bunch of the products were formerly on sale "in honor of her right-hand man [husband] Chip's birthday." As of publication, gifts are back to full price, which I take to mean there is only one birthday that matters this season: Chip Gaines's. Since that already happened, now you have to pay the full $48 if you want Magnolia's Gingerbread House Bundt Cake Pan.
Notable Gift: Seager Farrier Mesh Hat
For Someone Who's Worth the $$$
Vogue's holiday gift guide includes 100+ ideas from "tastemakers" such as Gigi Hadid (Haricot Vert earrings), Ashley Graham (Prada Kitten Heels), and Chloë Sevigny (New Balance x Miu Miu sneakers). So if you're stuck on what to give someone this year, have you tried looking at luxury designer clothes? Okay, well, try harder.
Best gift for pacing the corridors like a hot ghost: Naomi Watts's suggested Orelle Nightgown
For Your Cool Friend
Like Amanda Seyfried, Emma Chamberlain has contributed to a couple of holiday gift guides, including one for her collection with Levi's and another for Google. Her Chamberlain Coffee line also has a bunch of coffee and tea accoutrements that would make great gifts.
Best Gift: A portable mid-century-style lamp but not any specific one. Because this was part of Google's guide, the link just takes you to the shopping search results for "shop portable mid-century lamps." Emma can't do everything for you!
For Gifts That Will Make You Look Cool
Rayne Fisher-Quann's newsletter, Internet Princess, is one of the few I get that I actually read every time. This is both a compliment to the newsletter and a brag about my excellent taste. Fisher-Quann describes this year's list as "a novella-length gift guide of biblical proportions, assembled with love by some of the coolest people on and off the internet."
Best Gift: Artist Harmony Tividad suggests giving multiple cans of whipped cream.
For Shaking Your Damn Head At
You know her. You love her. She is the Goop holiday gift guide. Gwenyth Paltrow and her health-slash-wellness-slash-vaginal-egg-peddling brand don't merely put out annual lists of gift ideas; they create performance art, classic literature, a conversation on what a gift guide even is. If you turn to Goop for its "Ridiculous But Awesome" gift ideas, it will not suggest a novelty candle or a tea towel that reads "fuck." Instead, the Goop gift guide will look you dead in the eye and say, "Rent an island in Fiji for $39,500 per night." And you will say, "Oh my God, why didn't I think of that?"
Gift of Distinction: This gong
For You to Send to the Group Chat
Poosh is Kourtney Kardashian's health-wellness-slash-Goop-dupe brand. If you're wondering how it compares to its foremother, Poosh's Kardashian and Jenner gift guide gives you your answer. Whereas Goop's gift recommendations span ten guides — each with a couple dozen suggestions that are more perverted than the last — Poosh's offers a whopping ten ideas. They aren't inventive, but at least they aren't affordable either. Kim suggests a face mask from her SKKN BY KIM line ($81), and Kendall's contribution is a face-sculpting Contour Cube, which is ultimately a $24 ice cube. Unfortunately, there is no gift-giving suggestion from the family's preeminent style icon, North West.
Gift of Distinction: "El Reverso" set ($350)