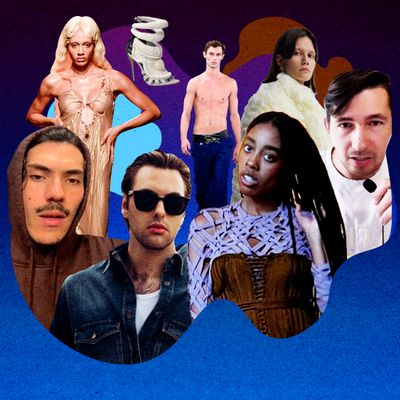 Photo-Illustration: by The Cut; Photos: by The Cut; Photos: @ly.as0/TikTok, @highendhomo/Instagram, @alyssamosley_/TikTok, @ideservecouture/Instagram, Getty Images, Phoebe Philo
If there is one thing to be said about fashion folks, it's that they are going to have a hot take. And in 2023, we saw the rise of hot takes. They debated whether Phoebe Philo's highly anticipated namesake brand was worth the outrageous price; and whether Kylie Jenner's KHY was an unsustainable endeavor or an excellent example of celebrity marketing. When Daniel Lee showed his first collection for Burberry earlier this year, everyone had a take, especially about the £3,000 wool duck beanies. In fashion, now everyone's a critic.
Over the past year, Lyas Medini, a French influencer who recently gained popularity through a fashion-history-based photo-quiz app, Fenzy, now posts long-winded examinations of runways, like one that interprets how Sarah Burton's last Mcqueen show demonstrates a woman unbinding herself from the shame of menstruation. His account has garnered over 86,300 followers on TikTok and 4.5 million likes. Other creators such as stylist Alyssa Mosley, Dublin-based content creator Jasmine Darya, and author Pia Carter, have also fine-tuned their videos to transform their content from styling, hauls, and trend predictions, into larger analyses and criticisms of the industry as a whole.
"The modern influencer is waking up to the reality that to stand out from the archive-reposters, they need to add something to the conversation," said Hunter Shires of High End Homo, a Twitter user-turned-blogger. "The most valuable addition to the space is the power of personal opinion." Shires shifted his account in 2023 from archival-image scans to what he refers to as "Chris Black–inspired" cultural analysis and fashion commentary once he felt he had built his personal Rolodex of fashion history, such as runway references and iconic editorials, alongside engaging with his audience base. "Having an opinion is the literal job," he explains. "Opinions are definitely a form of currency in this industry."
Hanan Besovic, the creator behind the popular account IDeserveCouture, thinks that this is a way for like-minded creators to help boost each other's content: "I am someone that is sooner going to follow someone with an opinion than someone that just posts outfits, but that's just me." Too often, real criticism is seen as taboo, in fear of scaring off advertisers or a seat at the runway show, however, Besovic sees it as an opportunity for fashion-minded people across professions, whether a sales, journalism, or archival background, to come together at the table and share insights.
While trying to stand out against this season's hottest noise, Besovic offers some thoughtful advice to fellow creators, "Always look out for your community because they are the reason why you are there. We are all replaceable. So, be nice, be respectful, and be kind. That's the secret to success I believe."