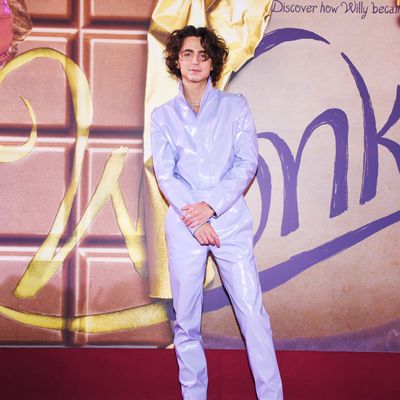 Illustration: Warner Bros
Maybe you've heard that Timothée Chalamet — beautiful boy, arbiter of doom, king of mind-altering fashion — is playing Willy Wonka. Not the Willy Wonka we know and love (?), but a younger version, one that sings, dances, and bravely goes toe to toe with the chocolate cartel, whatever that is. Nobody asked for an origin story of the Oompa-Loompas' boss, but I am at least glad Timmy was involved in such an endeavor because it turns out Wonka has really gotten our guy's creative juices flowing, clothing-wise. First, he arrived in Tokyo shrouded in a latex robe straight out of either The Matrix or Khy's debut collection. Then he channeled a Laffy Taffy for his premiere outfit. His mind!
The suit in question, a custom Prada shirt-and-pant set, appears to also be latex and lends Timmy the look (and smell, I hope) of a waxen grape-flavored candy. His lanky physique gives us the sense that he has been stretched, Violet Beauregarde style, into a bendy expanse of pure sugar. If Eddie Murphy's Raw getup lies on one end of the purple-suit spectrum, this concoction dwells on the direct opposite, a pastel fever dream designed specifically for cooking up magical candy and sending children down tubes of molten chocolate. Its sheer Wonka-ness is so powerful that Timmy felt inspired to serenade Hugh Grant with the Oompa-Loompa song onstage:
I must tip my tattered stovepipe hat.