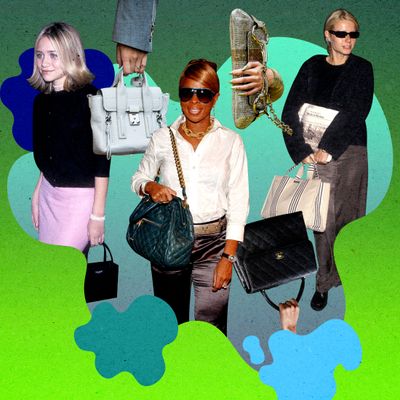 Photo-Illustration: by The Cut; Photos: Getty IImages
For more of the Cut's favorite fashion, beauty, and home finds, sign up for the weekly Cut Shop newsletter.
There isn't necessarily anything groundbreaking about a brand tapping into its archives. Designers do it all the time: Maria Grazia Chiuri revived Dior's cult-favorite Saddle bag in 2018, nearly two decades after its spring 2000 debut. Miuccia Prada routinely references herself, as demonstrated by the 2022 relaunch of the house's "1995" tote. Meanwhile, one of Karl Lagerfeld's legacies at Chanel is the rebirth of the 2.55 bag in 2005, commemorating its 50th anniversary. Even so, the past year has been marked by a strong feeling of déjà vu, many of the top-trending handbag styles mirroring what was popular 20 years ago.
"Amid the Y2K resurgence, sparked in part by pandemic-induced nostalgia, I think people still (and will always) crave the comfort of bygone days," Fashionphile content director Danielle Gumina says. She goes on to explain how this penchant for the past has influenced the microtrends making the rounds on TikTok, aesthetics like "old money" and "rom-com core" drawing on and perpetuating the appeal of earlier decades. The modern reinterpretation of classic styles creates an influx of reissued designs, Gumina explains: "The aim is to both satisfy vintage enthusiasts and attract newcomers."
Below, our favorite designer bags to make a comeback this year.
Chanel Nano Shopping Bag
Inspired by the Kelly bag, a classic top-handle design from the '80s and '90s, Chanel's new Nano Shopping Bag has many of the original's familiar features. But new colorways and updated details ensure it feels relevant for 2023. The formerly thin handle, for example, was replaced with a heftier design, while the Nano's extra-plush quilting goes hand in hand with fashion's current penchant for exaggerated proportions. "[The Nano] is decorated with modern twists but still screams classic Chanel," says Gumina. "And we have more sizes to choose from, too."
Coach Swing Bag
Coach prides itself on creating timeless bags, which is why the leather brand frequently dips into past collections. The Swing bag is the latest example, its sleek silhouette inspired by a reimagined 1998 design. It's currently trending on TikTok with #CoachSwingZip having racked up over 3.2 million views on the app at the time of writing. "I'm seeing a lot of '90s-style shoulder bags that are more elongated and rectangular," Gumina notes. "In essence, I think it's about giving people a blend of the old and the new, where the past seamlessly meets the present in the very best way."
Gucci Horsebit Chain Bag
The OG Horsebit shoulder-bag-and-clutch hybrid debuted alongside the fall-winter 2003 collection, its functionality on full display as models carried the style both in hand and by its strap. It made a reappearance 20 years later in a slew of revamped shapes and colors. "Some of the new Gucci Horsebit clutches from the fall-winter 2023 collection are much longer and bigger in size with a maximized Horsebit motif compared to the Tom Ford–era clutches," says Danni Dance, a luxury-bag reseller and the founder of the Hosta. Dance adds that the silhouette charts high on most collectors' lists and that its resurgence "sent the value of the original vintage models through the roof."
Marc Jacobs Stam Bag
This past spring, Marc Jacobs brought back its Stam bag in a Y2K-inspired campaign featuring style icons of the time, including Ashanti, Paris Hilton, and its namesake, Canadian model Jessica Stam. The bag originally debuted on the fall-winter 2005 runway and was seen on the likes of Beyoncé and Rihanna not long after. The reissue comes in two sizes and four colors, priced anywhere between $995 and $1,500. If you're looking to snag one of the OG bags, they usually cost around $200 — but they're few and far between at secondhand luxury retailers. When you find one you like, it's best to act fast.
Kate Spade Sam Bag
When Kate Spade released the Sam bag in 1993, she wanted to create something timeless with personality. The result was a structured and boxy model — not quite a tote but with dual top handles for easy wear. When it launched, it immediately appeared on Mary-Kate and Ashley Olsen as well as actress turned Goop founder Gwyneth Paltrow. This year, the brand commemorated its 30th anniversary by reintroducing the inaugural design for spring. The next generation comes in both leather and 100 percent recycled nylon as well as a host of new styles, including a crescent shape. Of the variety of new colorways and "design upgrades," Gumina notes, "It's a way to keep things fresh and relevant."
3.1 Phillip Lim Pashli Bag
Phillip Lim's Pashli bag has been a constant in the brand's collection since its debut for fall-winter 2011. Achieving cult status almost as soon as it hit the shelves, the totelike design was made for seamless transitions between day and night. From the original Gossip Girl series to paparazzi shots of Reese Witherspoon and Emma Roberts, the bag popped up everywhere, overnight. Today, the classic Pashli, with its vertical double zippers, has evolved in exciting ways. From Pashli Shoulder bag, Pashli Modern Hobo, Pashli Micro Chain, and Pashli Kit Crossbody, the brand has kept its signature double-lock hardware through each iteration while modernizing the shape. (The original Pashli, in medium, mini, and nano sizes, is still available in many colors and fabrications.)
Prada Tessuto Moon Bag
When the crescent-shaped Tessuto Moon bag first entered the market in 2002, its discreet features — a buckle detail and distinctive triangular plaque — set it apart from the flashier options dominating the market at the time. Its no-frills design differs only slightly from this year's take, but whereas older models were made primarily of Prada's signature nylon shell fabric and canvas, 2023's Re-Edition Moon bag has a padded silhouette that aligns with the current "puffification" of the industry. It's available in a rainbow of Y2K colors, including jade green, yellow, and pink.
Proenza Schouler PS1 Shoulder Bag
After "taking a break" from its signature PS1 bag, Proenza Schouler brought back the design for the fall-winter 2023 season. If you need a refresher, the workwear-inspired satchel made its first appearance in 2009 and became instantly recognizable by its buckles and twist-lock front flap. Famous fans of the bag included Khloé Kardashian, Jessica Alba, and Nicky Hilton. With all the same features of the original, 2023 iterations include what designer Jack McCollough calls a hybrid between the PS1 and PS11 styles. The result? A soft, slightly slouchy silhouette that can be carried in the palm of your hand, as seen on the runway.