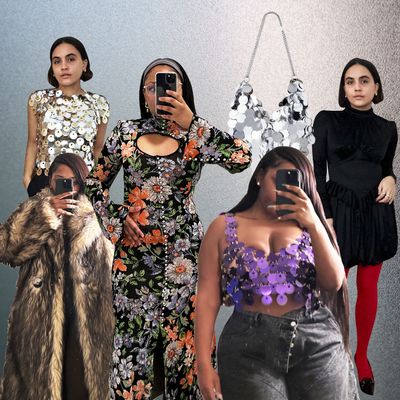 Photo-Illustration: by The Cut
H&M debuted its collaboration with the shiny French brand now known as Rabanne. They hosted a very fun party in Paris during Fashion Week, and also a party last night with Chloë Sevigny, Emily Ratajkowski, and Paloma Elsesser. We tried samples of the collection on different body types, from a 4 to a 12. Overall, given the metal fabric, fit was an issue for things that didn't include snaps or buttons for easier access. The price point was also higher than most H&M pieces, but significantly lower than Rabanne, which makes it a good opinion for some. If you are eyeing a piece, look no further; we have you covered.
Chinea Rodriguez, shopping writer
What she tried: Knit cut-out dress.
How did it fit? Small. I spent a few minutes attempting to put on the top from the matching set before admitting defeat. This knit dress had several buttons — making it admittedly pretty tedious to get on — but it was stretchy, comfortable, and flattering. It's a good bet for winter parties.
Would you buy it? Why or why not? No. I liked the dress, but not enough to spend $200.
Joanna Nikas, deputy style editor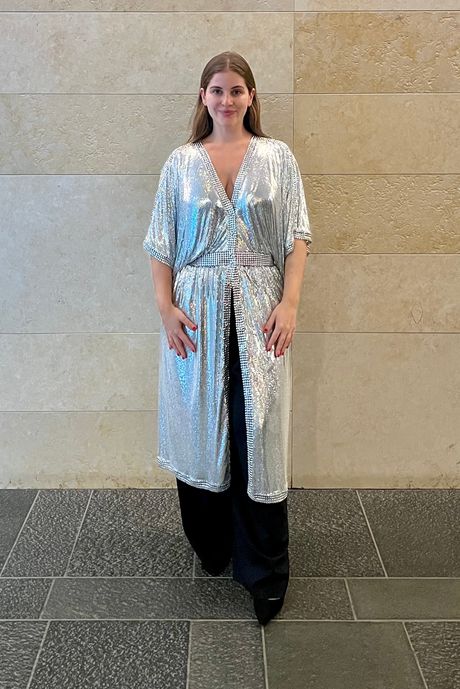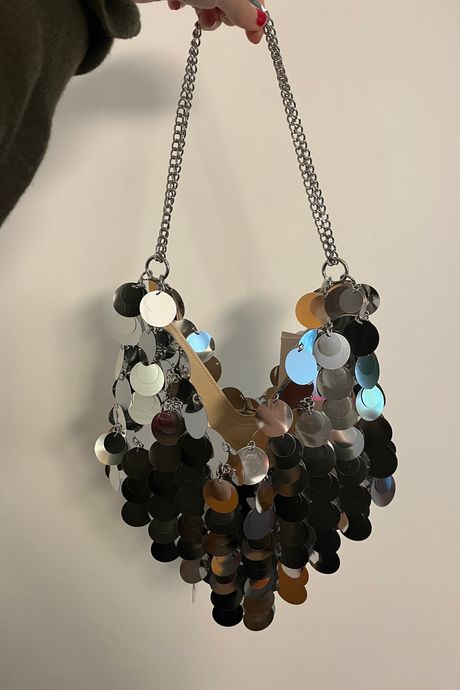 What she tried: A mesh tunic dress.
How did it fit? True to size. The dress includes snap fasteners down the front, making it easy to get on and layer. I decided to wear mine over pants for more of a tunic look, but I also tried it without pants and it fit really nicely.
Would you buy it? Why or why not? The $749 price tag would deter me personally. However, if you are in the market for Rabanne, which normally retails for thousands of dollars, it is a good purchase. The quality is really beautiful, and it feels weighty (albeit a little cold to the touch.)
What she tried: A disc-embellished shoulder bag.
Would you buy it? Why or why not? Yes. For under $300, this is a great price point for a Rabanne bag, and the quality looks like the real thing — the interior of the bag is really beautiful done. It will dress up any look, holiday or not.
Asia Milia Ware, fashion and beauty writer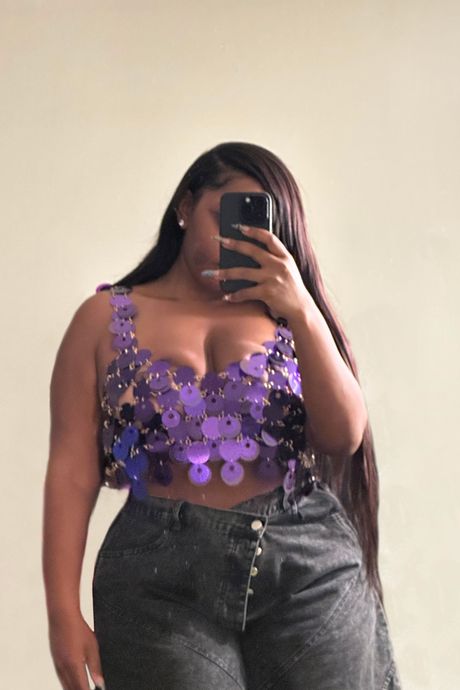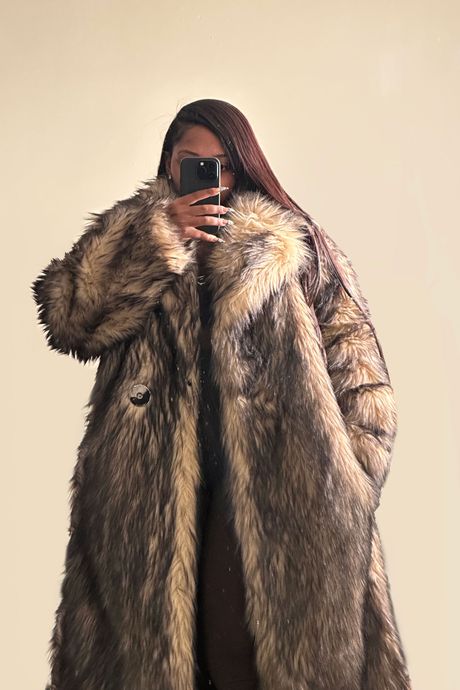 What she tried: Chainmail crop top.
How did it fit? True to size. I'm a size 12, and the chainmail top in a large fit me. But I'd definitely have to use boob tape or nipple covers if I wore it out. The skirt, which was a size large, was a totally different story. Because of the material, I was scared to keep trying to pull the skirt up because I didn't want it to pop. I wasn't too surprised that the skirt didn't fit, given the material. But I can normally wear a large in H&M.
Would you buy it? Why or why not? No. I'd want to wear the top and skirt as a set, and the sizing of the skirt is not forgiving. The pricing of the chainmail set is fairly good, though, considering they're signature Rabanne pieces.
What you tried: Faux-fur coat.
How did it fit? True to size. The coat fits great; it was slightly oversized but didn't feel boxy.
Would you buy it? Yes. As a native New Yorker, I invest in statement coats no matter how much they are. And this one is giving main-character energy.
 Bianca Nieves, senior shopping editor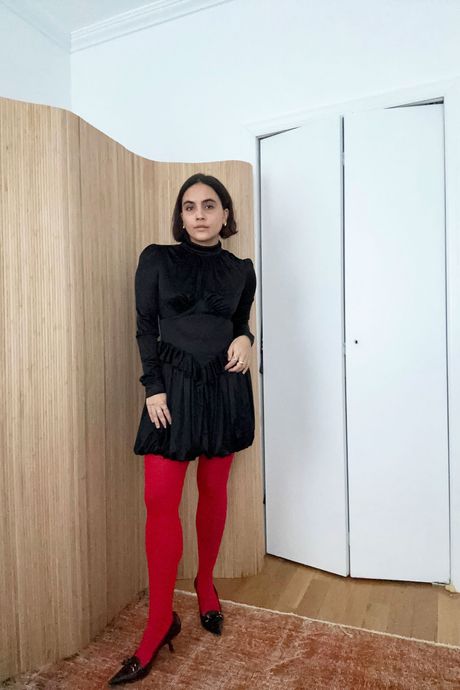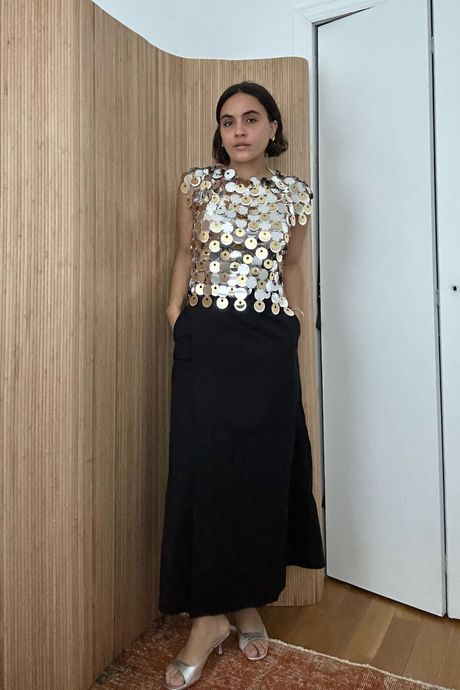 What she tried: Black Long Sleeve Dress.
How did it fit? Small. I requested the dress in a medium (I'm a size 4 normally). With my arms down, the length was ideal. If I raised my arms, though, my whole behind would be out. Also, since I sized up, I foresee the length might be too short if I requested my usual size, which is a small. It wasn't as form fitting around the waist, so the snatched detailing around the bust and abdomen lost its flare.
Would you buy it? Why or why not? No. Since most people will try to purchase this online, I don't think it's worth guessing which size would fit you correctly unless you have the money (and luck!) to buy multiple sizes. Plus, I was envisioning this as a great holiday-party outfit, but if I can't dance around and raise my arms, it's a no for me.
What she tried: Chainmail top.
How did it fit?  I requested a size small and my big head almost didn't allow me to try this on. I felt like I was going to break the sample. Once it was on, I loved how it looked. Still, I was dreading the moment I had to take it off.
Would you buy it? Why or why not? No. While it's a great option if you want an iconic Rabanne chainmail piece without the hefty price tag, I wouldn't go out of my way to purchase it. I blame my big forehead. I would opt for one of the chainmail purses from the collaboration. No guessing sizes there.