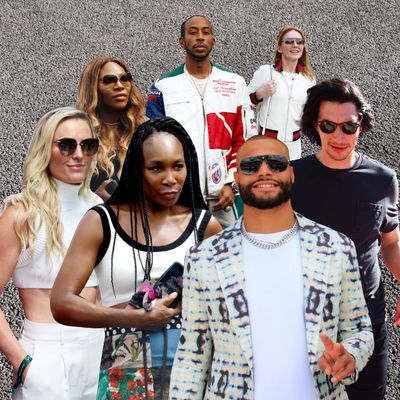 Photo-Illustration: by The Cut; Photos: Getty Images
For more of the Cut's favorite fashion, beauty, and home finds, sign up for the weekly Cut Shop Newsletter.
There was a time not too long ago when fashion people (me) and sports fans (not me) orbited in completely different universes, only occasionally overlapping to fawn over limited-edition sneaker collaborations or an especially good game-day fit. (Upon further investigation, I learned that those viral photos of NBA players arriving to work in the athlete equivalent of an off-duty model look — often characterized by puffer jackets, ostentatious prints, and Louis Vuitton weekenders in lieu of traditional gym bags — are known as "tunnel fashion.") These days, though, the two groups are meeting much more frequently to watch extremely small cars race around a very long track. That's right, I'm talking about the cultural phenomenon and budding fashion scene that is Formula One.
Interest in the sport has skyrocketed, with the United States Grand Prix in Miami and Austin gaining worldwide attention and celebrity fanfare. And it's not just one race! It's a race weekend that involves brand events, partnerships, afterparties, photo ops, and plenty of entertainment. When F1 comes to town, it's the place to be — and the tickets are a hot commodity. All that to say, this is not NASCAR. Don't just throw on a jersey and call it a day. You'll want to put some thought into your outfits because the F1 crowd is incredibly stylish. Ahead of the inaugural Las Vegas Grand Prix on Saturday, November 18 (which is set to take place on the city's iconic Strip), we've rounded up outfit ideas for each major American city.
As a general rule of thumb, imagine the comfort and practicality of a football tailgate with the sophistication of a tennis match when choosing your looks. The name of the game is effortlessly chic. Two other factors to consider when building your F1 outfits? Location and climate. Just like any weekend trip that involves multiple activities and a lot of walking around, make sure to dress weather appropriate. And if you have no idea where to start, it's always a good idea to lean into the aesthetic of the city you're traveling to (hence: cowboy boots in Austin and bright colors in Miami).
Scroll on for more of the best F1 outfit ideas that'll make the experience even more worthwhile.
What to Wear to the Las Vegas Grand Prix
This year's Las Vegas Grand Prix is set to be the biggest race F1 has ever hosted and will cost about $500 million in total, according to ESPN. And in true Vegas fashion, the race is scheduled for Saturday night instead of the traditional Sunday afternoon start time. If that doesn't make you want to go all-out with your look, I don't know what will.
What to Wear to the Austin Grand Prix
If you're not wearing cowboy boots in Texas, what are you even doing? This annual Grand Prix is the perfect excuse to embrace the Western trend and dig up the cowgirl hat you bought for a bachelorette trip. Even though the 2024 Austin Grand Prix dates have not yet been announced, it's never too early to start planning.
What to Wear to the Miami Grand Prix
Miami is known for bright colors and loud prints, but the real key to dressing well in this city is to opt for lightweight and breathable pieces (so you don't have sweat stains five minutes after walking out the door).