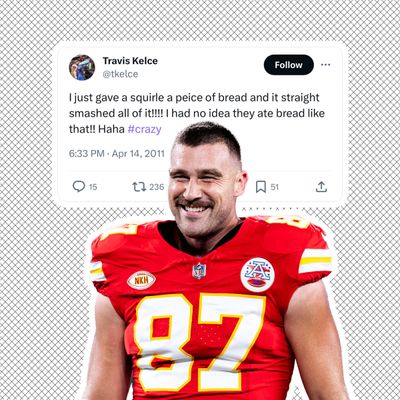 Photo-Illustration: by The Cut; Photos: Getty Images, @tkelce/Twitter/X
On Wednesday, some of Travis Kelce's old tweets resurfaced across social media, an event that usually causes the internet to collectively clench. But you can relax because the common consensus is that these decade-old posts are … mostly wholesome? This golden retriever of a tight end has managed to charm everyone yet again.
What, you ask, was Travis Kelce posting about in the early 2010s? Any and all thoughts that popped into that gorgeous college football brain, it seems. He posted about our girl, the moon: "The moon looks crazy tonight… Imma chill out here for a little and just visualize my success n vibe to the scenary." He asked the people about their likes and interests: "whats everybodys favorite juice hahah." He shared his opinion on the cult of productivity: "Gosh I dont want to work today….. i just wanna sleep in my bed and do nothing with my life!!" Napping is a common theme, as is MGMT's "Electric Feel" and Chipotle or, rather, "Chipolte." My personal favorite talks about "goat-cart racing," a malapropism on par with "michael wave." As 2011 Travis would have said repeatedly and with a hashtag, "Hallarious."
The post that really captured our minds, hearts, and social feeds involved his thoughts on nature: "I just gave a squirle a peice of bread and it straight smashed all of it!!!! I had no idea they ate bread like that!! Haha #crazy." Amazing. Put it in a museum.
These are the himbo-coded ramblings of a man who belongs in Ken's Mojo Dojo Casa House. They read like my middle-school boyfriend's AIM away messages. Yeah, they're goofy, but he's so good at sports though! Who doesn't love a silly famous man? And, make no mistake Travis Kelce is a silly, silly guy. You can't have that mustache, trademark your own catchphrase, and not be the guy in the group photo that's like, "Okay, now let's do a funny one." It's hard not to root for Travis Kelce, who recently said that high fives are "the most electric thing you can do at an event." Yeah, my guy, they really are.
Because the brands cannot help themselves, they too had to join in. Taco Bell retweeted one of Kelce's posts from 2009 that said, "Bout to get some Taco Bell!!! then hit everyone up, n see whats poppin tonight." Olive Garden responded to this absolute banger: "Up at Olive Garden with papa!! Had to grab the Fettucini with the Chicken Alfredo!! #shmackin." Forget McDonald's celebrity meals, I want to sit down at Olive Garden and ask for the Travis Kelce.
As some may have feared, when venturing this deep into the himbo psyche, it's not all crunchwraps and naptime. The excavation has turned up some derogatory posts. One reads, "As a man, You have something wrong with you if your going for girls that weigh more then you!!" He used the r-word and frequently wrote about "ugly" women. Not great. What's more surprising is that the posts hadn't already been deleted, especially given the Tree Paine of it all. As of Friday, many of those posts appear to have been scrubbed.
There are a handful of tweets that exist in a category that is neither "endearingly dumb" or "offensively ignorant." I will leave you with one such example: "The capacity to live in the past by memory can also emancipate the individual from the tyranny of the present." As I see it, Taylor Swift has two options: Use that as a lyric in a new song or wear a friendship bracelet that says, "squirle."