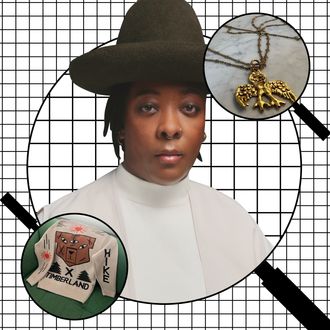 Photo-Illustration: by The Cut; Photos: Courtesy of Timberland, Nina Chanel Abney
For more of the Cut's favorite fashion, beauty, and home finds, sign up for the weekly Cut Shop Newsletter.
Nina Chanel Abney's style is like her art: thoughtful. Though she admits it's not as colorful, it is just as intentional. "My wardrobe is pretty muted," she says. "I used to freak out about events and my friend told me to embrace being an artist and wear what I want, so I try to live by that and not feel like I have to follow the rules, especially in formalwear."
Abney prefers the classics but also thinks good style should feel effortless. "I like classic pieces with something unique about them," she says. "Or adding an accessory that makes it feel new."
An avid online shopper, Abney's favorite sites to browse are Farfetch, Ssense, and Visvim. When she's browsing in person, she prefers Dover Street Market or vintage and antique stores. She gets her style inspiration from menswear icons like Tyler the Creator, Diane Keaton, and Andre 3000. She also loves Cree Summer's collection of vintage.
Below, see where Abney got the pieces that made it into her curated wardrobe.
Where did you get your favorite piece of clothing?
My cardigan from my Timberland collab. A friend of mine hit me up and asked if I'd be interested in working with Timberland, and it happened from there. The inspiration is the outdoors. I'm usually not an outdoorsy person, but in the pandemic, I got a bike and my friends and I started hiking to be outdoors more. That experience influenced the collection that focuses on functional but still stylish, like citygoers meet the outdoors. I tried to create pieces you can mix and match and layer; I'd wear a hoodie under the cardigan or the shacket.
Where did you get the item you wear the most?
My hats are from my friend Ashaka Givens. I found this vintage hat that I was in love with and I wanted it in different colors. She re-created newer versions of it so I have it in a ton of colors. We made a hat block so I could make it with different materials and different colors if I wanted to. I have a ton of baseball caps from all over, even vintage baseball hats on Etsy. My brim hats I usually get from my friend. Another cool company I like is Esenshel, where I've gotten some hats.
Where did you get your signature scent?
Love Adorned; it's graphite by Mad Et Len. I was looking for a nose ring and they had it in there. I have a lot, but I won't give all the names up; this is one I don't mind sharing. It reminds me of fall weather and the season of fall, which is my favorite season. It seems rich; it gives me the feeling of being somewhere cozy, having a nice cocktail.
Where did you get the item you splurged on the most?
Love Adorned. I bought a cool Jean Mahie bird pendant and a vintage watch chain to put it on. I saw this pendant and I was drawn to it and kept going back to the store. I feel like no one wanted it. COVID hit, everything was closed, and I didn't get it, so I hit them up and bought it and they mailed it to my house. I was really drawn to it and I thought this artist's work was really cool. It's how I imagined my jewelry would look if I made some.
Where did you get the item that gets complimented the most?
My custom gold fangs are from @Helenwiththegoldteeth. She makes custom grills, so she made me these fangs. She actually made me two sets, but I lost one and I still hope one day I find them in the carpet or something. I wear these gold ones all the time. I always wanted a grill, but I didn't know if I wanted something to completely cover my teeth, and the fangs are cool and easy. You can take them in or out. You don't have to commit to a whole front grill.
Where did you get the item you'll never get rid of?
My partner gave me my leather book bag from Village Tannery. The book bag I had when we met was pretty beat-up, and I still have it and it's my go-to bag. I love it and I love the store. They've been around for a while and they make everything there, and it looks better as time goes on. I mostly keep work stuff in my backpack. My friends joke that it's my business center because I have my computer, iPad, notebook, headphones. So that's usually what's in it: my office.
I also have a satchel I use regularly. It's a simple leather bag that I keep my wallet and everyday items in. It is from Tree Fairfax, and they hand-make the bags. My friend has one of their leather wine holders, and mine is like a half-moon bag.