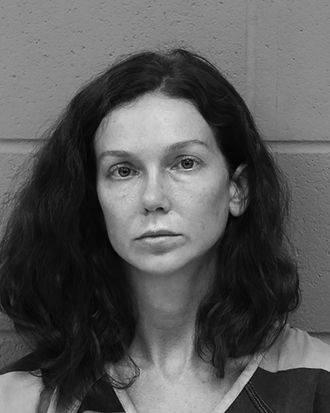 Photo: Austin Police Department
After a lengthy international fugitive hunt and one thwarted jailbreak attempt, Texas yoga instructor Kaitlin Armstrong was found guilty on Thursday of murdering 25-year-old cycling star Anna Moriah "Mo" Wilson. On May 11, 2022, Wilson, who was visiting Texas from San Francisco for a biking competition, was shot dead at a friend's residence in Austin. Days after her death, authorities issued an arrest warrant for 36-year-old Armstrong, whom they believed had been motivated by romantic jealousy: On the evening leading up to Wilson's murder, the cyclist had met up with Armstrong's boyfriend, fellow professional cyclist Colin Strickland. Per ESPN, he and Wilson had been briefly involved while Strickland and Armstrong were on a break and became friends after he reconciled with the yoga instructor. According to an affidavit, Strickland purchased two 9-mm. handguns for himself and Armstrong just months before the shooting, explaining to police that he gave his girlfriend the gun — which authorities believe to be the same one used in the murder — for her protection and self-defense.
The case shook the cycling world and garnered a wave of media attention, including a New Yorker story and a controversial feature in Outside magazine written by a friend of Strickland's. Wilson, a Dartmouth graduate who grew up in Vermont before moving to California, was widely regarded as a burgeoning star in the niche sport of gravel racing, with the cycling magazine VeloNews calling her "the winningest woman in the American off-road scene." Fellow cyclist Amy Charity told The New Yorker that Wilson's murder was "the most tragic and shocking thing that's ever happened" in the cycling community. "There is no way to adequately express the regret and torture I feel about my proximity to this horrible crime," Strickland said in a statement after the shooting, per the Austin American-Statesman. "I am sorry, and I simply cannot make sense of this unfathomable tragedy."
Prosecutors allege Armstrong used the fitness app Strava, where Wilson logged her bike rides, to track down the cyclist's location. Per ESPN, in the days after the murder, Armstrong sold her Jeep — which had been spotted in front of Wilson's home the night of May 11 — for cash before fleeing to Houston. While she was on the lam, prosecutors contend that the yogi flew to New York and then, using her sister's passport, to Santa Teresa, a remote, yoga-retreat-friendly area of Costa Rica, where she assumed a false identity and altered her appearance with hair dye and plastic surgery. Costa Rican authorities eventually tracked her down to a hostel and arrested her; she was later extradited to the U.S. and charged with first-degree murder and held at the Travis County Correctional Complex in Texas on a $3.5 million bond. Armstrong, who pleaded not guilty and did not testify during her trial, compounded her troubles when, earlier this month, she tried and failed to escape from custody during a doctor's visit.
"The last thing Mo did on this Earth was scream in terror," the prosecution told jurors in opening statements. "You'll hear those screams."
Below is everything to know about the case.
Texas authorities say Armstrong shot Wilson after the cyclist returned home from an evening out with Strickland.
According to ESPN, the seeds of the ill-fated love triangle were planted in September 2021 when Wilson and Strickland met at a four-day race in Idaho. The outlet reports that Strickland and Armstrong were no longer a couple at the time but still lived together in Idaho. In October, Wilson, also recently single, traveled to Austin and struck up a romantic relationship with Strickland that "spanned a week or so," according to a statement Strickland released after her death. After Wilson returned to San Francisco, Strickland says he and Armstrong got back together and his relationship with the cyclist became a "platonic and professional one."
"Moriah and I were both leaders in this lonely, niche sport of Cycling, and I admired her deeply and considered her a close friend," Strickland said in his statement. Police reports obtained by ESPN detail the evening he and Wilson spent together only hours before her murder: Strickland reportedly picked up Wilson from the apartment of her friend Caitlin Cash at 5:45 p.m. and took her to Deep Eddy, a popular swimming pool in Austin. The two later ate at Pool Burger before Strickland dropped Wilson back at Cash's around 8:30 p.m. Cash returned home around 10 p.m. and called 911 after finding Wilson bleeding and unconscious on her bathroom floor. The cyclist was pronounced dead from gunshot wounds at the scene.
By the time an arrest warrant was issued, U.S. Marshals determined Armstrong had already fled to Costa Rica.
Per KXAN-Austin, police took Armstrong in for questioning after discovering security footage that showed her Jeep in the neighborhood the night of the killing. The yoga instructor was taken into custody on an old misdemeanor warrant but was later released owing to a clerical error. After her release, Armstrong allegedly sold her Jeep for cash at a local CarMax and flew to Houston and then New York. Meanwhile, police received suspect tips about the yogi, including one from an anonymous caller who said Armstrong had once expressed a desire to kill Wilson after learning about the cyclist's relationship with Strickland. Another tip came from Wilson's friend, who informed authorities that Armstrong had repeatedly contacted the cyclist over a period of months, telling her to stay away from Strickland. Per a police affidavit, ballistic tests performed on Armstrong's gun suggested the firearm was involved in Wilson's killing.
By the time authorities issued a formal arrest warrant for Armstrong, the yogi had already fled the state. Cameras captured her at the Newark airport on May 18, 2022. U.S. Marshals determined she had flown to Costa Rica using her sister's passport. "That passport was a passport that was issued to someone else … that she used because she looked very similar to that individual," Deputy U.S. Marshal Brandon Filla said in a press conference at the time, per VeloNews. "So that was a fraudulent use of it, but it wasn't fraudulent in itself."
In Costa Rica, Armstrong surgically altered her face and assumed a false identity.
Armstrong allegedly lived in a hostel in Santa Teresa, a remote beachside community, under a fake identity and attempted to teach yoga under an alias. "We knew she was gonna be associated with some type of yoga studio," Filla said at a press conference per Bicycling magazine, adding that foreign officials uncovered a handwritten login at a Santa Teresa yoga studio under the same alias Armstrong had used to enter the country. She was reportedly arrested by local police and transferred to the Centro de Aprehensión Regional Central prison in Los Lagos. Booking photos indicate Armstrong appeared to have changed her appearance, chopping her strawberry-blonde hair short and dying it a darker color. Receipts found in her belongings from a plastic surgeon's office indicated she had also undergone a nose job, per ESPN.
Armstrong was extradited to the U.S. and attempted to escape custody ahead of her trial.
From the prison in Los Lagos, Armstrong was extradited back to the U.S., where she was slapped with a first-degree murder charge as well as a federal charge of unlawful flight to avoid prosecution and charges related to the misuse of a passport. Ahead of her trial, she incurred additional charges for escape causing bodily injury after an attempted prison break, allegedly running from the corrections officers who accompanied her to an off-site medical appointment. Video footage shows her running with her hands restrained and attempting to jump a fence. A spokesperson for the local sheriff's office says officers caught up with Armstrong and restrained her after approximately ten minutes. An arrest warrant obtained by ESPN suggests Armstrong had been plotting her escape for months.
Strickland testified about his "tumultuous" relationship with Armstrong.
In testimony, Cash told the court Wilson was covered in blood when she returned home the night of May 11, 2022. Per CBS News, jurors listened to a 911 recording in which Cash attempts to revive her.
Strickland also appeared in court and testified to the "tumultuous" nature of his relationship with Armstrong, whom he said he met on a dating app in 2019 and had broken up with frequently: "I was highly uncertain I wanted to form a long-term partnership with her," Strickland told the court, per the Austin American Statesman. He told jurors the yogi kept a close eye on his communications with other women, allegedly sending him a text message containing an intimate photograph a woman sent him in private; Strickland said he didn't know how Armstrong had obtained it. He told jurors that he believed she had access to a host of his personal information, including his email, Instagram, finances, and passwords. When asked why he had purchased Armstrong a gun in 2021, Strickland told the court the yogi was experiencing paranoia over road rage incidents and rising homeless populations and was afraid of biking solo.
Strickland also recounted Armstrong's intense jealousy over his brief romantic relationship with Wilson, whom he referred to as an "immense talent." Per CBS Austin, Strickland claimed Armstrong sent him a text reading "send my love to Mo" after he posted an Instagram video of himself and Wilson posing in a group of cyclists. He told jurors Armstrong's behavior was erratic: "I know you better than to show up at the meteor with that girl," Armstrong wrote him in text messages presented by the prosecution, in reference to an outing Strickland went on with Wilson at the Meteor Cafe in Austin. Another text from Strickland to Armstrong suggested she tried directly contacting Wilson: "Did you call Mo?" Strickland wrote. "What the fuck?"
Even after his reconciliation with Armstrong, Strickland told jurors he saved Wilson's name under an alias to avoid conflict. He testified that the last time he saw Armstrong was May 13, 2022, two days after Wilson's murder. Pressed by the defense as to whether he knew Armstrong well, he replied: "No, I don't. I thought so, yes."
A jury convicted Armstrong of Wilson's murder.
On November 16, after a two-week trial and just two hours of deliberations, the jury returned a guilty verdict. According to the New York Times, more witnesses, including Wilson's parents and brother, testified after the verdict was read with an eye toward determining Armstrong's sentence. It's unclear when that decision might arrive, though court proceedings will continue on Friday. Armstrong faces up to life in prison without the possibility of parole.
This post has been updated.