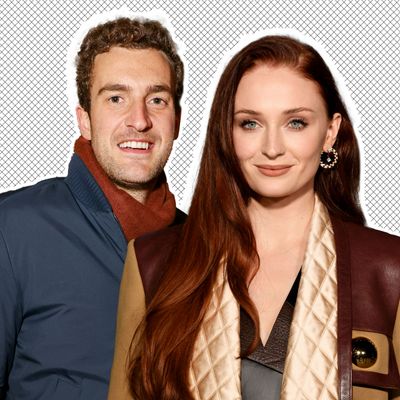 Photo-Illustration: by The Cut; Photos: Getty Images
Who's your ideal rebound? An emotionally unavailable chef? A problematic musician? How about the heir to the 4th Viscount Cowdray? Unattainable for some, maybe, but not for Sophie Turner, who has been spotted kissing Peregrine "Perry" John Dickinson Pearson in both Paris and London in the past month amid her divorce from Joe Jonas.
Turner and her sexy future viscount were photographed by the U.K. Sun in October outside Paris's Gare du Nord train station, where they briefly "snogged" (the Sun's words, not mine) before ducking into separate chauffeured cars. According to eyewitnesses, they seemed to have taken the Eurostar from London. The two reportedly arrived at an event together later in the day at Stade de France, where Turner trotted out to unveil the Rugby World Cup trophy. Unusual as far as date spots go, but perhaps they shared a ham-and-cheese sandwich in the stadium's bowels.
On Friday, the couple was spotted kissing once again, this time in London. In photos and video obtained by TMZ, Turner and Pearson are all smiles and smooches before they take part in one of the great couples pastimes: Standing next to each other while looking at their phones. Seems to me like it could be true love.
Who is Peregrine Pearson, if not a tertiary Harry Potter character? He is, of course, the first son of the 4th Viscount Cowdray and the heir apparent to his family's publishing and education company. Pearson recently — like, very recently — broke up with King Charles's goddaughter Princess Maria-Olympia of Greece and Denmark, and one month later he was publicly kissing the Queen of the North.
For her part, Turner is also in the throes of a breakup — she and Jonas, who share two children, are likely headed for a federal custody trial before they can finalize their divorce. But there is nothing to take your mind off a stressful separation like emerging, fresh from the Chunnel, into the City of Light and receiving a long, passionate smooch from a British aristocrat. N'est-ce pas?
This article has been updated.