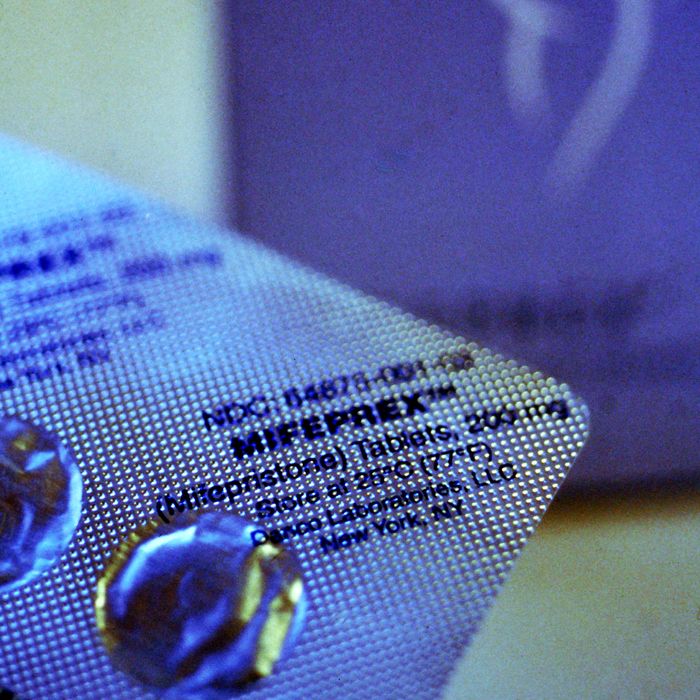 Abortion drug Mifeprex.
Photo: Del Guercio Michelle/Getty Images/Science Source
The rate and number of abortions in the United States is at its lowest in decades, according to new data from the Centers for Disease Control and Prevention. In 2013, the latest year for which there is data, the rate was half of what it was in 1980, according to the centers' annual report. There were 12.5 abortions per every 1,000 women between the ages of 15-44 years in 2013, a five percent decrease from the previous year, according to the Associated Press. Compared to 2004, that's also a 20 percent decrease in abortions.
The actual number of abortions in the nation might actually be higher than what's tallied in the CDC's report, since it only accounts for data provided by 47 states. (California, New Hampshire, and Maryland are not included.) Still, the extremely low number of abortions recorded in 2013 is only matched by data from 1971 — a full two years before Roe v. Wade — when abortions were only available in select states.
As to why there's been such a drop-off in abortions, there are a few possible answers. Per the AP:
The CDC report suggests there are several factors behind the abortion decline, including a sharp drop in adolescent pregnancies, expanded coverage of contraception costs by health care plans, and increased use of effective, long-lasting contraceptive methods such as intrauterine devices and hormonal implants.
Of the women who did choose to have an abortion, 60 percent already had at least given birth to one child and the overwhelming majority of abortions occurred during the first eight weeks of pregnancy. The rates varied dramatically, however, on a state-by-state basis, perhaps due in no small part to the availability of clinics. Mississippi, for instance, has only one clinic in the state and its abortion rate was 3.6 per 1,000 women. New York, by contrast, had a rate of 24.3 per 1,000 women.