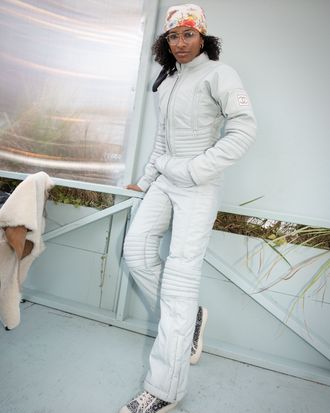 For After Ski's photo shoot at the bar Ode to Babel, Chanelle Ramsubick wears a vintage 2001 Chanel snowsuit on loan from the
Fashion for All Foundation
.
Photo: Annelise Philips
In early November, Erica Svec, a 47-year-old artist, went to see a band perform down the street from her apartment in Crown Heights. The night started out like many others in 2020 — a masked group of neighbors gathered under the glow of string lights, clutching their to-go drinks and bobbing at a respectful distance from one another. But then it began to drizzle, and soon Svec was standing alone on the pavement, chilly and wet, listening to the band by herself.
"I was like, Where did everyone go? The weather was bad, but it wasn't that bad," she recalled. The crowd's sudden exodus made her even more concerned about the impending winter, with COVID-19 numbers rising and more lockdowns on the horizon. How could artists and businesses survive if their patrons weren't willing to tough out the cold?
There was one solution: Svec went home, dried herself off, and bought a pre-owned ski suit on eBay for $45. It was from the 1980s, navy blue with padded shoulders. She got her first chance to wear it the following week to sit in the rain at her son's school bake sale on Election Day. There, she ran into another mom whose 20-year-old daughter, Abi Soto, had recently purchased several vintage snowsuits with the purpose of painting them, styling them, and reselling them online.
Soto, who is taking time off from college, got the snowsuit idea from — where else? — Instagram. She had seen photos of people wearing colorful outdoor gear and figured she would try to replicate it herself. Scouring the racks at Le Point Value, a thrift store in Prospect–Lefferts Gardens, she found a pair of snow pants for $8 and an old, puffy Calvin Klein coat for $25, which she color-blocked with neon orange and baby-blue paint. She was trying to figure out how to sell them when she got a call from Svec. "She made me realize that this idea could be much bigger than just making some money online," Soto said.
Together, they hatched a mission: They would dress people in the snowsuits, hold COVID-safe events with local businesses and organizations and then photograph them, all in the name of supporting their fellow New Yorkers during the long, dark, and hopefully final months of the pandemic. They named the project After Ski, a nod to après-ski winter socializing (but translated into English to remove the European resortwear pretensions.) "We didn't want it to be aspirational — we want it to be accessible," said Svec. "Our motto is 'Suit up, mask up, show up.'"
With Soto on board, Svec roped in three other friends — photographer Annelise Phillips, fashion stylist Lorri Sendel, and Ibada Wadud, a handbag designer who teaches design justice and corporate responsibility at Parsons. They decided to hold their first shoot at Ode to Babel, a bar in Prospect Heights owned by twin sisters Myriam and Marva Babel. Sendel arrived with armfuls of old Carhartt jackets that she had tie-dyed, Wadud brought models, and Phillips took pictures of everyone drinking cocktails on the bar's patio.
"That first shoot really kicked it off for us," said Phillips. "That's when I saw what this project could really do, which is bring people together safely in a joyful way. It's not fashion-centric or restaurant-centric — it's community-centric. It's about connecting people."
A few weeks later, the After Ski team photographed Jyll Hubbard-Salk, the owner of Crown Heights yoga studio Urban Asanas, wearing a lime-green winter outfit to teach an outdoor class in Brower Park. "It just felt so great to be seen," said Hubbard-Salk, who had to close her studio to practitioners last March.
Put on a bright snowsuit and you'll see what she means. In a year when it has felt unsafe to go outside, it feels liberating to leave the house in something loud, attention-grabbing, and physically protective. Unlike the anonymity of masks, a bold snowsuit makes you stand out — makes you "seen" — at the same time it cocoons and protects. I discovered this when, inspired by After Ski, I bought one myself, a dark-green onesie with yellow zippers. Putting it on for the first time, I felt invincible. I also felt vaguely ridiculous, like a giant baby, and doubted I could pull it off. But when I wore it outside for a walk around my neighborhood, I stopped caring. I was comfortable. And after two people asked me where I'd gotten it, I felt more confident. By the time I met up with friends at an outdoor bar, I started feeling sorry for anyone in a normal, boring coat.
On a recent Sunday, After Ski did a shoot at the Crabby Shack, a Brooklyn restaurant owned by two of Hubbard-Salk's good friends, Fifi Bell and Gwen Woods. Like the rest of its industry, the Crabby Shack has struggled this year, and Bell and Woods were on the fence about whether to bother staying open at all this winter. They finally decided to give it a shot and sank about $10,000 into Plexiglas dividers, outdoor heaters, and electrical work to bring power to the sidewalk seating area. On milder days, customers do show up, Bell said. "But sometimes it's just too cold and no one comes, and we can't do anything about it. That's where After Ski could change things. If people dress appropriately, it could really help our business."
The weather on the day of After Ski's shoot was perfect for testing this theory. It was gray and freezing, but Hubbard-Salk suited up and came anyway. "I normally hate the winter, but with a nice warm outfit? Maybe a hot chocolate with a shot of something? Then I'm good," she said. Bell and Woods did better than that: They rigged up outdoor speakers, played Christmas music, and served a special list of hot cocktails. The scene attracted passers-by, and business was brisk.
The day was so successful that Bell and Woods are planning more outdoor events for weekends in the future. And it helps that they got to keep their outfits from the shoot. "I wear mine as often as possible because I want people to see me and copy me," said Bell. "Another bar owner was like, 'I want an outfit like that too, to encourage people to come out in their ski pants.' It's definitely catching on."
After all, visual references are powerful — showing people what outdoor dining can look like is key to making sure it succeeds. Brunching on a sidewalk in 30-degree temperatures sounds more tenable when it comes with fun outfit ideas. "When people see pictures of customers eating in these clothes, that keeps restaurants alive," said Bell.
Svec and her After Ski cohorts are now starting to sell their vintage suits (all freshly washed) for $60 apiece at their events, mostly just to recoup their costs. "The point isn't really to make money," says Svec. "It's to get people to come out and support other people and enrich their networks — we're all so starved for that."