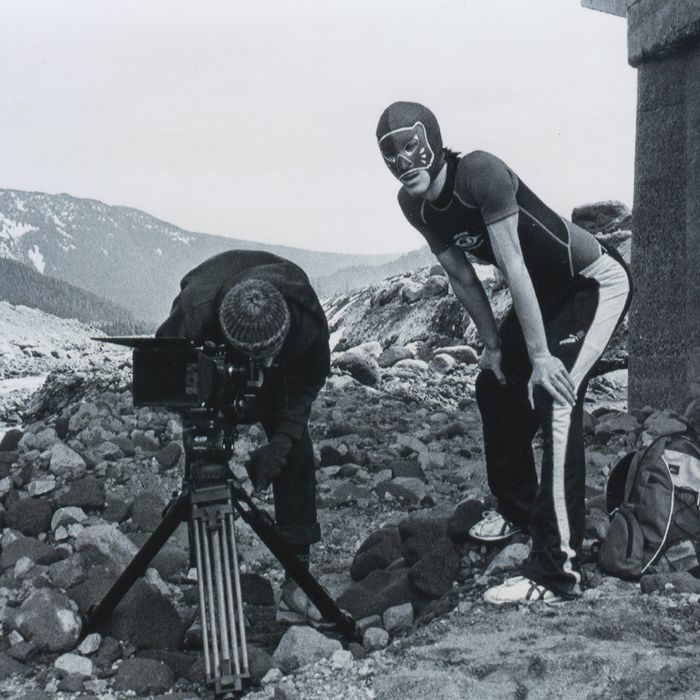 Sam Harkness, age 19, dressed as his alter ego the Blue Panther on Mount Hood in Oregon, 2005.
Photo: Harkness Family
No matter how well you think you know your parents, you'll never be able to fully understand them. In the case of Reed and Sam Harkness, it turns out, their mom, Jois, harbored some secret ambitions. And one day, just before Sam's freshman year of high school, Jois vanished.
The Harknesses are a blended family: There's Jois's son Peter from a previous relationship plus her two sons Sam and Jared and stepson Reed. Growing up in Seattle, Sam and Reed had a good relationship with their parents — and with each other. They would bond, as many brothers do, through play. Reed, who is eight years older than Sam, would often film his brother at different stages of life, cataloguing his various coming-of-age experiences: Sam at age 11, age 13, and so on dealing with typical adolescent topics like fighting off bullies, learning to ride a bike, and getting locked out of the house. They'd come up with elaborate plots and wear costumes and incorporate their brother Jared into the home movies they made with their dad's Super 8 camera. "I felt called to be there for my brothers," Reed says now. "That was not a director's mindset."
When Jois left, everyone initially assumed that she'd spontaneously decided to take a vacation. They eventually got word that she was alive and well but that she wanted to cut off communication. After nearly two years of no phone calls or letters from their mom, it bugged Reed that no one in their family would acknowledge the elephant in the room. He asked Sam if he'd like to go look for his mom, and to take it a step further, he wondered if he could film it. "I wanted to understand: How could a mom leave her kids? And in this case, she's a mother figure to me too," Reed says now of his motivations for filming their journey. "I saw her as a normal mom. She was there, she was present, she was goofing around with us and encouraging us to play, encouraging me to make movies with Sam, then all of a sudden, gone. Why?"
This film, which started when Sam was 17 and Reed was 25, would become Sam Now, a documentary more than two decades in the making. Sam Now editors Jason Reid and Darren Lund worked with Reed to stitch together the Harkness family's home movies (dating back to 1997) with individual interviews conducted by Reed between 2004 and 2015. Several relatives and close friends appear as talking heads, and what becomes clearer with each interview is that the film is not only interested in solving the mystery of why Jois left her family but begs the question of how traditional gender roles determine parenting styles, sometimes going far enough to subvert them. What does it mean to be a man who nurtures children without the partnership of their mother? And how does that affect a young boy over the course of his journey into manhood? Many men in this family have careers in the fields of education and social work, and it's clear that, even today, the Harkness men are on some sort of path to develop their own blueprint of masculinity.
But, as Sam says now, no matter how many educated, nurturing personalities were present, no one in their family could have ever been prepared for Jois leaving her children — let alone comfortable enough to discuss her departure freely, as if a majorly distressing event hadn't just occurred. "The hard conversations weren't happening," Sam remembers resolutely.
Sam Now is steady in its evaluation of Jois's possible motivations for leaving without a trace. Without spoiling the events that occur in the film's 86-minute run time, it is eventually revealed that Jois faced several traumas from the time she was born in Japan and eventually adopted by a white American family in the Pacific Northwest which, as it is presented in the film, never really understood why young Jois exhibited certain anxieties and behaviors.
"What I've been thinking about since it has been released is being in gender-based-violence work professionally — there's a constant framework of 'the world hates women,' and it really, really sucks. I was always nervous about this film portraying that a little bit too," Sam admits. "If this was about a father leaving, it's not really a story at all. It's too common, too normalized. But the pressure we put on women and mothers, specifically, is way higher. It's so taboo to disappear like this."
Many relatives agreed to be filmed, because Reed was just that guy in the family who always carried a camera and was simply looking for clues that might help him solve the mystery of why Jois had left. It is very clear early on that the rupture Jois caused by leaving had a lifelong impact — not only on Sam but on members of the extended family, who appear in interviews as deeply hurt and confused by her actions. Still, no one knew, 20 years ago, that the film would eventually become a feature-length documentary screening on the festival circuit.
Sam Now is available to stream on PBS, and the Harkness brothers have been screening the film around the country since late last year. (Full disclosure: I first saw Sam Now at the Indie Memphis film festival, where I was on a jury that awarded the film Best Documentary Feature.) So far, the Harknesses have encountered a variety of responses, ranging from judgment of Jois's actions to empathy from those who say they could relate to the disconnection she must have felt from her family. The brothers have started bringing in trauma specialists for post-screening Q&As because, as Sam says, a lot of the therapy buzzwords we tend to use now when discussing trauma were very new to them while making the film. "That was all new to us — to be, like, 'intergenerational trauma'? 'Cycles of harm'? 'Abandonment'? Those things link to each other?" Sam says. "We were discovering what cycles of trauma were through filmmaking."
Reed is still fiercely protective of Sam, and it's not difficult to see why. They weathered an unthinkable — and, for a while, unspeakable — trauma as youngsters, and Reed continues to recognize the documentary as a serious trigger for Sam, who is now in his 30s. But the film evokes questions of documentary ethics — is it ever really okay to document someone's familial trauma in this way, even if you're a part of it? Is there always going to be a degree of exploitation? Sam and the rest of the family were willing participants and continue to generally support the film now that it's out in the world, but what about Jois?
There's an argument to be made that the film isn't complete yet, but that's not how Reed sees it. "It's done. It's over. I find that I'm the person that feels very unresolved about it all," he says now. "When we talk about painful family experiences, people don't like to bring them up. Here I am, just going on a journey from one to the next and recognizing that there's a chain, recognizing that there are more questions that I have … there are multiple layers of avoidance, and I see that as displaced pain that I have to live with."
Did the Harkness brothers ever find Jois? What's their relationship to parenthood now? You'll have to watch the film to find out, but you should know that both brothers are happy with where things have landed.
"We were most anxious that, somehow, it would be wrapped up in a bow and we would be washing over this pain with some clean ending," Reed says now. "My heart tells me to do this, and I see it as just a really hard love letter to the family. There's a lot of pain in there, but I'm recognizing a lot of connection, love, appreciation, and pride in who we are."