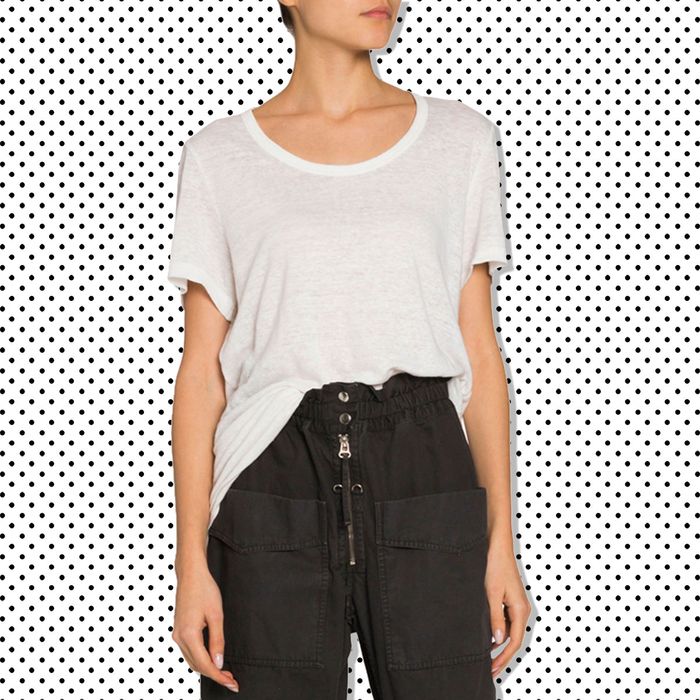 Photo: Courtesy of the vendor
When you want to know the best kitchen knife, you ask a chef. When you want to know the best white T-shirt, you ask a fashion person. White tees are one of those things that — although incredibly simple — have endless iterations. How can anyone tell them apart? For the past few years, we've been asking every designer, artist, and interior decorator featured as a Tastemaker what their favorite T-shirt is. And it turns out that everyone has opinions. We pulled some of them for this handy list, a shortcut to the best white T-shirts from the people who would know.
The French Girl Tee
Petit Bateau makes a tight crewneck tee that reads as super feminine. It's favored by stylist Danielle Nachmani as well as Delvaux's creative director Christina Zeller.
Available in sizes XXS–M.
The Tank Top
Vera Wang is a fan of Fruit of the Loom 3-packs. She likes the V-necks and ribbed tank tops so much she'll sleep in them. Who knew?
Available in sizes S–5XL.
The One Meant for Boys
Designer Sandy Liang has made fleeces into a status piece. She also recommends Hanes boys tees as the best T-shirt. Since they're meant for kids, definitely consult the size guide before buying.
Available in sizes boy's S–XL.
The Glossy One
If you're a Uniqlo stan, you're in good company with Billy Porter's stylist Sam Ratelle and designer Margherita Missoni. Their Supima cotton tee has just a little bit of a sheen and is nice and thick. And yes, Missoni also recommended the men's.
Available in sizes XXS–XL.
The Classic
Matches Fashion's Natalie Kingham shouted out this particular classic. If you still like a women's T-shirt instead of one made for men or boys, this is for you.
Available in sizes S–XXXL.
The Muscle Tee
Model Lindsay Ellingson said she loved Frame Denim's t-shirts. Her favorite was an off-white one with Los Angeles embroidered in the corner. But if you want just a pure basic, this muscle tee is a great slouchy, Springsteen-y option.
Available in sizes XS–XL.
The Not-Actually-Vintage Tee
Photo: 17-11-20 annalund AM2 B3 chelsealahee W
Unsurprisingly, a lot of people like vintage tees. You can't beat that perfectly broken-in feeling, but you can recreate it. The Re/Done tee, liked by decorator Kelly Wearstler, is close to the real thing.
Available in sizes XS–L.
The Fashion One
The Straight Shot
Gap is known for classic designs. So this men's tee, in a not-quite-baggy, not-quite-tight fit and crew neck, is as straightforward as it gets. Margherita Missoni also recommended these.
Available in sizes XS–XXXL.
The Status Brand
Author Hanya Yanagihara and lighting designer Lindsey Adelman swear by James Perse T-shirts. And although it's pricier than a three-pack, the quality is worth it.
Available in sizes 0–4.
The Not-Too-Slouchy One
This ATM boyish tee is definitely boxy, but it hits just above the hip for a cute crop moment. Moda Operandi's Cailtin Burke recommends ATM's crewnecks.
Available in sizes XS–L.
The Investment Tee
Photo: Daniel Besikian/Daniel Besikian
None other than supermodel Claudia Schiffer loves Isabel Marant's scoopnecks. Yes, it's a $165 white tee but you may as well invest in basics.
Available in sizes XS–L.
If you buy something through our links, New York may earn an affiliate commission.