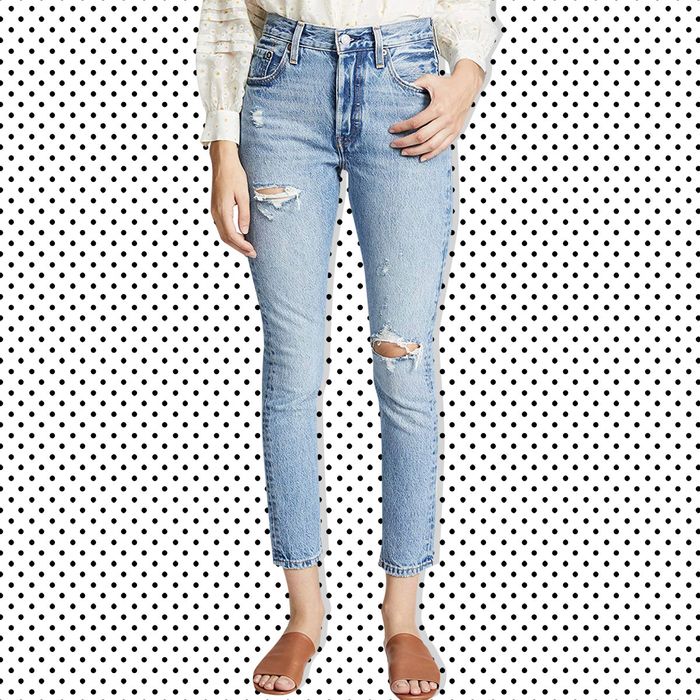 Photo: Courtesy of the Retailer
While we wait with bated breath for low-rise jeans to make a comeback (the clock is ticking!), high-waisted jeans are still king. Whether you're into skinny jeans, wide-leg crops, or a classic bootcut, a high waist lends a vintage, grown-up vibe. You have your act together — your pants hit at your waist! Below are 16 options to choose from. Pretty much every varietal of high-waisted denim pants is represented.
Bootcut gets a bad wrap, but who wouldn't trust Everlane when it comes to jeans? Everlane also makes its jeans at one of the world's most environmentally friendly factories, Saitex.
Available in sizes 23-33.
Doesn't get more classic than Levi 501s. They're made from 100 percent cotton non-stretch denim, so if you love vintage jeans, these are for you.
Available in sizes 24-32.
These are also made from non-stretch denim, but have a roomier leg than the 501s. The rips in the knees also make them feel more modern.
Available in sizes 10-22.
Summer may be over, but white-jean season is not. The full-length flair makes these jeans feel a bit '70s, too. Wear with your favorite status clogs.
Available in sizes 25-30.
A kick-flare is the perfect shape for people who don't want to wear skinnies, but also can't get into boot cut jeans. The brand recommends sizing down if you really want a "second skin" fit.
Available in sizes 0-38.
The raw edge on the hem gives just a tiny bit of flair to otherwise standard-issue skinny jeans. Reviewers say that the jeans are so soft they feel almost more like leggings.
Available in sizes 24-34.
The perfect "is that vintage?" faded blue wash. But unlike other vintage-y jeans on the list, these are made with a cotton blend so they're stretchier than the 100 percent cotton jeans.
Available in sizes 25-32.
Tired of super skinny jeans? Try a more relaxed straight leg instead. These are also made with Levi's WaterLess initiative, which uses less water than traditional denim production. Win for you, win for the planet.
Available in sizes 24-34.
Skinny jeans you can wear day after day. NYDJ jeans are equipped with their Lift Tuck technology that claims to make you look a size smaller. They also recommend ordering a size down for the Lift Tuck to work.
Available in sizes 18-24.
The pockets, the stitching, and the dark, unfolded hem make these look more expensive than they are. If this is all a little too fussy for you, they come in a range of styles, some of which are more basic.
Available in sizes 24-32.
Channel your inner skater chick in washed black jeans. Madewell warns that they'll feel a bit tight at first, but will stretch a bit within the first couple of wears. These — like the Everlane jeans — are also made at the Saitex factory, which is Fair Trade certified and recycles 98 percent of the water it uses.
Available in sizes 23-37.
Love a wide-leg crop jean with plenty of pockets. They're a bit more cropped than some others on the list, so pair with flats, sneakers, or a kitten heel.
Available in sizes 24-32.
The white Hepburn jeans from DL1961 are a favorite among Cut staffers. DL1961 is also committed to making sustainable jeans by using "half the dye, water and energy than in traditional denim processing."
Available in sizes 24-34.
If you want to splurge on jeans, these high-waist, classic blue jeans are a safe bet. They're non-stretch denim and look like something Monica would wear on Friends — a plus in our book.
Available in sizes 23-30.
If you buy something through our links, New York may earn an affiliate commission.