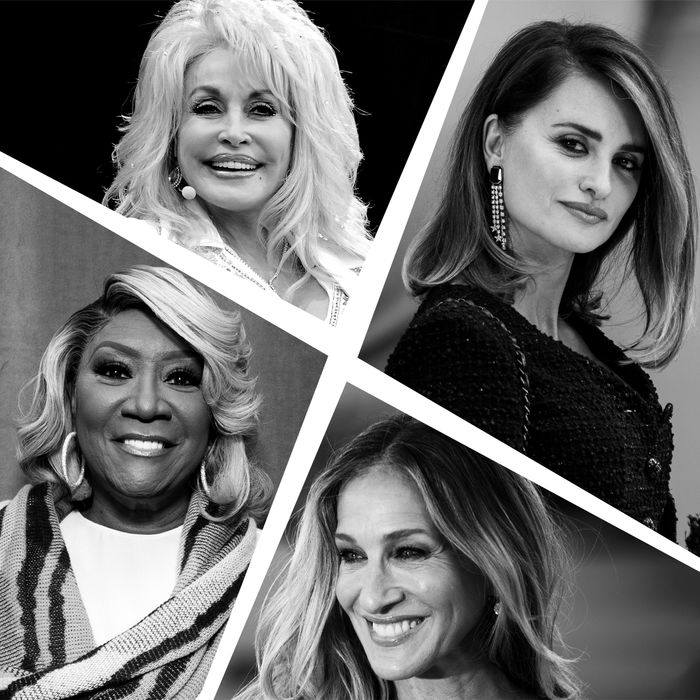 Photo-Illustration: by The Cut; Photos: Getty Images
Dewy, uncreased 20-somethings have long been held up as the essence and ideal of womanhood in popular culture. Even though we're aware of and discredit the harm photo editing does, it is common and understandable to want to remain youthful or at least youthful-looking. Sure, there are feel-good social-media posts about how "30 is the new 20" or "50 is the new 30," but rarely do we see women over a certain age — unretouched, unapologetic, not medically intervened upon — held up as desirable or admirable or even held up at all. Just last year, a 45-year-old Kate Winslet made headlines for stopping a director from editing her stomach out of a sex scene.
That said, plenty of women have embraced growing older and done so with grace. As more emphasis is put on experience and knowledge, and less on the reflection in the mirror, women are empowered to feel comfortable and beautiful no matter their age. Here, a collection of thoughts on aging from famous women including China Machado, Dolly Parton, Toni Morrison, and Sarah Jessica Parker. Read on for words on the power of wrinkles, accepting imperfections, and the joys of getting spoiled rotten at 90 — it's all here.
Sarah Jessica Parker
"There's so much misogynist chatter in response to us that would never. Happen. About. A. Man. 'Gray hair gray hair gray hair. Does she have gray hair?' I'm sitting with Andy Cohen, and he has a full head of gray hair, and he's exquisite. Why is it okay for him? I don't know what to tell you people! Especially on social media. Everyone has something to say. 'She has too many wrinkles, she doesn't have enough wrinkles.' It almost feels as if people don't want us to be perfectly okay with where we are, as if they almost enjoy us being pained by who we are today, whether we choose to age naturally and not look perfect, or whether you do something if that makes you feel better. I know what I look like. I have no choice. What am I going to do about it? Stop aging? Disappear?" — Vogue, November 2021
Jane Fonda
"I think it's about how if you still have passion and if you haven't become cynical and you've remained open to life, then no matter how old you are chronologically, you're still young. Aging is relative. If people say that I look young for my age, it's because I feel like I'm a newbie. I feel like I'm just beginning, just learning how to do things. It's not what I expected at all." — The Hollywood Reporter, November 2015
Michelle Obama
"Women, our bodies change drastically in comparison to men. We're going through menopause. We've got a lot going on, and I don't think we've done enough to understand what aging means for women's bodies: What are we supposed to look like? How are we supposed to feel? We're not talking about that enough. I'm 56 with a 56-year-old-body, and I love my body." — Oprah's 2020 Vision tour, February 2020
Penélope Cruz
"I wouldn't for a second change the way I feel now for the way I felt in my 20s. How I see the world, how I look at acting — everything has changed … I get so much happiness from being a student again, from exploring. Whatever happens with the result, if I've had that process, I feel like it has been something good, that it has taught me something new. If I'm 80 and I have a new character in my hands and a new story to tell, I'm going to feel that same healthy fear. It's like food for me." — Interview Magazine, October 2017
Regina King
"I feel like I'm so much more interesting now, as a soon-to-be-50-year-old woman, than I was at 25. I can bring so much more to the table. You may not have the stamina that you had at 25, but what you know now? So much better." — British Vogue, January 2021
Patti LaBelle
"I like to be with people who are fun. And sometimes those people are not my age; the 76-year-old people that I know, they're not usually like — see, I love Tupac, I love 'California Love' and 'The Club' and 'Ain't Nobody.' I like dancing to those gangster songs, you know? And I think it keeps me going. My grandkids say, 'Oh, Grandma, you know that song?' I say, 'Yeah, girls, that's before your time.' But they watch me for encouragement. As they turn 7 and 4, they'll say, 'Oh, Grandma is old, but she doesn't act old.' So I feel that doing things like dancing and moving around and, and pranking and all the fun things that I do has kept me happy." — Oprah Daily, June 2021
Maya Angelou
"I am convinced that most people do not grow up … We marry and dare to have children and call that growing up. I think what we do is mostly grow old. We carry accumulation of years in our bodies, and on our faces, but generally our real selves, the children inside, are innocent and shy as magnolias." — Letter to My Daughter, October 2009
Diane Keaton
"If I wanted to be prettier, fillers, Botox and a neck lift might help — but I think I'm past all that. My feelings come out in my face and show who I am inside in ways that words can't express. In fact I'm confused by what 'authentic' is; am I less authentic because I wear 'eccentric' clothes and hats? No. I look at my contemporaries who have had 'good work' done; are they less authentic? No! And neither are the women who've had procedures that went awry." — Let's Just Say It Wasn't Pretty, April 2014
Stevie Nicks
"You have to keep yourself youthful. And I don't mean looking 22 and going to plastic surgery and looking like a caricature of yourself, a stranger that nobody recognizes so that you can't even get a table at a restaurant because you really don't look like Stevie Nicks anymore. I wear the right clothes, age-appropriate clothes. But I can still do some of the things I could do when I was really young and pull it off as a 65-year-old chick … But when I'm 90 years old and sitting in a gloriously beautiful beach house somewhere on this planet with five or six Chinese crested Yorkies, surrounded by all my goddaughters who will at that point be middle-aged, I'll be just as happy." — The New York Times, February 2014
China Machado
"Well, I never had a face-lift, and it's mostly because I wasn't rich enough to have a face-lift — I had to take care of two kids, and I never thought about it. I couldn't spend money on expensive creams, and I've never been to a facial. I had other things to do. I was working all the time. And I think that helped a lot! If you don't do too much to your face and don't think about it too much, that's good. The minute you think about it then you think everything's wrong with your face! Somebody said to me one day, 'Do you ever think you'll start doing something [to your face]?' And I said, 'Oh, yeah! But once I start, there's going to be so many things I want to do! Forget it!'" — The Cut, October 2016
Cher
"I do think that when it comes to aging, we're held to a different standard than men. Some guy said to me: 'Don't you think you're too old to sing rock n' roll?' I said: 'You'd better check with Mick Jagger'." — Fifty on Fifty: Wisdom, Inspiration, and Reflections on Women's Lives Well Lived, by Bonnie Miller Rubin, November 1998
Diane von Furstenberg
"There is a saying that with age, you look outside what you are inside. If you are someone who never smiles your face gets saggy. If you're a person who smiles a lot, you will have more smile lines. Your wrinkles reflect the roads you have taken; they form the map of your life." — The Woman I Wanted to Be, October 2014
Iris Apfel
"Aging gracefully is about no heavy makeup, and not too much powder because it gets into the wrinkles, and you know, to not get turtle eyelids, and to not try to look young. You don't have to look like an old fuddy-duddy, but I believe it was Chanel who said, 'Nothing makes a woman look so old as trying desperately hard to look young'. I think you can be attractive at any age. I think trying to look like a spring chicken when you're not makes you look ridiculous." — Into the Gloss, January 2012
Betty White
"Best thing about being in your 90s is you're spoiled rotten. Everybody spoils you like mad and they treat you with such respect because you're old. Little do they know, you haven't changed. You haven't changed in [the brain]. You're just 90 every place else … Now that I'm 91, as opposed to being 90, I'm much wiser. I'm much more aware and I'm much sexier." — People, February 2013
Yoko Ono
"Some people are old when they're 18 and some people are young when they're 90. You can't define people by whatever society determines as their age. Time is a concept that human beings created." — The Guardian, February 2012
Isabella Rossellini
"In interviews, the first question I get in America is always: 'What do you do to stay young?' I do nothing. I don't think aging is a problem. What irritates me a little is growing fatter. It irritates me that if I eat what I want to eat, it shows. Yes, my face has wrinkles. But I don't find it monstrous. I'm so surprised that the emphasis on aging here is on physical decay, when aging brings such incredible freedom. Now what I want most is laughs. I don't want to hurt anybody by laughing — there is no meanness to it. I just want to laugh." — Oprah, September 2009
Helen Mirren
"The best thing about being over 70 is being over 70. Certainly when I was 45, the idea of being 70 was like, 'Arghhh!' But you only have two options in life: Die young or get old. There is nothing else. The idea of dying young when you're 25 is kind of cool — a bit romantic, like James Dean. But then you realize that life is too much fun to do that. It's fascinating and wonderful and emotional. So you just have to find a way of negotiating getting old psychologically and physically." — AARP the Magazine, December 2016–January 2017
Sharon Stone
"You have to sit down and take a good look at yourself, particularly as you grow older and your face changes. People are afraid of changing; that they're losing something. They don't understand that they are also gaining something … As I lost the fullness in my face, I got in these great cheekbones. I can't tell you how many doctors try to sell me a facelift. I've even gone as far as having someone talk me into it, but when I went over and looked at pictures of myself, I thought, What are they going to lift? Yes, I have come close — but, frankly, I think that in the art of aging well there's this sexuality to having those imperfections. It's sensual." — New You, Summer 2013
Nora Ephron
"Every so often I read a book about age, and whoever's writing it says it's great to be old. It's great to be wise and sage and mellow: it's great to be at the point where you understand just what matters in life. I can't stand people who say things like this." — I Feel Bad About My Neck, 2006
Gloria Steinem
"Fifty was a shock, because it was the end of the center period of life. But once I got over that, 60 was great. Seventy was great. And I loved, I seriously loved aging. I found myself thinking things like: 'I don't want anything I don't have' … 80 is about mortality, not aging. Or not just aging." — The New York Times, March 2014
Emma Thompson
"If you look after yourself and you're healthy, then you'll have the energy to do things. But not to recognize getting older for what it is? I do think the infantilization of our generation is one of the huge issues of our time. People wanting to be 35 when they're 50 makes me think: Why? Why don't you be 50 and be good at that? And also embody the kinds of choices that are sustainable at that age." — The Guardian, September 2014
Charlotte Rampling
"You've got to wait. You've got not to panic, not to be frightened, and not to change your face. You need your face to grow with you … because then people don't know what age you are. You look a certain age but there is a problem with that if women can't live with their faces as they're growing into them. There's always a frightening point when your face starts to change, and that's when you want to change it. But if you go through that change — and it lasts quite a long time, maybe ten years — then you find actually that you've grown into an older face." — The Independent, April 2012
Patricia Arquette
On aging as a woman in Hollywood: "I'd love to not have to talk about it anymore. I don't think the men are talking about it at all. Aging is just normal! That is all there is to it. I don't think the public is shocked by the fact that women get older. It is pathetic, and it looks pathetic, when I hear some 55-year-old actor won't play opposite a 42-year-old woman because she is too old for him. People aren't buying this anymore. They didn't buy it in Magic in the Moonlight." — Elle, February 2015
Patti Smith
"I considered what it meant to be sixty-six. The same number as the original American highway, the celebrated Mother Road that George Maharis, as Buz Murdock, took as he tooled across the country in his Corvette, working on oil rigs and trawlers, breaking hearts and freeing junkies. Sixty-six, I thought, what the hell. I could feel my chronology mounting, snow approaching. I could feel the moon, but not see it. The sky was veiled with a heavy mist illuminated by the perpetual city lights. When I was a girl the night sky was a great map of constellations, a cornucopia spilling the crystalline dust of the Milky Way across its ebony expanse, layers of stars that I would deftly unfold in my mind … I'm still the same person, I thought, with all my flaws intact, same old bony knees, thanks be to God." — M Train, October 2015
Dolly Parton
"I don't think about my life in terms of numbers. First of all, I ain't never gonna be old because I ain't got time to be old. I can't stop long enough to grow old." — The Oprah Conversation, November 2020