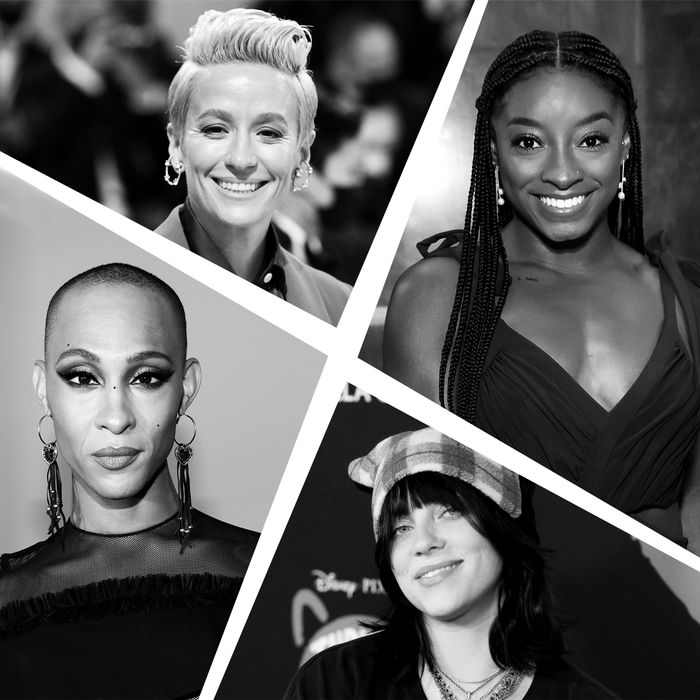 Photo-Illustration: The Cut. Photos: Getty Images
Doing the Most is a special series about ambition — how we define it, harness it, and conquer it.
Few things taste as sweet as recognition for being the best at what you do, especially when you're the first to do it. According to women at the top of their game, the experience of winning — whether it's an award, a medal, or a campaign for political office — never gets old. Below, Olympians, Nobel laureates, EGOT winners, and more discuss how their victories feel in the moment, change their lives, and help shape history.
Michaela Jaé Rodriguez
On becoming the first trans woman to win a Golden Globe: "This is the door that is going to open the door for many more young talented individuals. They will see that it is more than possible. They will see that a young Black Latina girl from Newark New Jersey who had a dream, to change the minds others would WITH LOVE. LOVE WINS. To my young LGBTQAI babies WE ARE HERE the door is now open now reach the stars!!!!!" —Instagram, January 2022
Serena Williams
"Winning for me is super addictive. I feel like, once you experience it, you always want to get that feeling again. When I won my first championship, I was only 17 years old but I never forgot that feeling. Every time, I want to reach that feeling of that first championship … I hate to lose, but losing has brought me to here today. The only reason I am who I am is because of my losses. Some of them are extremely painful, but I wouldn't take any of them away. Every time I lose, it takes a long time for me to lose again, because I learn so much from it." — TED2017, April 2017
Megan Rapinoe
On winning the World Cup in 2019: "This [World Cup], I feel like we had so much more riding on it with equal pay and just with what's happening at home, and you know, maybe this being my last one. Hopefully not, but potentially — I'm not getting any younger. But I just felt like, 'God, we really have to win this. Like, if we don't win this, this sucks.' … It was like we needed to win." — Late Night With Seth Meyers, July 2019
Michaela Coel
On winning an Emmy for Outstanding Writing for a Limited or Anthology Series or Movie: "Write the tale that scares you, that makes you feel uncertain, that isn't comfortable. I dare you. Visibility these days seems to somehow equate to success. Do not be afraid to disappear — from it, from us — for a while, and see what comes to you in the silence. I dedicate this story to every single survivor of sexual assault." —The New York Times, September 2021
Alexandria Ocasio-Cortez
"Winning was always a possibility. I never thought of it as an impossible race. I knew it was long odds. There were absolutely days where I didn't know if I should give up or not, but I always knew it was possible … Nobody ever wins the first time they run for office. Nobody's ever supposed to win their first bid for office. Nobody's ever supposed to win without taking lobbyists' money, no one's ever supposed to defeat an incumbent, no one's ever supposed to run a grassroots campaign without running any ads on television. We did all of those things." — Elle, July 2018
Billie Eilish
"This is my first Grammys. I never thought this would ever happen in my whole life. I grew up watching them. And this is my brother, Finneas, and he's my best friend. I feel like I joke around a lot, and I never take anything seriously at these kinds of things, but I genuinely want to say I'm so grateful. And I only want to say that I'm grateful, and I'm so honored to be here amongst all of you. I love you to my core. I grew up watching all of you. Thank you to my team, my mom, my dad, my best friends … for keeping me alive to this day." —The Los Angeles Times, January 2020
Simone Biles
"Suddenly, everything I'd just gone through came rushing in: the exhaustion from the Worlds competition, the dreamlike medal ceremony, the girls with whom I'd shared the win, my parents looking on in disbelief and joy, my brothers being so happy for me, the photographers, the press, the Italians, Aimee, Martha, all of it. In that moment, the full force of what I had done finally hit me. I had competed at Worlds. And won. I really just did that! As cheerful voices and bursts of laughter from my Worlds Party floated in through my window, mixing with the rhythm of 'Burn,' I collapsed onto my bedroom floor and started bawling. I was just so proud of myself. And somewhere in there, I also had this thought — I'm getting a belly ring." — Courage to Soar, November 2016
Phoebe Waller-Bridge
On winning the Emmy for Best Writing in a Comedy Series for Fleabag: "I find writing really, really hard and really painful, but I'd like to say just honestly from the bottom of my heart that the reason that I do it is this … It's just really wonderful to know — and reassuring — that a dirty, pervy, angry, messed-up woman can make it to the Emmys." — Emmys, September 2019
Kamala Harris
From her victory speech after being elected the vice-president of the United States: "While I may be the first woman in this office, I will not be the last, because every little girl watching tonight sees that this is a country of possibilities. And to the children of our country, regardless of your gender, our country has sent you a clear message: Dream with ambition, lead with conviction, and see yourselves in a way that others may not, simply because they've never seen it before." —ABC News, November 2020
Abby Wambach
On winning the World Cup in 2015: "[I knew that it was] my last shot at winning a World Cup ever. If I want to be happy, if I want to not be pissed off for the next 40 years of my life, we better win this thing … I was freaking out like the whole game. When the final whistle blew, I remember kneeling and just having like this huge, huge sigh of relief, because I knew it was over." — MAKERS, 2019
Lena Waithe
On her Emmy win for Best Writing in a Comedy Series: "I think [my mom] was really worried and scared for me, like okay, you're a black woman, and now you're gay as well, so you're really gonna have a hard time out in the world … My mom's fear was that I would be ostracized, so for me to be on that Emmys stage and get a standing ovation because of an episode I wrote about what it means to be a queer black woman, was just a huge moment — not just for the industry and the world, but for me and my family." — Marie Claire, September 2017
Jhumpa Lahiri
On winning the Pulitzer for her first book, Interpreter of Maladies, in 1999: "I was very perplexed. I always thought of the Pulitzer as something people won when they were deep into their careers. But my father said, 'I don't know why you won, but you have to accept it graciously, keep it in its place, and move on.' … People always asked, 'Aren't you afraid of the second book?' I wasn't, because I remembered what it was like to write my first stories, and I kept that same attitude throughout; I just wanted to write a decent novel that would help me to write subsequently better novels. I knew that no matter what, it would be a learning experience for me and that to have any crazy expectations would be a grave mistake." — Poets & Writers, September/October 2003
Maggie Gyllenhaal
"I more than anything believe in love. I don't mean to lay down rules, but I think expressing love is among its most beautiful manifestations. Those films reminded me what it looks like and what it feels like when somebody is true to themselves, when they listen to themselves." —The Hollywood Reporter, March 2022
Billie Jean King
On winning the Battle of the Sexes match: "The excitement, the angst. Some great things happened, but one guy threw his television set through the window of his home, he was so pissed that I won. It was a very emotional moment. And after the match, the colleges, especially the women's colleges like Smith, went out in the street and just marched up and down and just had a hoot and a holler … It wasn't an athletic feat to beat somebody that old — I don't care if they are a man or a woman — so it wasn't a big deal from an athletic point of view. But from a social point of view, Title IX had just been passed a year before, on June 23, 1972, and I was fighting for that, to keep it strong, because a lot of people were already starting to try to weaken it with lawsuits. I also wanted to change the hearts and minds of people to match that. It was also the height of the women's movement — everything was very tumultuous." — Star Tribune, September 2017
Naomi Osaka
On winning the U.S. Open in 2018: "A lot of people ask me how I feel after [I won] the U.S. Open. But for me, it feels like a fresh start. I'm just really excited every time I play a match … I don't feel pressure." — The Guardian, January 2019
Audra McDonald
"I just wanted to be on Broadway. That's all I wanted. So winning one Tony, I thought I was done. What's happened [since] is just hard for me to fathom … It doesn't change my life all that much, because I'm still me. I'm still an artist who's searching, trying to evolve, an artist who — nine times out of ten — is dissatisfied with her work, and beats herself, and goes out there and tries again and again, and falls on her face and looks for new challenges. I think the Tony says, 'Okay. Great job. Keep going.' But it doesn't bring money. Maybe Oscars do, but Tonys do not. Theater doesn't bring money in general. That's not why you do it. If you go into theater for money then you've really gone into the wrong business." — Academy of Achievement, December 2012
Toni Morrison
On winning the 1993 Nobel Prize in Literature: "What happened was a friend of mine, Ruth Simmons, who is now president of Brown, she was still at Princeton then, called me up at about seven o'clock in the morning and said, 'You won the Nobel Prize.' And I thought, What? I thought she was seeing things … So I hung up on her! I said, 'What is she talking about?' Because I thought, How would she know something that I wouldn't know? She called me right back and said, 'What's the matter with you?' I said, 'Where'd you hear that?' And she said, 'I heard it from Bryant Gumbel on the Today show.' So then I had to think, Well … Maybe? But there had been so many moments — as I later learned, more than I thought — when people believed they were going to get it, and journalists were beginning to circle, and they didn't get it … But I didn't know what to do! I just went to class, right? And then that afternoon, around 12:30, I got a telephone call from the Swedish Academy saying that I had won — at a reasonable time of day. I still wasn't quite certain. I said, 'Would you fax that?' … But the event itself was just heaven. It's the best party." — Interview, May 2012
Misty May Treanor
"My goal is, and always has been, to win. Once I got it through my head I was talented enough to go to the Olympics, then my goal became, 'Okay, I want to win a gold medal.' Well, that happened in Athens in 2004. If I'd gotten hit by a bus the next day, and I'd been told I couldn't play again, I'd have said, 'That's okay. I've accomplished everything I wanted to do.'" — Misty: Digging Deep in Volleyball and Life, June 2010
Adele
On winning the Grammy Award for Best Album, Record and Song of the Year: "The Grammys means a lot to me, obviously, it's kind of the award show, so I'm very, very humbled. And that accomplishment, I feel very lucky to achieve. Like I said in my speech, my album of the year was Lemonade, so a piece of me did die inside as a Beyoncé stan, I'm not going to lie, because I was completely rooting for her, I voted for her … America has always been very, very kind to me, and I don't even know why to be honest. I don't get it. But no, I feel amazing about it, of course. It's an amazing thing to show my son, and I'm raising him to respect women, and he knows I'm a powerful force." — Grammys, February 2017
Alice Munro
On winning the 2013 Nobel Prize in Literature: "Unbelief. I really couldn't believe it, I was so happy, and I haven't gotten over the delight yet … I've been writing and publishing, I think, since I was about 20 — just now and then I would get something published, you know — but that's a long time to be working and I thought maybe it's time to take it easy. But this may change my mind." — The Nobel Prize, October 2013
Olivia Colman
On winning the Oscar for Best Actress: "I have no idea. I could not tell you how I'm feeling. Next year, I'll be able to put it into words, but I don't know what to do with myself at the moment." — Harper's Bazaar, February 2019
Malala Yousafzai
On becoming a Nobel laureate in 2014: "I'm proud that I'm the first Pakistani, the first young woman or the first young person who is getting this award. It's a great honor for me … This award is not just a piece of metal or a medal that you would wear or an award that you would keep in your room, but this is really an encouragement for me to go forward and to believe in myself, to know that there are people supporting me in this campaign." — The New York Times, October 2014
Allyson Felix
"Well, there was a race that I was running in Mexico City and I was the only high-school athlete running against grown women. It was a professional race, but I ended up winning. That was kind of a turning point for me where I felt like, 'Okay, I'm pretty good at this and there's a possibility for this to be a career for me.' That was a defining moment for me." — Ebony, September 2016
Donna Tartt
On winning the Pulitzer for The Goldfinch in 2014: "I'm just happy and delighted … and surprised. Wouldn't you be surprised?" — USA Today, April 2014
Cynthia Erivo
On winning Tony, Grammy, and Emmy Awards back to back: "I feel like I'm on a never-ending rollercoaster. It's one thing after another, after another, after another … I have to remind myself that dreams are coming true, and as much of a cliché as that sounds, it's the truth. So I think it's important for me to note that. To see that and then to make new ones, which is really awesome to be able to do." — Deadline, December 2018