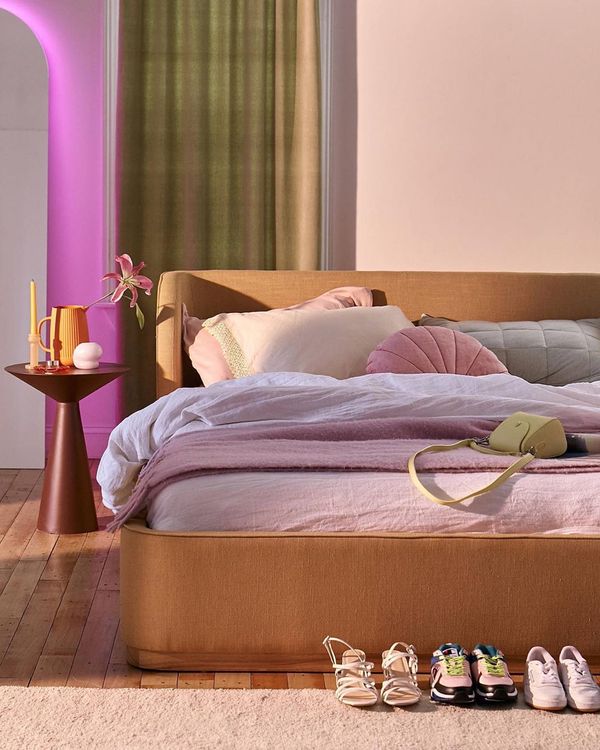 Photo: urbanoutfittershome/Instagram
For many of us, the bedroom is a sanctuary. It's where we rest, read, make love, cry — it's even where some of us eat. Due to the pandemic, it can also be an office, which sucks for those who never liked to bring work home. Below, we've rounded up 27 bedroom ideas that will work whether you're trying to make your room feel like a cozy sanctuary, a glamorous retreat, or just a reasonable place to do back-to-back-to-back Zooms. Read on for tips and tricks, plus advice about where to find furniture and décor. (Oh, and if you need living-room ideas, we've got those too!)
1. Colorful Minimalist Wall Art
A simple abstract print or mobile can add a splash of color to a room without making things too busy.
2. A Cube-Shaped Nightstand
There's something pleasingly industrial about a bedside table in the shape of a cube. Plus, it won't take up much room — good for smaller bedrooms.
3. An End-of-the-Bed Ottoman
Just think of all the things that could go on an ottoman at the end of your bed! It's a place for your roommates to sit, if you don't like outdoor clothes on your duvet. It's where you can set down your Telfar bag at the end of the day. It's where you can carefully place the chocolate-covered strawberries you plan on sharing with someone special later that night. Also, it makes the entire room look more sophisticated.
4. A Large Mirror on the Floor
Everyone needs a floor-length mirror, but may we recommend one that rests on the floor? It looks more dramatic that way, and if you don't hang it, you have more flexibility. You can move it from room to room or even take it outside for TikTok mirror selfies.
5. A Round Mirror for Your Dresser
Another mirror trick: Set a round one on your dresser to turn it into a vanity. This is especially useful if you can't drill holes in the wall.
6. Shades of Blush
Sick of neutrals but scared to go overboard with color? Try a splash or two of blush; it's subtle and tasteful.
7. A Multipurpose Desk (and a Folding Chair)
If your apartment isn't very big, try a desk that doubles as a vanity, breakfast station, and workstation. Keep the folding chair behind your door or in your closet when you're not using it to create a mental separation between work time and playtime.
8. A Modern Bedside Lamp
The warm tones make bedtime feel extra inviting.
9. An Upholstered Bed Frame
If you want to invest in your bed frame, now is the time! An upholstered frame can add comfort — and color, if you pick one in a shade like mauve.
10. Scarf Wall Art
A vintage scarf held up with pushpins is a quick, easy, affordable way to add art to a room. (Or you could splash out on something like the Gucci scarf below, if you're feeling fancy.) Buy an acrylic frame if you want it to feel a bit more polished.
11. A Low Bed Frame
A bed that's close to the floor feels grounded, literally, lending a sense of calm to the room.
12. A Decorative Net
Add a canopy over your bed for a beach-cabana feel. Because we all deserve a vacation right about now.
13. A Cloud of Pillows
One or two pillows on a bed: practical. Eight or ten pillows on a bed: wildly decadent and satisfyingly luxurious.
14. Lots of Texture
For a tactile way to add interest, try a rug and comforter in contrasting textures.
15. A DIY Bed Frame (Plus a Fake DIY Option If You're Terrible at Projects )
How cool is this bed frame made from wooden pallets? If you lack the time or skills for some light carpentry, try the minimal wooden option below.
16. Gold Accents
L.A.- and Nashville-based interior designers Emily Ward and Louisa Pierce specialize in mixing glamour, richness, and comfort. If your bedroom looks a little dull, get a metallic nightstand and vases to add some luster.
17. Dark Bedding
Many people default to white bedding to brighten up small rooms. But opting for a dark color creates visual contrast, which can actually make the space feel more vibrant.
18. A Timeless Persian-Style Rug
If you're over trendy abstract rugs, might we suggest one that goes with just about any kind of furniture and never goes out of style?
19. Bookshelves on Bookshelves on Bookshelves
John Waters once said, "If you go home with somebody and they don't have books, don't fuck 'em!" Heed his advice and go all the way with this customizable shelving system from Floyd. You can make it as tall or wide as you want in order to fit your bedroom.
20. Patterned Bedding
Aside from a rug, bedding is the best way to add color, pattern, and texture to an otherwise monochromatic room. If dark bedding isn't your thing, a good compromise might be something like this jacquard-woven option.
21. A Mirrored Nightstand
A mirrored side table feels like an objet d'art, even if you're just using it as a place to keep your mouthguard.
22. Alternative Shelving
If the average bookshelf bores you, try displaying books, magazines, plants, photos, and/or knickknacks on floating shelves — or look for a bookshelf that offers different shapes for storage.
23. A Folding Screen
Folding screens aren't just perfect for dividing a space into subsections — they also add a hint of vintage glamour.
24. Sconce Lighting
A bedroom with a single overhead light or lamp can be dark and depressing. Trading your nightstand lamps for wall sconces flanking the bed is a classic lighting option that looks very put together.
25. A Cute Little Seating Space
If you're trying to get more use out of your bedroom, try breaking it up into smaller vignettes. Add a small table, ottoman, and chaise (depending on how big your space is) for a new place to wind down, lounge, and read.
26. Lighting That Matches Your Décor
You don't need to color coordinate your bedroom down to the curtains and bedding, but matching the hardware in lighting and décor is a subtle way to tie everything together.
27. Tons of Wall Art
If you're struggling to find ways to fill empty space on your walls, look no further than Etsy, where you'll find tons of independent artists who offer gallery-wall sets. In just one purchase, you'll easily fill a wall with art that speaks to you.
28. A Neon Light
Art doesn't have to be the only thing you use to fill your walls. A neon light by Crosby Studios is a fun way to shake things up.