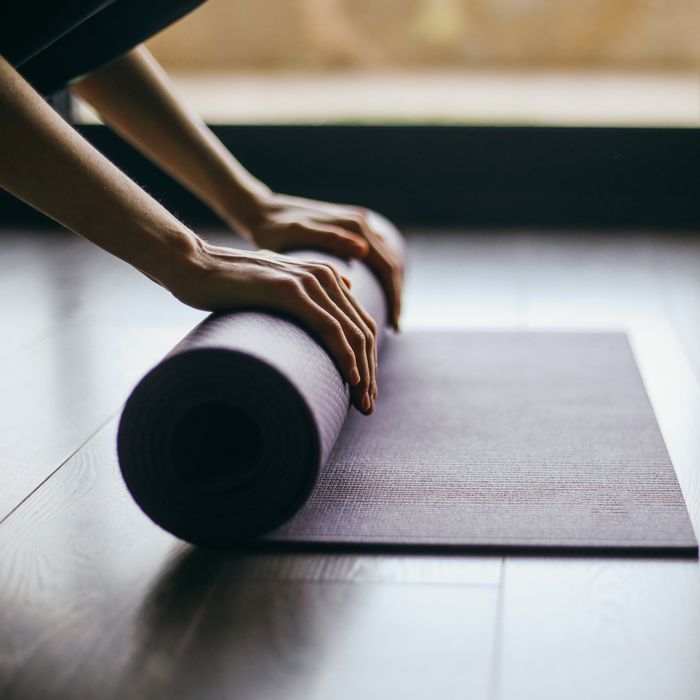 While some gyms and fitness studios have been allowed to reopen in New York, most have remained closed since March, leaving class instructors and employees wondering when (or if) they'll even have jobs to come back to. We spoke to three different fitness instructors about how they've been making rent, whether it's worth teaching over Zoom, and how much longer they can get by without steady work.
"I'm making less than half of what I used to make." — Zoe, 32, Reiki practitioner and yoga instructor
I've been teaching yoga for over ten years, so I have a pretty big following online. When the city shut down in March, I started doing classes on Instagram and Vimeo right away, and a lot of people sent donations through Venmo and PayPal. That first month, I made quite a lot in donations, about $3,000. But it's inconsistent — people aren't donating like that anymore.
I also applied for unemployment, but it didn't go through until April 20. I was calling the unemployment office nonstop, and it would just ring and ring. Then, one morning, I called as I was making my coffee, and it went through and that's how I got approved. My baseline benefit was $128 a week, which is very low. But then I also qualified for the extra $600 a week, which helped a lot. Now that's gone, though, which is scary.
Luckily, I had a lot of savings — enough to last me about two years if necessary. And my husband is now working full-time again. He's a chef. At the beginning of the pandemic, his hours and salary were cut in half, and he was on unemployment too. But now he's back full-time.
I've always been good with saving money. I grew up in Ecuador, and when my mom and I arrived in New York City when I was 15, we had $800 and had to sleep on the floor and eat McDonald's for months. I started working and saving money, and by 17, I already had $5,000 under my mattress. When I started making steady money with yoga, and eventually became a successful teacher, I still didn't spend much. I've never taken out loans, either; I got full financial aid to go to college here in New York. Debt terrifies me.
Before the pandemic, I was making about $1,500 a week, teaching ten to 13 hours. I worked hard to be able to charge more so that I didn't have to teach 20 hours a week like a lot of teachers do. Now I'm still teaching virtually, but only a few classes, plus some private clients. I teach shamanic reiki virtually, too. Most of it is paid under the table, so it doesn't affect my unemployment benefits. Still, I'm making less than half of what I used to make, especially after the unemployment benefits went down.
I'm trying to see this as an opportunity to think about next steps. Even before the pandemic, I was thinking, "Should I go back to school? Should I take some business courses? Should I do an acupuncture program?" But I was so busy that I didn't have time to act on it. When everything shut down, it was like a portal opened up. I took a financial markets course at Yale, which was free online. And now I'm taking a digital marketing class, which I'm paying $1,200 for, because I want to learn more about how to brand myself.
I've never had health insurance. I either paid out of pocket or just went to the doctor when I visited my family in Ecuador. But I've also had problems with depression in the past, and in April, I knew I needed to go back on antidepressants. I was having crying spells and experiencing a lot of grief. I'm a very social person, and all of this alone time wasn't good for me. Some days, I would drink a lot. I was able to get Zoloft from a free clinic, and it has helped. And now that I'm unemployed, I've been able to go on Medicare, which covers the prescription.
The other part of my pandemic crisis was being able to afford rent. We live in Williamsburg and our landlord didn't give us a break at all. I looked for cheaper apartments in other parts of Brooklyn, but I couldn't find anything that would make it worth moving, so we just decided to re-sign the lease in August. We're paying the same as before, $3,300 a month. I've cut back on other expenses to make up for it. We canceled all our trips and got our money back. I also applied for food stamps and was approved. They gave me $180 a month, which is something.
I sometimes feel guilty for taking the money, but I mostly don't, because I'm not rich. I have a friend who's really rich — he owns a building, and he has apartments on Park Avenue and in Miami, and he took $300,000 in small-business loans and reinvested it in his real estate. In my opinion, that's taking money from people who really need it, because that loan funding ran out and a lot of small businesses had to close. I feel weird about that. I think it's messed up.
"Even if yoga studios do open up at full capacity sometime in the next year, will people feel safe coming to class?" — Jade, 38, childbirth educator and yoga instructor
At the beginning of the pandemic, there was just so much confusion. I teach as a contractor for a number of different studios, a few of them kept some teachers to teach classes online and let the rest go. One place I worked closed permanently and didn't even tell anybody. Now that we're six or seven months into this, studios are still closed, and most don't have a plan to reopen. It's been tough, trying to see what the next year is going to look like. None of us really know when we're going back to work.
It didn't feel right to take unemployment when so many other people needed it more than me, and I had enough savings to live for a little while, about $8,000. A lot of my friends had to move out of the city because they couldn't afford to stay. Another good friend of mine just had a baby, and both she and her partner lost their jobs. So I decided to hold off on filing until I really needed to, which I will soon. My savings are going to run out before the end of this year; at this point, I have about $2,500 left. I know I should've maybe filed earlier. I just didn't know how long this was going to last, and I kept hearing horror stories about the unemployment office, so I wanted to avoid the process if I could. It all just seemed so confusing, especially for an independent contractor like me.
I am teaching a few classes on Zoom, but they don't pay as much. I'm making about enough money to cover groceries. But my expenses are really low. I started living really frugally after I got out of a long-term relationship about a year and a half ago. He and I were living together and splitting rent, and he made more money than I did. When we broke up and I moved out, I downsized a lot. I got the cheapest apartment I could find, with three roommates. My room is a shoebox with no windows, and I pay $850 a month. Now I'm even more careful with budgeting. I'm a vegetarian, and I eat a lot of soups. The rest of my money goes to rent, my phone bill, and that's about it. I'm on Medicaid. I used to love buying makeup, but I don't do that anymore. Nails, lipstick, upkeep — it's just not necessary. At a yoga studio, you want to look presentable, but at home it doesn't really matter.
I started doing birth work years ago, and obviously people are still having babies, but COVID has really changed that landscape. Now I've been offering my services virtually and mostly pro bono, especially to women of color and those from disadvantaged backgrounds and underserved areas. I do childbirth education, and teach women how to navigate the hospital environment and advocate for themselves. I helped one woman through her labor over the phone. Most women can't afford to pay $2,000 for birth support, so I've been doing it mostly for free. It gives me a lot of purpose.
I don't have a credit card or any consumer debt, but I do have a lot of student debt. Education is something I'm willing to invest in, but also, it's so expensive. I went to undergrad at NYU and then medical school after that, although I didn't complete my boards. I owe well over $200,000 in loans. My federal student loans are in forbearance until January, and my private student loans are in forbearance too. I just call them every month and say, "I'm still unemployed. Can we push this back?" I'm not sure how much longer that'll work, though.
I'm definitely scared. I have moments of anxiety, and I'll just cry. Even if yoga studios do open up at full capacity sometime in the next year, will people feel safe coming to class? And so many people have moved away, too. But even if I'm teaching a Zoom class with two people in it, I'm happy to see them. Every once in a while I'll get an email from a student saying thank you for class, and that helps me mentally a lot.
"I do miss going to restaurants, and shopping sometimes, but I miss teaching more." — Tamika, 35, yoga and fitness instructor
I started teaching yoga when I was 23, and for most of my 20s, I lived with my parents to save money. Now I live in an apartment in a house in upstate New York, and my rent is $900 a month. Before the pandemic, I was making about $50,000 a year. I would commute into the city about once a week to teach classes at a luxury corporate gym. I also had some private clients, and I was affiliated with a yoga studio that's near where I live. I was teaching 15 to 20 classes a week, and because I didn't have a lot of expenses, I was able to save money. I had about $30,000 put away.
When everything closed, my private clients pretty much disappeared, and my gym told all their employees to file for unemployment. It took a while to go through, but then in May I started getting about $700 a week in benefits. I didn't realize that $600 of that was from the federal government until it stopped coming in August. Now I'm only getting about $100 a week, which doesn't make any sense to me. I do my taxes every year, and based on my income in 2019, I should be getting more. I called them and resubmitted my forms, and they added $30. So now I'm getting about $130 a week. I called them again, and supposedly the federal government just added $300 a week back, but it hasn't come through yet. It's really frustrating. Even when you do get in touch with someone from the unemployment office, they don't have answers. It doesn't seem like anybody is getting what they're supposed to.
Luckily, my landlord has been really great. In April, she emailed the whole building and said she wasn't going to collect rent for the month, which was incredibly nice of her, but also necessary — I don't know that any of us would have been able to pay it. In May, I started getting unemployment and I've been able to pay my rent since then. I still have a fair amount of savings left, and I'm lucky that I'm not in debt. But I am getting really scared now, just measuring out money for rent and gas and food and my car payment. That $30,000 will go pretty quickly if I'm not able to work. It's not a lot, especially if there's another shutdown. I was never teaching yoga to become a millionaire. I was just hoping to live somewhat comfortably, have food on the table and take care of myself.
To cut back on spending, I got rid of a lot of unnecessary stuff. I don't buy clothes anymore, or takeout food. I cut all my subscriptions to TV and magazines. I don't really buy alcohol anymore. I do miss going to restaurants, and shopping sometimes, but I miss teaching more. I loved being in a room packed with sweaty people, with the music going. I loved my job. I know a lot of teachers who are doing donation-based classes under the table, but I decided not to do that. I thought it would be better to stand with the studio I work with, rather than trying to go out on my own. To me, yoga is stronger when there's community around it. So I've taught some online classes through my studio, and done some teacher trainings and workshops with them. But it's a reduced price because it's online, so it doesn't pay much.
I've also been applying for other jobs, but it's very hard to get hired, and nothing has worked out so far. I don't want to feel like I'm just sitting around collecting unemployment. I'm trying to put myself out there, but I'm also just trying to take it month by month.