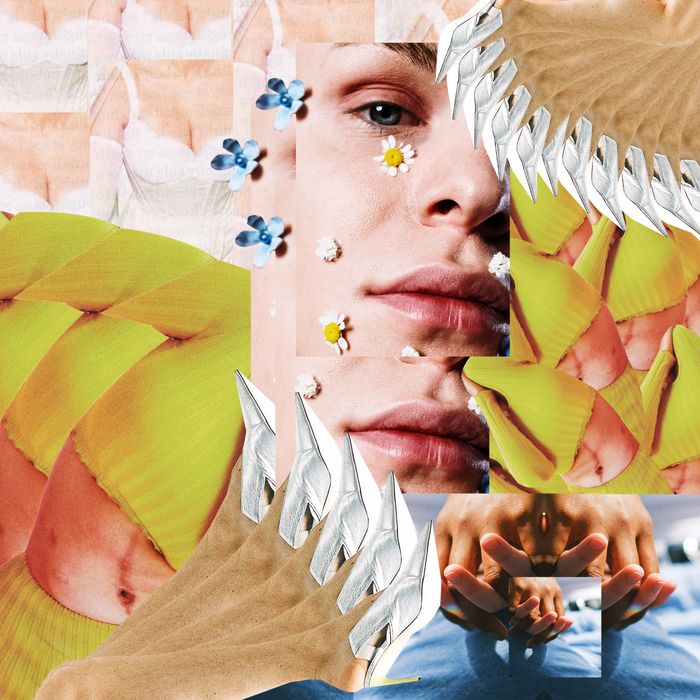 Illustration: Marylu E. Herrera
This week, a therapist hooks up with a guy who lives in a penthouse and wonders if she's queer: 41, single, Brooklyn.
DAY ONE

7 a.m. My 4-year-old daughter wakes me up the usual way, by crawling into bed with me and curling up for morning cuddles.
8 a.m. A hectic morning as always. I had my daughter alone—I used a sperm donor and am a single mother by choice, so the mornings are always chaotic. Making coffee, packing lunch, getting her ready, getting me ready, and heading out: her to pre-K, me to my office. I'm a therapist with a private practice in Brooklyn.
10 a.m. Settled into my office with a Starbucks and silence. This point in the day always feels like a little victory.
11 a.m. My first client cancels last minute so I have an extra hour to think about my love life. I've only recently started exploring sex again; I shelved it for a few years while raising my daughter, but a few months ago I decided I was ready to get back in the game.
I'm interested in new things now. For most of my life I identified as straight and monogamous. I'd had several relationships with good guys who were "marriage material," but now I'm interested in men and women. I don't care about monogamy. I just want pleasure and attraction and excitement.
12 p.m. Let my first client of the day in. Try to focus on their life, not mine.
5 p.m. David calls on my way out of the office. He's an investment banker I met through a mutual friend who works with him. He's divorced, shares custody of his kids, and is pretty fun. We've been on two dates and haven't had sex yet, but I think we will on our date tomorrow. Anyway, his calls are always fast and witty. He's a busy dude. He runs a restaurant suggestion by me for tomorrow. I give him the green light.
9 p.m. My daughter is in bed. I think about what to wear tomorrow. I decide to go shopping; I want to feel hot as fuck.
DAY TWO
8 a.m. The usual morning chaos.
9 a.m. I have back-to-back clients today but they end early, so I can shop for slutty dresses and lace bras.
3 p.m. I run to Nordstrom Rack in Downtown Brooklyn. Shopping is a little tricky because, to be honest, I've barely looked at my body since my daughter was born. Sex is also kind of weird. In the last few months, I've had sex with two men and one woman — it was all awkward, and I sort of regret it. I was drunk and kept the lights off, literally and spiritually. Still, I consider it a step forward, along with searching for skanky lingerie at Nordstrom Rack. At least I'm engaging with my sensuality … kind of.
4 p.m. Find a few things, including a sexy little black tank top.
5 p.m. Rush to pick up my daughter.
6 p.m. The babysitter arrives. My daughter loves sitters, so it's easy getting out.
7 p.m. I see David awaiting me at the bar. This restaurant is really chic — I have no idea how he got a reservation. His personality is big and New York–y and very hyper, which I don't usually go for. I like chill guys, like documentary filmmakers and writers. But I'm trying to be open-minded. Maybe he's an animal in bed?
9 p.m. As we wait for an Uber to his place, he kisses me. His hand is on my ass as we make out, and there's a vibe between us that tells me we're going to fuck like crazy and it's going to be amazing.
10 p.m. He lives in a penthouse. It's beautiful and the sex is … fabulous. He has a huge cock, which I was not expecting, and he touches me in a way that is so gentle. Also, he talks dirty, which I never knew I loved but I guess I fucking love.
11 p.m. I'm in an Uber home and feel totally elated.
DAY THREE
8 a.m. I would pay any amount of money to sleep late today and do nothing all morning!
9 a.m. Got my daughter to school and am ready to see my first client. I can't stop smiling. I'm having flashbacks of last night: David going down on me. David's gorgeous dick. David deep-kissing me while fucking me. The sweaty-yet-not-disgusting taste of his ass … Yes, I licked his asshole! I only just remembered that! Another first for me. Check!
11 a.m. Flower delivery at my office. A note from David that reads: "Hope your day smells like roses. Love, David." It's two dozen roses. Is that cheesy? Is he cheesy? I decide to find it super-endearing.
4 p.m. I'm supposed to go out with a local mom, who is a lesbian, tonight. I have no idea if it's a date or a mom-bonding thing. We met at a kid event in our neighborhood park, where I told her I was single and open "to anything," after which she promptly texted me to make plans. I like her, but I'm not sure if I want to date a woman. I'm enjoying having sex with women, but I'm not certain that I'm actually queer after all. Anyway, I have to cancel on her tonight. I'm tired and frankly I just want to make dinner and dream about David's dick.
8 p.m. The mom is sending me flirty texts, which I'm okay with. She wants to know who my crushes are. This is her way of testing the waters. I write a bunch of men — Oscar Isaac, Jacob Elordi — and then, just to keep things alive, I add "Alexandra Daddario." She instantly hearts that text.
DAY FOUR
10 a.m. Have a gap this morning, so I go on a run around Brooklyn Bridge Park. It's so nice to listen to music and sweat and not read emails, Instagram, or texts for a full hour.
11 a.m. Send David a calm and collected thank-you-for-the-flowers text. I don't want him to know I've been daydreaming about him 24/7.
12 p.m. Back-to-back clients for a few hours.
4:30 p.m. Check my phone and see that David texted. He wants to meet up tomorrow night. I coordinate with my sitter and write back that I'm available.
6 p.m. My daughter and I have a dinner date with some of her friends and their moms tonight. I love our community, but I do get exhausted being the only single mom. They all tell me how I'm an icon and a legend and talk about how they all worship me for "doing it all." I appreciate it, but it's also boring and kind of annoying.
9 p.m. Daughter is in bed, so I catch up on some texts with people I'm interested in: Tommy, a bartender who is not a serious person, but whom I really want to have sex with at some point; and Cassie, an actress I met at some singles event. She's gorgeous and queer, and I just want to make out with her and suck her tits.
DAY FIVE
10 a.m. Trying to have a calm, slow day so my energy is right for tonight.
3 p.m. Had a few really intense clients today. I felt particularly good at my job, but now I'm a bit drained.
5 p.m. Pick my daughter up at school. Her teacher tells me about a few behavioral issues going on. I had no idea any of this was happening and I leave feeling a bit gutted.
6 p.m. I'm really not in the mood for this date with David. I text him to see if there's any way we can reschedule and simultaneously cancel my babysitter.
7 p.m. David is kind of being a baby about my flaking. He's encouraging me to find a second wind. He calls; I don't answer. He texts that it's a restaurant reservation he'll never be able to get again, "a once-in-a-lifetime tasting menu." I can't tell if he's being adorable and supportive or whiny and aggressive.
8 p.m. I tell David that I'll make sure our next date is extra special but I'm saying goodnight for now.
DAY SIX
7 a.m. It's Saturday, which means ballet, gymnastics, and whatever else I can come up with. David hasn't responded to my last text, and I wonder if I fucked things up with him. Should I have been more game?
12 p.m. I let my daughter watch two hours of TV so I can lie in bed and zone out.
1 p.m. I very quietly and secretly masturbate in my bed. I fantasize about the lesbian mom going down on me and fucking me with a strap-on. After I come, I text her that we need to reschedule asap.
5 p.m. My daughter and I do some baking and cooking. I let her play restaurant and set up the table for dinner and take my order.
6 p.m. I pour myself a glass of wine and we have a lovely dinner together, just the two of us.
DAY SEVEN
9 a.m. Sundays are fundays because my parents come in from Philadelphia to watch my daughter all day. They are the best parents and grandparents in the world and everyone knows it.
10 a.m. I go to brunch by myself and catch up on all my favorite podcasts while drinking a Bloody Mary and ordering whatever I want.
12 p.m. I visit all my local bookstores.
1 p.m. Go shopping for fall clothes for both me and my daughter.
4 p.m. I've been thinking about the David thing and decide to just call him. I ask: "Are you mad at me?" He laughs and admits he acted like a toddler the other night. We talk about our kids and I tell him I want to see him again, and I say it in a way that I think he understands is sexual. Overall, It's a really fun and flirtatious call, and I think we're back on track now.
6 p.m. I come home to a clean apartment and a bathed child. My parents, my kiddo, and I have a nice, happy, healthy dinner together.
The Sex Diaries column, which began in 2007, is the basis of a new docuseries on HBO.
Want to submit a sex diary? Email sexdiaries@nymag.com and tell us a little about yourself (and read our submission terms here.)