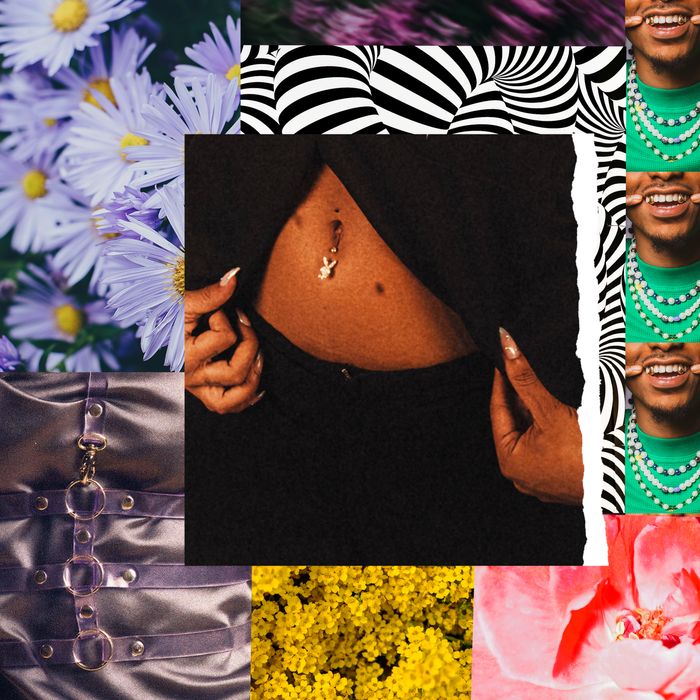 Photo-Illustration: by Marylu Herrera
New York Magazine's Sex Diaries series asks anonymous city dwellers to record a week in their sex lives — with comic, tragic, often sexy, and always revealing results. The column, which began in 2007, is the basis of a new docuseries on HBO.
This week, a TV producer has a spontaneous orgasm on set while remembering a vivid wet dream: 50, single, Brooklyn.
DAY ONE
7:15 a.m. Wake up from the craziest dream ever: It was about my ex-boyfriend from summer camp who I haven't seen in more than 30 years. I'm divorced, and my kids are away at summer camp, so maybe that's why I had this horny, summer-camp-themed dream?
10 a.m. I'm pulled up to my desk in my home office. I work in unscripted television as a producer. (I'm not on strike, but work is still weird.) Right now, we're working on schedules for two upcoming series.
Noon I'm halfway through my workday and still thinking about the dream. It was so vivid. I'm pretty sure I came in my sleep. I dreamed that my ex, Jesse, was slowly undressing me, and then we fucked in the shower. The buildup was so intense and he was hung like a hammer!
6 p.m. Work is over, so I pour a glass of wine and decide to reach out to Jesse. I have to! Maybe he's divorced like me. Maybe his kids are away at their own summer camp. Maybe he's dead. Who knows. That dream was so luscious.
8 p.m. I find him on Facebook. He's a doctor, which I think I already knew. He lives in New Jersey. I can't tell if he's married. His online presence is vague. I message him: "Hey! Remember me? Had a dream about you last night, LOL. Hope all is well!"
Hmm … Let's see if he writes back.
10:30 p.m. I take out one of my vibrators and use it while replaying last night's dream.
DAY TWO
5 a.m. I wake up to check Facebook … no response yet. Try to go back to bed.
10 a.m. I'm at work on my second cup of coffee. I miss my kids, but I love having a quiet house. I promised myself this summer would be a dating feast for me, but so far it's been pretty slow. I've met a few single dads in Brooklyn, but they're either totally broken (never recovered from their divorces) or really weird (no one wanted to marry them in the first place).
I'm trying to be open-minded. All I care about is that they have a good job (my ex struggled with his, and it was an eternal drag) and that the sexual chemistry is right (sex wasn't great with him, either).
2 p.m. Work anxiety all around, but I keep my head down and crank. Everyone in my industry is struggling with the strikes. There's less work and the future feels bleak. I'm lucky to have two shows in production, but who knows what will happen when they end.
5 p.m. Text my friend about meeting for drinks tonight. She's single and divorced too. Cross your fingers!
7 p.m. Meet my friend at a bar on Long Island. I feel like we obviously look divorced and desperate. I mean, we look good and are both catches, but I feel like it's obvious that we are cruising for men.
7:30 p.m. There are two guys hitting on us, but they are tourists from Sweden, and we aren't interested. I tell my friend about the dream. She says she has a weird feeling I'm going to see Jesse again and fuck him and marry him. I don't mind that prediction, but given that he hasn't even responded, it makes me feel a little depressed.
10 p.m. Home watching TV. Still no response from Jesse.
DAY THREE
3 a.m. I wake up to pee, check my phone, and there's a response. He is super- enthusiastic. It's like: "Oh, my goodness! Hey! It's SO GREAT TO HEAR FROM YOU."
He does not mention a wife, but he does mention his kids, who are also at camp. I am practically shaking from this response. He ends with: "So … dare I ask for details on the dream? LOL." It's on, baby.
8 a.m. I did not respond last night, obviously. I have a little bit of game left in me.
9 a.m. We are out shooting for one of my projects today. It's superhot out and part of my job as a higher-up is to make sure everyone is safe and hydrated. I run to Target and buy tons of water, fans, and umbrellas … I have a corporate card, so I go a bit overboard.
1 p.m. On the shoot. It's almost lunch. I plan to write Jesse back on my break.
1:30 p.m. I sit under a tree and take a bite of my sandwich and think hard about my next move. What I want to write is: I had this dream and now I need to fuck you. Don't ask questions. 
2 p.m. Instead I tell him I'm a TV producer and a bit about my kids. I keep it fairly innocent. I end with: "I have to tell you about the dream in person. It's too much to type and very detailed and kinda … well … hot."
3 p.m. He writes back right away. Holy shit! I'm shooting so I can't really look at it, but I start thinking about the dream and then realize I'm wet at work. I feel like I might come. I think I actually might come. I know, I know — it sounds unbelievable, but it's happened to me once before (that time, I was driving, so I could kind of move my body around). But now I'm here just standing, and I start to get really tingly. The lighting guy is making some adjustments and the sound guy is checking a few things. I pretend to be sorting something out in my head. Then I come right there in my sundress.
6 p.m. I'm home, showered, and back on Facebook. Jesse says he's coming into the city next week and that we should meet. He hasn't said if he's widowed or divorced. I'm sure there's no wife. But, still, I have to ask. I want to see him, but I won't engage with married men. It's a hard rule I have. I write: "I have to ask: Are you married?"
9 p.m. He hasn't written back and I have to get up early tomorrow, so I take a sleep gummy and go to bed.
DAY FOUR
5 a.m. No response from Jesse. I'm cranky and annoyed that I have such an early shoot. And I miss my kids.
9 a.m. I put all my attention on work. There are always fires to put out. There's always interpersonal drama. But I love the show we're making, so I try to stay focused and practice gratitude.
Noon We break for lunch. I see that Jesse has finally written back. He apologizes for the slow response — he says he was stuck in a long surgery (I guess he's a surgeon?). He says he's separated from his wife. Separation. Fuck. Such a gray area. Not sure if it's a red flag or what. He says he'll explain everything in person.
5 p.m. We wrap the shoot, and I get drinks with another producer from the show, Tia. Today calls for margaritas. She's a cool woman, openly bisexual, very much in the kink community. I'm fascinated by her, and she's great at her job.
7 p.m. Tia and I are drunk. We decided to order one more margarita each. We've already had two.
8 p.m. We're waiting for our Ubers and Tia asks if I want to kiss her. I say that I've never kissed a woman before, but she asked me in such a casual way that I actually don't feel nervous about it. I say, "Well, we work together. So is this okay? Is it something you want?" She pulls me close and says, "Of course I want it. I asked you to kiss me!"
So … we make out! It's nice. It's so … soft? Her lips are soft and her tongue is soft. It's a very pretty, sweet kiss. Our cars come and I get inside and smile. That was fun, but it didn't turn me on. Women are not for me. I want a rugged man to shove his tongue down my throat. But I'm glad I did that!
DAY FIVE
9 a.m. Today is a day off. A self-care day. I have a massage booked and plan to do some cooking. I never wrote back to Jesse after he told me about being separated. I'm just not sure I want to expose myself to something potentially dramatic.
11 a.m. At my massage, which is a good thing because my hangover is kicking in. I've seen the same masseuse for years and I love her because she doesn't speak a word but gives the most phenomenal massages. I always leave her a $50 tip on top of the $120 massage because I value our time together.
1 p.m. I come home and nap.
5 p.m. Jesse messages me: "Can I call you? Or text you? I realize I sounded a bit sketchy in my last message. Would love to explain!" I send him my number and tell him not to worry about it. I'm kind of over the whole thing.
9 p.m. In bed with my vibrator when I see a New Jersey number appear on my phone. I've already taken my sleep gummy so I let it go to voice-mail.
DAY SIX 
6 a.m. Over coffee I play Jesse's voice-mail. His voice is deep. I remember that he's a big guy — and now I'm imagining him as a jock-doctor type. In the voice-mail he says he's been separated for several years and it's a whole drama because they have homes and kids. I actually don't mind that kind of drama. I tell him that we're still on for next week.
10 a.m. My kids come home soon, so I decide to rearrange their room a bit so they can have space for bunk beds, which they've always wanted.
4 p.m. I've bought three pieces of furniture off Facebook Marketplace today and am now on my way to Ikea. I text a friend about meeting for wine tonight.
7 p.m. I meet my friend Randy at a local Italian place. She has a drink waiting for me. My body hurts from carrying furniture around all day and it's nice to relax now. Randy says she wants to set me up with her kids' piano teacher. I tell her "No, thank you." Nothing about "piano teacher" sounds sexy to me.
DAY SEVEN
6 a.m. Up early again. I have to be in New Jersey for a shoot today.
10 a.m. By now Jesse and I are texting as much as our work schedules allow. He might drive to see me in Jersey today.
1 p.m. He keeps asking me for deets on the dream. "You always had a dirty mind," he writes. "I still do …" I confirm. The tension is definitely building, but it looks like things are too busy at work for him to swing by.
4 p.m. We wrap the shoot. Tia comes over and asks how I felt about the other night with her. I give her a big hug and tell her that kissing her was an incredible experience and I'm so happy we have that memory. She hugs back, and it's all so safe and gentle. Women are the best.
5 p.m. Get in my car to drive home to Brooklyn. I feel hopeful about things with Jesse, and lucky to have my work and kids. I put the windows down, turn the music up, and hit the road.
Want to submit a sex diary? Email sexdiaries@nymag.com and tell us a little about yourself (and read our submission terms here.)