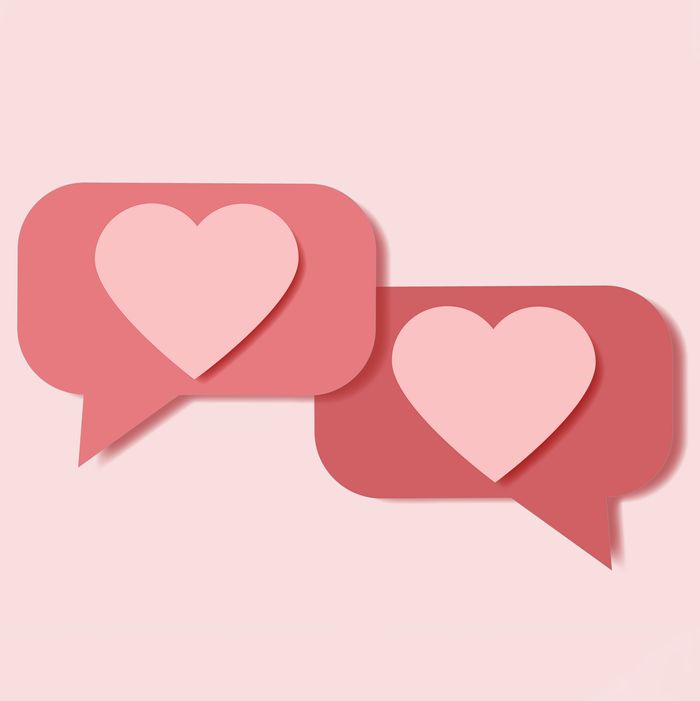 Photo: South_agency/Getty Images
One of my biggest fears — aside from getting stuck mid-air on a ferris wheel, or, say, dropping an AirPod on the subway tracks — has always been writing Valentine's Day cards. Though every year presents me with the opportunity to write a myriad of letters for friends, family, and, in my angsty early teenage years, countless crushes who were never meant to read my overly looped love declarations à la To All the Boys I've Loved Before, I remain significantly more comfortable expressing my love through pastries, not prose.
But with Valentine's Day around the corner, I figure: why not conquer my fear with the help of the internet? From salient ruminations on love to gut-wrenchingly cheesy expressions, here are some of the best love quotes to inspire you beyond February 14.
"First best is falling in love. Second best is being in love. Least best is falling out of love. But any of it is better than never having been in love." —Maya Angelou
"Nobody has ever measured, not even poets, how much the heart can hold." —Zelda Fitzgerald, Save Me the Waltz
"That's why they call them crushes. If they were easy, they'd call them something else." —Paul Dooley as Jim Baker, Sixteen Handles
"I have decided to stick with love. Hate is too great a burden to bear." —Martin Luther King Jr., I Have a Dream
"But love doesn't make sense. I mean, you can't logic your way in or out of it. Love is totally nonsensical. But we have to keep doing it, or else we're lost, and love is dead, and humanity should just pack it in. Because love is the best thing we do." —Josh Radnor as Ted Mosby, How I Met Your Mother
"You have to be at the right time in your life that you're ready for an everlasting relationship, that it becomes first and a priority in your life. If your career is important to you, don't get married and have children, because something will give. I know we as women, we want to be able to have it all, but we can't have it all at the same time. So make your priority of what you want at that time." —Iman, Oprah: Where Are They Now?
"Perhaps we are in this world to search for love, find it and lose it, again and again. With each love, we are born anew, and with each love that ends we collect a new wound. I am covered with proud scars." —Isabel Allende, Paula: A Memoir
"I don't want the heavens or the shooting stars. I don't want gemstones or gold. I have those things already. I want… a steady hand. A kind soul." —Shana Abé, The Dream Thief
"You can't eat beauty, it doesn't sustain you. What is fundamentally beautiful is compassion for yourself and those around you. That kind of beauty inflames the heart and enchants the soul." —Lupita Nyong'o, Essence Magazine's Black Women in Hollywood Luncheon
"I loved her against reason, against promise, against peace, against hope, against happiness, against all discouragement that could be." —Charles Dickens, Great Expectations
"You are the calm and voice of reason, always keeping things in perspective and seeing the beauty and light in every circumstance. I love you more than words could explain and I'm so proud to be your partner in life." —Jessica Alba on Cash Warren, Instagram
"I don't hate hardly ever, and when I love, I love for miles and miles. A love so big, it should either be outlawed or it should have a capital and its own currency." —Carrie Fisher, Shockaholic
"When we love, we always strive to become better than we are. When we strive to become better than we are, everything around us becomes better too." —Paulo Coelho, The Alchemist
"I think that one of the things that you do learn is that falling in love and being in love with someone is a rarity. That you don't fall in love as many times as you think you're going to. And then when you do, it's really special, it's really important. Maybe it does happen to some people a couple of times, or maybe it is once, but I think you do know and you have to value it, and not just say, yeah, it'll happen again!" —Julianne Moore on Bart Freundlich, Collider
"Don't ever think I fell for you, or fell over you. I didn't fall in love, I rose in it." —Toni Morrison, Jazz
"If you can't love yourself, how in the hell are you gonna love somebody else?" —RuPaul
"If you are not feminist in love, you fail to recognize someone who does not love you. Feminism makes love easier. Otherwise, there is the danger of feeling romantically drawn to someone who does not see you as an equal." —Gloria Steinem, Jaipur Literature Festival
"I stopped believing in love at first sight…I think you go through that wonderful love stage, but when it gets hard, you need a little bit more." —Michelle Obama, The Oprah Winfrey Show
"The love expressed between women is particular and powerful because we have had to love in order to live; love has been our survival." —Audre Lorde, I Am Your Sister: Collected and Unpublished Writings of Audre Lorde
"Love never dies a natural death. It dies because we don't know how to replenish its source. It dies of blindness and errors and betrayals. It dies of illness and wounds; it dies of weariness, of witherings, or tarnishings." —Anaïs Nin, The Four-Chambered Heart
"It is better to love wisely, no doubt: but to love foolishly is better than not to be able to love at all." —William Makepeace Thackeray, The History of Pendennis: His Fortunes and Misfortunes, His Friends and His Greatest Enemy
"You've got to learn to leave the table when love's no longer being served." —Nina Simone, You've Got to Learn
"There is no charm equal to tenderness of the heart." —Jane Austen, Emma 
"It is a curious thought, but it is only when you see people looking ridiculous that you realize just how much you love them." —Agatha Christie, Agatha Christie: An Autobiography
"I would not be the woman I am if I did not go home to that man. It just gives me such a foundation. [He's helped me] on so many levels. We were friends first for a year and a half before we went on any date. On the phone for a year and a half. And that foundation is so important in a relationship. And just to have someone that you just like, you know, is so important. And someone who is honest." —Beyoncé on Jay-Z, Oprah's Next Chapter
"But the most exciting, challenging and significant relationship of all is the one you have with yourself. And if you can find someone to love the you you love, well, that's just fabulous." —Sarah Jessica Parker as Carrie Bradshaw, Sex and the City
"If you wish to heal your sadness or anger, seek to heal the sadness or anger of others. They are looking to you for guidance, help, courage, strength, understanding, and for assurance. Most of all, they are looking to you for love." —Ana Castillo, Give It to Me
"I'm grateful for everything. I'm grateful for my health, and I'm so grateful for the love in my life. Because not everybody finds that. Not everybody finds that best friend." —Ellen DeGeneres on Portia de Rossi, People 
"If you look for it, I've got a sneaky feeling you'll find that love actually is all around." —Hugh Grant as Prime Minister David, Love Actually
"My mom always used to say, 'You can't say I love you before you can say I.' And I think that sort of makes sense." —Mindy Kaling, Your Tango
"Dax [Shepard] helped me learn that I don't have it all figured out. Sometimes that's the greatest gift someone can give you." —Kristen Bell on Dax Shepard, Good Housekeeping
"Lots of people want to ride with you in the limo, but what you want is someone who will take the bus with you when the limo breaks down." —Oprah Winfrey, People
"We loved with a love that was more than love." —Edgar Allan Poe, Annabel Lee
"I am a feminist, and what that means to me is much the same as the meaning of the fact that I am Black; it means that I must undertake to love myself and to respect myself as though my very life depends upon self-love and self-respect." —June Jordan, Civil Wars
"There are only the pursued, the pursuing, the busy and the tired." —F. Scott Fitzgerald, The Great Gatsby
"Everybody wants to define everything. Is it necessary to define love?" —Patti Smith on Robert Mapplethorpe, Interview
"He was the only person who put up with me. It's difficult for a guy to understand what women are thinking. Most guys don't even listen. He was very forward-thinking in that sense. He really jumped into feminism, no argument. He would ask me, 'Could you find feminist groups for me?' Even now, I don't think men get together and say, 'Let's be feminists.'" —Yoko Ono on John Lennon, Rolling Stone
 "It was a million tiny little things that, when you added them all up, they meant we were supposed to be together, and I knew it." —Tom Hanks as Sam Baldwin, Sleepless in Seattle
"We started talking about [how] we came into this fake romantic concept that somehow when we got married that we would become one. And, what we realized is that we were two completely separate people on two completely separate individual journeys and that we were choosing to walk our separate journeys together. But her happiness was her responsibility and my happiness was my responsibility." —Will Smith on Jada Pinkett-Smith, Instagram
"I like you very much. Just as you are." —Colin Firth as Mark Darcy, Bridget Jones's Diary
"The most important relationship in your life is the relationship you have with yourself." —Diane Von Furstenberg, The Woman I Wanted to Be
"The greatest thing you'll ever learn is just to love and be loved in return." —Nat King Cole, Nature Boy
"The best love is the kind that awakens the soul and makes us reach for more, that plants a fire in our hearts and brings peace to our minds. And that's what you've given me" —Ryan Gosling as Noah Calhoun, The Notebook
"You've gotta do things that make you happy. As women, we tend to give away a lot. We take care of a lot of people, and we can't forget to take care of ourselves." —Jennifer Lopez, Redbook Magazine
"People are always wondering if the grass is greener and then they'll​ start hearing things or meeting other people [and the relationship unravels]. But for me personally I don't know what could be greener than John, he is perfect for me." —Chrissy Teigen on John Legend, A Drink With
"Love has nothing to do with what you are expecting to get — only with what you are expecting to give — which is everything." —Katherine Hepburn, Me: Stories of my Life
"I love you without knowing how, or when, or from where. I love you simply, without problems or pride: I love you in this way because I do not know any other way of loving but this, in which there is no I or you, so intimate that your hand upon my chest is my hand, so intimate that when I fall asleep your eyes close." —Pablo Neruda, Sonnet XVII
"I think I am very, very, lucky because I found love. You know, I think this is number one, the greatest achievement is that I found a fantastic partner to share my life with that I am still in love with, and that supports me and inspires me to grow." —Salma Hayek, Holmes Place
"That's the cliché about love. You don't choose it. It chooses you." —Durjoy Datta, The World's Best Boyfriend
"You should be kissed and by someone who knows how." —Margaret Mitchell, Gone With The Wind
"Love itself is what is left over, when being in love has burned away. Doesn't sound very exciting, does it? But it is!" —Louis de Bernières Captain Corelli's Mandolin
"He's been by my side through some of the most difficult parts of my life. And so that's something you can never take away. A lot of other things, you never know, other things might change…but one thing is for sure: I love him deeply and he is my best friend." —Jada Pinkett-Smith on Will Smith, HuffPost Live
"You — my life — my All — farewell. Oh, go on loving me — never doubt
the faithfullest heart
Of your beloved
L
Ever thine
Ever mine
Ever ours." —Ludwig van Beethoven, Immortal Beloved
"There are opportunities even in the most difficult moments." —Wangari Maathai, Unbowed: A Memoir
"We are asleep until we love." —Leo Tolstoy, War and Peace
"We're all wounded, but it's about leaving the least amount of damage behind that really matters." —Man I overheard on the 6 train