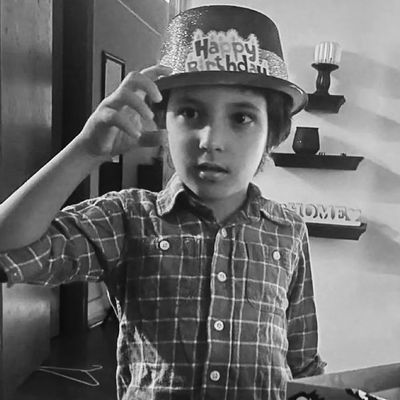 Photo: Handout/CAIR-Chicago
Earlier this month, a man fatally stabbed a 6-year-old Palestinian American boy and seriously wounded his mother in a suburb near Chicago, an act of violence seemingly motivated by "the ongoing Middle Eastern conflict involving Hamas and the Israelis." That's according to the Will County Sheriff's Office, which issued a statement on October 15, saying the victims' landlord, 71-year-old Joseph Czuba, targeted his tenants for being Muslim. An Illinois grand jury indicted Czuba on first-degree murder, attempted-murder, aggravated-battery, and hate-crime charges last week, and on October 30, he pleaded not guilty to all eight counts against him.
In text messages to the boy's father from the hospital, obtained by the Council on American-Islamic Relations, 32-year-old Hanaan Shahin reportedly claimed that Czuba, angry with what he was seeing on the news, knocked on the family's door on October 14. Shahin later told police that Czuba assaulted her after she asked him to "pray for peace": He allegedly tried to choke her, then attacked her with a serrated knife while yelling, "You Muslims must die!" She reportedly sustained a dozen stab wounds when she ran into the bathroom and called 911 while fighting off Czuba. Per CAIR, the woman said she came out of the bathroom to find that the landlord had stabbed her son, Wadea Al-Fayoume, 26 times. "It all happened in seconds," she wrote. Wadea was later pronounced dead at a local hospital.
"Our hearts are heavy, and our prayers are with the darling boy and his mother," Ahmed Rehab, the executive director of the Chicago chapter of CAIR, or CAIR, said in a statement following the attack.
The apparent hate crime occurred as Israel intensified violent retaliation against Hamas, the militant group that controls the Gaza Strip, following the organization's surprise attack against Israel on October 7. Hamas took more than 200 people hostage and killed 1,400 others; at the time of the attack on Shahin and her son, Gaza officials placed the death toll from the Israeli military's response at 2,670 people and counting. That estimate has since risen to more than 8,300 people dead, some 3,400 of them children. Early on, the Israeli government cut off resources within the territory, leaving 2.2 million residents — approximately half of whom are under 18 years old — without clean water, reliable access to medical care, and shelter amid an ongoing bombing campaign. As the Israeli Defense Forces embark on a ground war in Gaza, the Biden administration — which has thrown its weight behind Israel — says it will not push for a cease-fire until Hamas returns the hostages. Meanwhile, Hamas claims that as many as 50 of them may have died in Israel's attacks on Gaza last week.
The Department of Justice has opened a federal hate-crimes investigation into Wadea's stabbing, which President Biden said left him "shocked and sickened." Meanwhile, the FBI says it has seen a spike in threats against Jewish and Muslim Americans alike, and the Illinois state police said in a statement that they're coordinating with other agencies to respond to an "elevated level of threats of violence and hate crimes related to the current conflict." The attack on Wadea and Shahin took place less than 30 miles away from an area often referred to as "Little Palestine," a hub of Arab restaurants and shops near a large Palestinian American community. Abdelnasser Rrashid, a Palestinian American Democratic Illinois state representative, has said the attack was "directly connected to dehumanizing of Palestinians."
This article has been updated.