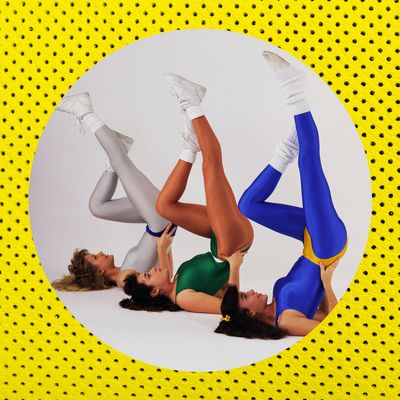 Photo-Illustration: by Stevie Remsberg; Photo: Getty Images
Hot Bod is a weekly exploration of fitness culture and its adjacent oddities.
Lately, I keep remembering a now-distant Zoom call, in late March maybe, with a friend who'd been on a newfound fitness kick before quarantine started. He'd become captivated by a series of vigorous classes, where Australian hunks scolded him to increase his heart rate. "Now," he said, moments before he took his laptop camera onto his fire escape for a cigarette, "it's just seven minutes of frantic jumping jacks." Four hundred jumping jacks, followed by a cigarette: What else can we ask of ourselves in this time?
Exercise can be whatever. It can be a devoted 45 minutes of cardio, sacredly cordoned off from the rest of your schedule; or it can come in a thousand random one-minute bursts, scattered in the unexpected breaks you eke out of your day. Recently, I have joined the school of bursts. Especially if I'm lucky enough to sense the unmistakable whiff of an oncoming minor meltdown, I try to burst it out, before it's too late and I realize I definitely did not nip the twitchy panics in the bud.
While there's an endless bounty of quick-hit exercises in this world, I tend to return to some favorites. And here they are, a variety snack pack (apps, videos, old-school circuit lists) of fast, free routines that blessedly last only for a series of moments.
Two-Minute Abs With a Philosophy
"Less but better." That's how Free MVMT Shop's Ashley Rockwood introduces this quick ab workout. Rockwood gets pesky little strength routines out of the way and fast! (I think because she's primarily a dance teacher, she wants to move on to other, more engaging exercises.) Free MVMT's dance classes are buoyant, lively and usually thirty minutes; this ab series is two minutes, grueling, and all business, baby.
One Minute of Bliss Shakes
For a complimentary taste of the longer routines in their subscription series, Kukuwa Fitness releases a dance-move breakdown every Monday. (I've mentioned Kukuwa before, because I love the things I love.) Even though these Monday videos are just a minute and I think I will have a Very Efficient Break with them and then get back to interminable emails, this is one of those addictive situations where I find myself sweaty 17 minutes later with like six Kukuwa tabs open. Gotta see what the "BRAVERY" move is! How could I resist?
Endless Library of Snappy Muscle Toners
Ashleigh Gundy's Project A Fitness is one of the most bountiful libraries of super-quick workouts I've ever seen. These Instagram videos are all clearly labeled by target zone; I especially like Gundy's full-body series. She really nails this capable, energetic spirit that's exactly between jock and cheerleader. Her videos are usually less than two minutes, which is enough to get my particular heart rate up and clear out the day's new cobwebs from my brain.
An Instructive Stopwatch
Nike's Training Club app, bless them, has a short workout category, which also happens to be the only category I've ever used. These workouts start at five minutes and tell you to do high knees and sidestep shuffles that feel very sporty. Because there's an unbiased stopwatch at the top of the screen, it's very easy to ditch moves you don't care for (bodyweight squats) and linger longer on your favorites (lateral bounds).
An Arm Killer That I Can Never Resist
I first encountered Amanda Kloots at a Studio B dance class and was immediately enamored with her thrilling tough-love approach to my posture; ever since then I've been obsessed with her "Dancer Arms" series. For the length of a song, Kloots leads a series of arm waggling moves that get increasingly tough. Luckily, songs tend to be around three minutes, but sometimes songs are five minutes!
Some Lo-Fi Circuit Practice
TrillFit studio hosts a ton of engaging cardio live classes, but they've also got a generous series of written-out routines that they promise are all somewhere between five to eight minutes. I am a big fan of their "Wake Ya Ass Up Circuit" which I actually like best when it's 2 p.m. and I already feel like I've been awake for too long; "Five-Minute Ass & Abs" is also an efficient straight shooter.
A Very Sexy, Very Quiet Chair-Based Routine
Jessie Diaz-Herrera has a talent for choreographing endlessly fun dance cardio, and in this video, she created an eight-minute routine meant to be done entirely from a chair. Especially good if you've got a broken ankle or your partner has asked you to stop jumping around while they finish up some work, but you must have a mood-shifting dance break right that minute.
And Finally, the Inventor of the "Exercise Snack" Himself
We would be remiss not to mention Joe Holder, the inventor of the "exercise snack" — and we'd hate to ever be remiss. In this series, Holder presents short workout "snacks" with the enthusiasm worthy of food snacks. Holder posts short workouts regularly, usually organized around a theme like jumping; occasionally he'll put up a written-through circuit instead. This one is developed with Naomi Campbell!
Of course, if you diligently obey every repetition they suggest, these could last for longer than a few minute burst. But at least wherever it is that I'm doing pulse lunges, even the discerning eye of Naomi Campbell cannot reach me. I can just jump it out however long I'd like, just until I feel a little notch of mood shifted or dread soothed, and then return to whatever it was I was up to, having moved a little bit of the frantic panics out of my system.