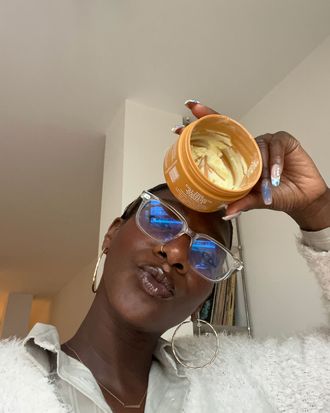 Hanahana Beauty is beloved for its consciously clean shea butter, sourced from women in Tamale, Ghana. But founder Abena Boamah wasn't always planning to become a beauty-brand CEO. The Ghanaian-raised, Chicago-based entrepreneur originally set out to work in education, and it wasn't until her time as an algebra teacher that she began making her own shea butters for personal use. In 2018, she was inspired to take this side hustle more seriously, and she moved back to Ghana, where she started the business.
Since launching, Hanahana has expanded from their best-selling, deliciously scented shea butters to face masks, lip balms, bar soaps, and more. Next, Boamah is gearing up to launch the first ever Hanahana body wash. And when she's not running her own business, Boamah manages to make time to host her podcast, The Conversations Podcast, where she interviews people like hit singer Amaarae on a plethora of topics, from relationships to careers. And at the end of the day, even in the midst of a busy schedule, Boamah knows a thing or two about prioritizing self-care. "I'm a true believer in finding daily moments of joy. And if you feel good mentally, it just so happens you'll look good, too" she says. "I'm blessed with this body, so I might as well take care of it."
.

Here, Boamah's a.m. routine:
5:45 a.m. – I always wake up to a devotional from my mom. So I'll read that in bed. I feel like it starts my morning off nicely.
6:15 a.m. – Next, I do my oil pulling with coconut oil, which I've been doing for the last couple of months. I do it for about ten minutes while I'm cleaning up or setting myself up to go on a run or making a green smoothie.
6:30 a.m. – After that, I'll either do a run or I'll do my yoga. When I come back, I shower and use the Hyper Skin cleanser for my face. For body wash, we're actually working on a body wash right now, and I've been using our sample to test it out. I'm so excited, it's really my favorite.
7:45 a.m. – When I'm out of the shower, I spray my face with the CocoKind Rosewater Facial Toner. I also put on one of those velcro, wrap-around towels, which my mom got me, and it's been a game changer for my routine. I follow up with the Hyper Skin vitamin-C serum and spray the toner again after. For my moisturizer, I use the Dieux Skin one. It's so good. Lastly, I apply an SPF all over from Dune.
7:50 a.m. – To moisturize my body, I use our shea butters. Lately I've been going back and forth between using the bamboo-coconut scent and the lemongrass scent. As soon as it starts getting warm, though, I'm such a bamboo-coconut person. But sometimes I'll do both. I love to mist my whole body with the rosewater toner, too. For my fragrance, I typically spritz the Worthy fragrance by Moodeaux.
7:55 a.m. – When I wear makeup, I'm loving the Ami Colé blush sticks. I also love the Youthforia blush. Sometimes I use both on my lips as well. I love the Tower28 Mascara, too.
.

Boamah's p.m. routine:
5:30 p.m. – Sometimes I'll do a pilates class at this time. Then I come home and cook myself dinner and clean up. I love to try my best to wake up to a clean space.
9:00 p.m. – The main difference between my morning and night routines is that I'm usually taking a longer bath or shower. I'm definitely a twice-a-week-bath person. And instead of my Hyper Skin duo, I'll use this creamy cleanser from the Ordinary and their hyaluronic acid. 
.

On the beauty-marketing ploy that makes her cringe:
Sometimes I think the way that sustainability is marketed can be a bit deceiving. I think especially from my perspective, as a Black woman, I feel a lot of the times it's in our nature to be more sustainable than other groups of people simply because of our lack of resources and access throughout history. And sometimes it can feel overwhelming to constantly have to explain why and how we're sustainable in an oversaturated market where almost everyone is claiming they're sustainable, even when they might not be or simply have the money to afford being sustainable. At the end of the day, being a sustainable brand can be expensive. I think even the way we talk about natural products is tricky, too. Natural doesn't always equate to sustainability. Sometimes the most natural products aren't sourced properly or can even harm the environment.
.

On TikTok and beauty:
I love seeing the emergence of African beauty on the platform. I love seeing African beauty-brand founders being celebrated as well as the amazing ingredients that can be found on the continent. I also love the trend of people making waxing videos on TikTok, too. I love seeing people taking care of themselves and also being authentic and unashamed of sharing their body-care routines. I love that we're not only focusing on our skin care in terms of just our faces — we're sharing the importance of body care online, too.
.

On her favorite ingredients:
I love products that have willow bark in them. It's like a natural salicylic acid. I, of course, also love shea butter and anything moisturizing.
.

On the beauty services she swears by:
I definitely have to have my nails done. I started doing this when I was a teacher. It was my thing — my way of decompressing every other Friday. I love to get a pedicure once a month. I also love getting my hair done, especially ever since I chopped my hair off. Once a month I love going to get my braids done.