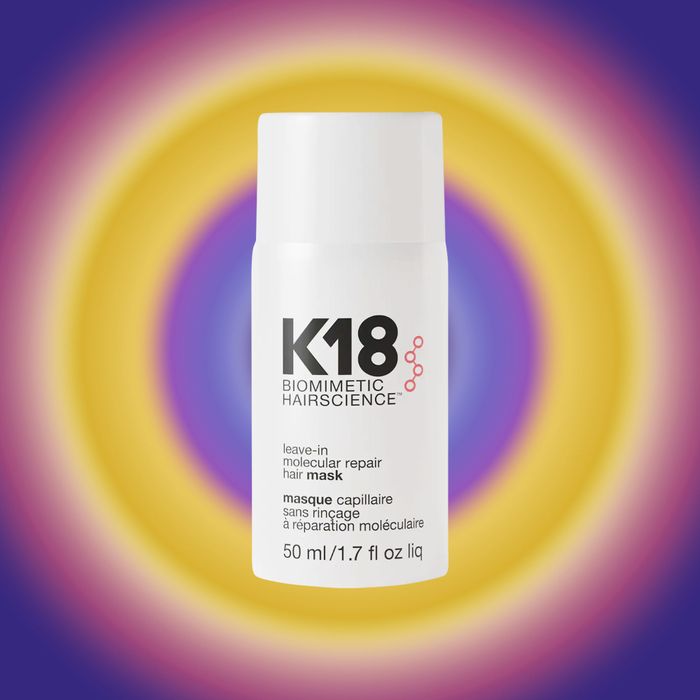 Photo-Illustration: by The Cut; Photo: Retailer
Every year there are a few viral beauty products that catch our eye and seem almost too good to be true. This year, it's K18. It promises to reverse hair damage in four minutes, which, when I first heard, I admittedly laughed and thought, There's no way a hair mask is promising me restored strength and softer hair in that time. Seriously, 240 seconds? It felt like an easy selling point. So we had seven of our team members — hair types ranging from 1C to 4B — try it and tell us if it works.
What Is K18?
K18 is a leave-in molecular hair-repair mask that was launched at the end of 2020 (and was stocked in Sephora a year later). It was founded by Suveen Sahib, an engineer and tech veteran, and his wife, Britta Cox, a beauty-industry veteran who had already seen major success with her brand Aquis, a hair-drying tool.
How Do I Use K18?
The restorative mask has very specific instructions that you must follow: Shampoo, don't condition, towel dry, work one to two pumps of product into your hair from ends to roots, let it sit for four minutes, and then — now for the strange part — absolutely don't rinse it out. Use it at least six times in a row.
Is K18 Like Olaplex?
The mask is often compared to Olaplex, the hair brand that has been the go-to for repairing damaged and colored hair with a three-step bonding system including an intensive treatment, hair perfector, and a moisture mask. The system has been around for almost a decade and gained fast traction when it first launched, like being Kim Kardashian's secret to reversing her damaged hair. Both Olaplex and K18 are formulated with a patented technology-based ingredient — Olaplex's being bis-aminopropyl diglycol dimaleate and K18's being K18Peptide, a peptide that is said to act like a protective shield. Sounds very sciencelike, right?
A Brooklyn hairstylist and owner of Classic Beauty Studio, Kadeisha Placide has used both products on her clientele who has mostly textured and curly hair, the type of hair that requires an ample amount of moisture and hydration. Placide says her clients often react to the instantaneous results of K18 and enjoy how much longer their hair styles last due to the hair's reduced frizzing rate against humidity. (One TikTok user, who dyed her hair two different colors and only applied product on the brunette side, agrees. She showed the difference between the side that had K18 and the blonde side that didn't. Spoiler alert: The side that did was noticeably curlier and bouncier.)
Is K18 Worth It?
Out of the seven of us who tried it, seven of us said yes.
How Much Does K18 Cost?
$75. Which we know is very steep. Our friends' eyes just widen when we try to convince them it's 100 percent worth it. Luckily, since (at the time of writing) it's holiday season, you can score a great value set at Sephora that includes a full-size repair mask and a free travel detox shampoo for the same price ($75). If you want to stick to the mask, you can just give the mini-version ($29) a go. Find your hair type below:
Hair type: fine and long 1B hair
How Joanna Nikas, deputy style editor, used it: As instructed. I used it for six consecutive washes and then every three to four washes for about two months now.
Would I recommend it? Yes. After just one use, I actually Googled "How much can you use K18," because I, an addict, was already wanting more of this newly soft and bouncy feeling. At first I was worried, since I have fine hair, that leaving the product in would make it greasy or sticky. But it didn't. Now I haven't used it in a couple of weeks (since I ran out) and my hair is still soft.
Hair type: long and curly 3B hair
How Danya Issawi, fashion news writer, used it: After washing my hair with K18 shampoo and forgoing conditioner, as instructed, I applied one pump starting from my ends all over my hair. (My hair is extremely tangly and needs some sort of lubricant, like conditioner or detangler, to brush through it post-wash.) I brushed through my hair at this point, then applied another pump or two since my hair is superlong and curly. I used it five times in total.
Would I recommend it? Yes. I was nervous about this product and how it would react with my curls, but they were bouncy, shiny, and less frizzy than normal. My hair soaked this product right up, so I found myself using more than I originally thought I needed. As a result, though, people with curls will go through this product faster than their straight-haired counterparts. I really look forward to getting to use this product now, and it honestly cuts my shower time in half.
Hair type: shoulder-length and curly 3C hair
How Emilia Petrarca, senior fashion writer, used it: Like Danya, I had trouble working the product through my curly hair post-wash without the help of conditioner. But unlike Danya, I'm terrified of what will happen if I don't follow the rules, so I opted for mild pain and pulling out clumps of my hair instead. The first time I used K18, I did it on a day when I wasn't planning on seeing anyone, so I loaded it onto my ends (also using way more pumps than recommended) and styled my hair in pigtails to really let it sink in. But the second time I used it, I let it sink in (for four minutes, as instructed) and then applied conditioner afterward, a hack for the curly girls. I used it three times.   
Would I recommend it? Yes. I still have to sort out the conditioner question. (I think the solution is to condition in the shower, rinse, apply K18, then apply conditioner again.) But regardless, every time I've used this product my hair is noticeably softer and happier. I've also found that my curls last longer without getting tangled, which means I can wake up and go to the farmer's market and not look like a crazy person. Win!
Hair type: short, coarse, and very dry type-4 hair
How Chinea Rodriguez, writer, used it: Post-shower I brushed a generous amount through damp hair, detangled with a Tangle Teezer brush, and air dried. I've used it with a few different shampoos including the K18 detox shampoo but found that even though my hair is short, using more than one pump always gave me the best results and softer hair. To date I've used it about 16 times.
Would I recommend it? Yes. It cuts down on hair-washing time because it's deep conditioning without the extra time deep conditioning takes. While I'm in desperate need of a trim, I've noticed that my hair is softer and less dry, especially my ends. My curl pattern has also managed to mostly stay intact despite heat styling. It's probably the easiest part of my hair-care routine, so I'll keep it in regular rotation.
Hair type: long, thick, and wavy 2B hair
How Bianca Nieves, shopping editor, used it: At first, I was skeptical of not using conditioner because my hair tends to be very dry, but you have to trust the process, right? After shampooing and plopping my hair in a microfiber towel so it would dry faster, I divided my hair in two sections and used one pump of product for each section and then a half pump for any parts that I feel needed a bit more hydration. This is where my selective memory kicked in. I did not let it sit for four minutes. I immediately just treated it like a leave-in conditioner and combed my hair. After it air dried a bit more, I simply applied hair oil on my ends.
Would I recommend it? Yes. I've used it for four consecutive washes (as recommended) and my hair is noticeably softer, shinier, and healthier but even after the first wash I could already tell the difference. Since my hair is so thick, most hair masks weigh my hair down, but I loved how lightweight and efficient this was. I also love how it cuts down wash days.
Hair type: long, thick, and curly 4B hair
How Maya Allen, beauty director-at-large, used it: In between wearing extensions, I carve out designated wash days to replenish my natural hair, which is when I decided to try K18. After a steamy shampoo session in the shower (I like my water extra hot to penetrate my cuticles and scalp), I patted my hair down with this microfiber towel from Pattern Beauty by Tracee Ellis Ross. Next, I parted my damp curls into six sections and used a wide-tooth comb to detangle. I used my hands to lather the product onto my hair shaft, being sure to apply it from root to tip for even distribution. Afterward, I let my hair air dry for a few hours before styling later on in the day.
Would I recommend it? Yes. As a Black woman with naturally textured hair, I'm always skeptical of super-popular products and questioning if they will actually work for me. I can confidently confirm that this leave-in treatment left my hair feeling super-smooth, shiny, and manageable enough to style with ease. Dryness is my number-one concern, especially during winter months, and I found that my hair felt extra moisturized and nourished after each use. Not to mention the lightweight texture didn't weigh my hair down at all, as other heavy hair masks do.
Hair type: mid-length, permed 4B hair
How Asia Milia Ware, fashion and beauty writer, used it: Let me preface this by saying, I'm a very impatient person, hence why I recently returned to perming my hair this year after six years of being natural. So hearing a four-minute mask could bring my hair back to life sans conditioner is 100 percent speaking my language. The first time I used K18 I was still natural and I hesitantly skipped over my conditioning step and slowly lathered the mask from my ends up to my roots. I let it sink in for four minutes like instructed before slowly combing through it. Like Maya, I used the mask in between extensions and because my hair barely gets to breathe I used a little more product than I should've, mostly because I wanted my curls to really soak it up. Now with a perm and my curls no longer being an issue, I bring the mask to the hair salon with me to apply post-wash. I used it four times.
Would I recommend it? Yes. It's simple, easy, and effective — a formula that I think we all want to adopt when it comes to wash day. I think a lot of products label themselves as "for every hair type," and as a beauty writer who tests a lot of products, I find myself in the mirror laughing when my hair is left looking untouched, but K18 actually means what they say. My hair is not only smoother and shinier when I use the products, but it's also like a magic cream for detangling. I also swear by the detox shampoo to deeply clean my hair after wearing extensions that leave my scalp with excessive buildup. My friends look at me like I'm crazy trying to convince them that a $75 mask is the key to all their hair problems, but honestly, it really is.