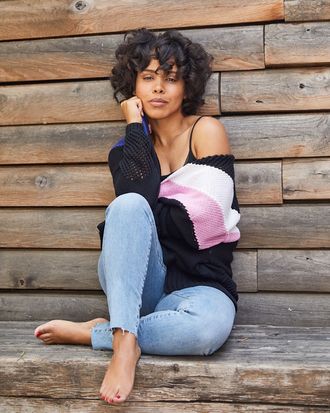 Photo: Courtesy of Amirah Vann
Want more skin care? Join The Beauty Group on Facebook.
"At the end of a long day, applying my skin care is a way of saying to my skin, I love you, now rest," says actress Amirah Vann. A series regular on How to Get Away With Murder and Unsolved, she's often in full stage makeup, so her skin appreciates the extra affection.
To develop the routine below, she researched essentials for women of color and products to target her "very mild rosacea." And she had fun with it: "I feel pure joy spending a lot of time in a beauty supply store, searching products, and reading about ingredients," she says. "I Google all of the SAT words." She actively avoids parabens, sulfates, and "basically all the things that have gotten a bad rep over the years, because I find that nature can truly provide all we need if we honor it."
Read on for her multi-step routine, which is designed to be gentle, hydrating, and balancing.
The Cleanser
"I use this daily, morning and night! Taking off your makeup at night is so important. Our faces come in contact with so many pollutants during the day and then adding in makeup … yikes. This gives a really thorough yet gentle cleanse without leaving any residue. Add in your night creams, and the hours you sleep become healing magic hours."
The Micellar Water
"I tried this on set one day after using a face wipe to remove my makeup, and I was amazed by how much still came off. Now I use it to take off stubborn eye makeup and it leaves my skin cleansed, but not dry."
The Mist
"This mist is refreshing and moisturizing, which is great for balancing my rosacea. I love using this just out the shower and before moisturizing, day and night. Sometimes I'll spray it on my face midday as a refresher. It calms my redness and adds extra moisture to my dry areas."
The Moisturizer
"Introducing the love of my life: this moisturizing cream! My skin has never felt smoother, and I have been getting compliments since the day I started using it. Apparently my skin is smoother and clearer. The texture is creamy and a little goes a long way. A definite must-have."
The SPF
"This product is lightweight, and isn't oily or drying, nor does it smell like sunscreen, making it perfect for everyday sun protection. A fabulous Sephora specialist recommended it when I said I was looking for a 'clean' sunscreen."
The Exfoliator
"This smells deliciously like kiwi. It smooths my skin without drying it at all. I love that it provides a great exfoliation without being too harsh."
The Face Mask
"If you're shopping for a gentle peel, this is the one for you. It's the perfect balance, providing a slight tingle without irritating my skin My skin looks so smooth afterward. I use it two or three times a month."
The Face Oil
"I love that this has 100 percent natural, ethically sourced ingredients. In addition to my cream, I'll put this on at night after spraying my hydrating mist, or on days when I'm working from home for some extra love. Its light citrus scent is wonderful."