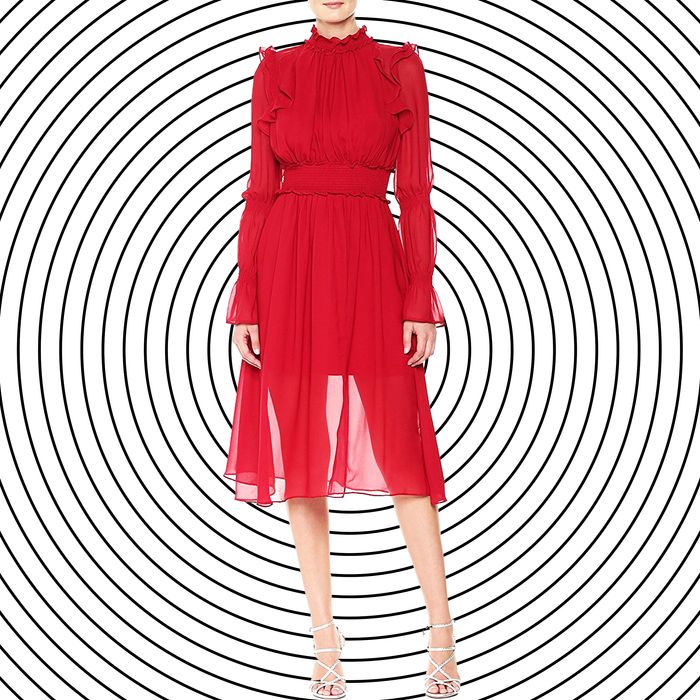 Finding the right dress to wear to a spring wedding can be tricky. You want to look elegant, but not like you're trying too hard — and you can't trust the weather to be accommodating. It's tempting to take refuge in a little black dress, but a black sheath can feel inappropriately funereal. Instead, go for something in a bright, cheerful spring color, but keep the embellishments to a minimum so that you can wear it again. Or, if you simply must wear black, try something that has playful details, like ruffled sleeves.
Whether it's a black-tie affair or a more low-key event, we've found all the outfit inspiration you'll need. Scroll ahead for 13 ways to be the best-dressed guest at your next spring wedding.
The style is universally flattering, the color is fiery, and the price couldn't be friendlier.
A Midi Dress With Cutouts
Modesty with a (literal) twist: a cut-out side and open back.
If You Hate Tight Dresses
It looks like a dress, but it's actually a jumpsuit. How cool is that?
If You Love Tight Dresses
It's bodycon without looking like it belongs in the club.
The high neck and long sleeves will keep you warm, and the florals feel appropriate for the season.
The ruffles and velvet texture prove this dress doesn't take itself too seriously.
The bright blue and puff sleeves feel a little '80s, but the silk keeps things modern.
This is the kind of dress you could wear to any wedding, with any bra, and pretty much any heels you already own.
If You're Concerned About Being Cold
Add stacked platforms and tights and you're done.
The One That Looks Like Valentino
True story: I own this dress, and people always seem to assume it costs thousands of dollars.
A Maxi Dress That's Not Boho
This is a beautiful choice if you're looking for something that's modest but still feels elegant.
If You Want Something Flowy
Photo: 17-10-04 marianadantec AM1 B6 benbrubaker W
If you do want boho, though, this is a classic dressy-hippie option.
The plunging neckline and cobalt-blue color make this perfect for the next formal wedding on the calendar.
If you buy something through our links, New York may earn an affiliate commission.