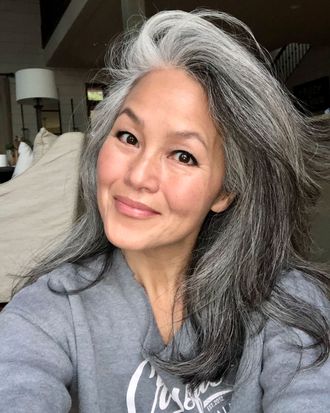 Photo: Courtesy of Jin Cruce
At 53, Jin Cruce has spent the last 30 years working as a registered pharmacist. But over the past year, she's also dedicated time to her popular Instagram account, Aging With Style and Grays, where she's documented her journey to gray hair. It began as a way "to inspire and support women on their gray-hair journey and to inspire women to embrace aging," she says. "Being older has brought me so much joy, freedom, and confidence."
Cruce decided to ditch the hair dye after her first grandchild was born. This came with some unwanted commentary. "I remember one elderly customer who said to me that I've aged since the last time he saw me. I just smiled and said, 'This is the new me.'" If you're thinking of following in her footsteps, she says, "first, go ahead and accept the fact that the journey won't be easy. You will have good days and bad days, compliments and negative comments — the sooner you accept this, the easier the transition. And know that there is so much personal growth and freedom that comes along the way."
Her skin-care routine is now, for the most part, just as low maintenance as her hair. She doesn't use face masks, serums, or face oils. Every couple of weeks, Cruce might add in an exfoliating cleanser or a quick scrub with her Neutrogena Microdermabrasion System, but the added steps are rare.
"My approach to beauty has always been about being comfortable in myself, doing what works for me, and not following trends," Cruce explains. And she doesn't think you need to spend a fortune for healthy, glowing skin, either. It's why she prefers brands like Olay and Neutrogena. "They're easy to find and affordable," she says. But she believes the true key to skin care is consistency. "I haven't used Botox or had any surgeries on my face, and I will never say never, but as of now, I have no plans on doing either."
Below, Cruce breaks down her essentials, including the eye cream she's been using for three years, the wipes she prefers over any makeup-removing balm, and the $13 moisturizer-and-sunscreen hybrid she loves.
Night
The Wipes
"These Neutrogena wipes are a must. I've been using them for a long time, and they do a fantastic job of taking all your makeup off your face. I like it over any makeup-removing balm because they're easy to use and less messy. After using one of these, I'll rinse my face with cool tap water — no soap."
The Cleanser
"Most nights, I don't use any cleaner, but occasionally, like once a week, I will use this one by Kiehl's to get that extra-clean feeling. It's made with white birch and pearlstone (a natural exfoliant that comes from volcanic ash) and has a sandy, grainy texture. It does a fantastic job at exfoliating and helps purify skin of environmental pollutants for visibly improved clarity."
The Toner
"This treatment water helps improve skin's luminosity and soothes for visibly improved clarity. It has activated vitamin C, white birch, and licorice root, along with other ingredients. It's like a toner but doesn't dry out my skin. It kind of illuminates my skin and makes it glow. I always apply it using a cotton pad and pat it on my skin. It has a faint, fresh scent."
The Eye Cream
"I've been using this eye cream for two to three years. It has a creamy texture, and I apply it using my middle and ring finger and gently rub it in — the skin around your eyes is very thin, sensitive, and ages faster than other areas, and this eye cream gives it an extra boost to moisturize and protect."
The Night Moisturizer
"I used to have the occasional breakout on my chin during my menstrual cycle, but now that I have more mature skin, I do notice more fine lines, wrinkles, and age spots. When I started noticing more sun damage on my face, I began looking for a product that would help minimize age and sun spots and make them less noticeable. I found this moisturizer with retinol. I've been using it as long as I've been using the eye cream, around two to three years. It has a very creamy texture, and I gently rub it on my face. I am pleased with how my skin looks and feels with it — and I've never experienced any dryness or flaking with it."
The Lip Balm
"Aquaphor is great for any kind of skin irritation, and I also use it to help moisturize my lips at night. I always try to keep a jar handy at all times. I swear by it."
The Exfoliating System
"I'm a big believer in exfoliating your skin. It makes it look smooth and gives it a healthy glow. I will gently exfoliate just about every night using any scrubbing cloth, and maybe once a month, I will use the Neutrogena Microdermabrasion System with the Neutrogena Microdermabrasion System Puffs [below] for a deeper exfoliation when my skin looks a little dull. I saw this device when I was buying Neutrogena's makeup-remover wipes, and when I reach for it, I will use it for about a minute. It really 'polishes' and makes my skin feel smooth, soft, and glowing."
"These puffs feel rough to touch, kind of like sandpaper, but they're gentle. An added bonus: They have no scent."
Morning
The Moisturizer
"I've been using this day moisturizer for about four years. I used the Olay SPF 15 before I changed to SPF 30 for more sun protection — I'm a big believer in using broad spectrum SPF to prevent sun damage, which can lead to wrinkles, skin cancer, sun spots, and premature aging. I like it because it's scent-free and oil-free and works great under makeup. I typically only apply it in the morning after washing my face, but I will reapply throughout the day if I'm out sweating a lot or out swimming."