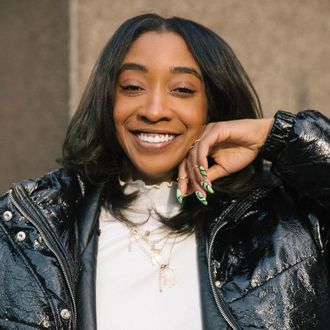 Aja Walton didn't grow up knowing she wanted to do nails. In fact, she "fell in love with all things STEM," eventually studying math and chemistry at Howard University. Upon graduating, Walton worked in web design, coding, and later as a video analyst. Meanwhile, she began moonlighting as a nail artist in 2015. "The demand and passion I felt for nails began to overshadow the feelings the corporate job gave me," she says. "I decided to leave that career path in exchange for enrolling in nail school." She offered nail art for free (or for a suggested $20 tip) to close friends. After some months, she had acquired photos of her work and applied to a couple of salons. "Unfortunately, Paintbox ghosted me the day of my interview after a huge snowstorm," she recalls. "Vanity Projects hired me as an unpaid apprentice, but after a month I realized I hated the salon environment." In 2017, she met her mentor, Miss Pop. "My roommate was there showing off the nails I did for her, and Miss Pop loved them, and she surprisingly invited me to assist a NYFW show," Walton says of her introduction into the industry. She continued to assist and freelance in addition to running her own home-based salon until she was signed by See Management in 2020.
This led her to create detailed, hand-painted nail art for Vogue Brazil, Precious Lee's Harper's Bazaar cover, and more. She's known for her ability to conceptualize looks from things that "are not traditionally considered nail-art inspo," she says, like  her MLK nails and SZA's CTRL album-cover-inspired nails. 
For Walton, staying busy also requires self-care. That appears in the form of applying a rosehip body oil and a spritz of Gucci Flora perfume. "How I look and treat myself is a large reflection of how I feel about myself," Walton says. "It's a mental and physical confirmation that you are worthy of being cared for and treated to luxuries. It's a powerful feeling that connects my soul to my body."
.

Walton's P.M. Routine
10:00 — My beauty routine starts at night. I begin by brushing my teeth and washing my face with my Manyo cleansing oil, exfoliating with a Korean bath cloth, and moisturizing with Cosrx snail mucin. Snail mucin has helped soothe my eczema and extremely dry skin better than any other moisturizer I've used.
10:15 — I then set my hair in a silk tube roller that is more popularly known as the viral TikTok heatless curling-rod headband. I wrap a silk scarf on top.
10:25 — I shower and apply rosehip oil over damp skin. Then I moisturize with a cocoa-butter and shea-butter combo.
.

Walton's A.M. Routine
7:00 — I repeat brushing teeth and face washing. Instead of exfoliating, I use the oil and my hands to massage away puffiness and drain my lymph nodes. I moisturize as normal. This takes me about 15 minutes.
7:15 — I proceed to apply YSL blotting lotion all over my face with my hands.
7:18 — I use Merit complexion stick under my eyes, Kosas Concealer in the inner and outer corners of my eyes, and Nars concealer over dark spots.
7:25 — Then I ue a damp beauty blender with Fenty skin tint as foundation. I set my under eyes and T-zones with One/Size powder. I apply Gucci bronzing powder for light sculpting.
7:30 — I brush up my brows with a spoolie and fill in with Glossier Brow Flick. Nyx liquid eyeliner is then used for a straight cat eye. I finish with Benefit mascara and liquid cheek tint as blush. My everyday makeup routine takes about 20 minutes.
7:35 — I release my hair from the roller, finger comb, and apply Red One hair wax as an edge control. The U.K. girlies put me on to this one, and it's my favorite because it holds well while remaining soft and doesn't have any flaky white buildup over time.
7:40 — I moisturize my entire body and hands with cocoa butter and lightly spray my favorite perfume, which is currently either Marc Jacobs Perfect or Gucci Flora. This routine takes another five minutes. I'm also usually calling an Uber and getting dressed to head to set at this point.
.

On the beauty-marketing trend that makes her cringe:
"When certain nail trends or styles are rebranded every few years with different or cooler names. The hype around the name overshadows a method that has stayed exactly the same, but it inspires people to participate because it seems new to those who are unaware."
.

On what she's proud of in the industry:
"I'm so proud of the shift toward inclusion and the celebration or even consideration of our human differences, whether that be skin color, gender, or sexual orientation. Everyone is being noticed and invited to sit at the table, and that makes the industry feel more like a family than a frenemy. I'm also so proud of the focus on creating natural and organic products that are free of known carcinogens and harsh chemicals, and that consider sensitive skin types like myself."
.

On how she'd like to see the industry change:
"I do hope that more products in the beauty industry remove artificial fragrances from their list of ingredients, especially considering the mysterious chemical makeup of these fragrances and the topical dangers behind their use."
.

On TikTok beauty trends:
"Honestly, I love all the nail trends on TikTok right now. I definitely don't discriminate when it comes to creativity. I just can't stand seeing any type of five-minute-craft type of nail art where weird objects are being bonded to the nails or food is being encapsulated. Any variation of chrome nails is going to do it for me. I absolutely love seeing the different ways chrome powder or gel is being used to create nail art, whether it be layered over French manis, 3-D gel, or line work."
.

On the ingredients she loves:
"I'm going to choose gel nail products over anything. For skin and cuticle care, anything with jojoba and/or tea-tree oil reign superior to me."
.

On deciding which products are worth trying:
"Most important are the product's ingredients and whether they're natural and safe to use. As someone who has severe eczema, I have to make sure I'm using products on myself and my clients that cater to sensitive skin. I'm color obsessed, so unique pigments and shades that I don't already own always capture my attention. Also, ease of use is a large factor that plays a part in my interest in products. If it claims to make my job easier or faster, I'm more prone to test it and likely continually use it."
.

On the hero product in her routine:
"Aprés gel extensions are my hero nail product. I use them on myself and often daily in my job. I couldn't see myself spending hours sculpting nails like I used to years ago. They've made my life so much easier and have given me the ability to spend more time on my art rather than the structure it sits upon."
.

On the recent product discovery that she's loving:
"Manyo pure cleansing oil, which is a Korean facial cleanser. Seemingly overnight it had replaced my rice-water face wash from another Korean brand that I had been using for almost five years."
.

On the beauty service she loves:
"Any process that involves exfoliation on the hands, face, body, and scalp. Sugar scrubs combined with Korean bath cloths are my go-to for hands, lips, and body. Chemical peels are the best for my face. If you've never had your scalp exfoliated, you have to run the nearest salon that offers a Jet Peel exfoliation. The process basically uses pressurized water and air to gently cleanse and soothe the scalp, ridding you of flakes. It's especially good if you're prone to dandruff or product buildup like me."
.

On the product she grabs when in a rush:
"A hundred percent of the time, I'd grab a moisturizer, likely cocoa butter, because it's so versatile to use on the face, lips, and hands. More importantly, when I'm on the go I always know that I'll at least have cuticle oil in every bag I own. It's also a universal product that can be used all over the body. Essie's apricot nail-and-cuticle oil in a roller-ball tube is my favorite product right now."
.

On the one routine she can't live without:
"If I were forced to narrow it down, I'd go with hair. I've always understood it to be your crowning. If we throw nails into the routine, I must say have a pedicure. It's an absolute must for me even over hair."