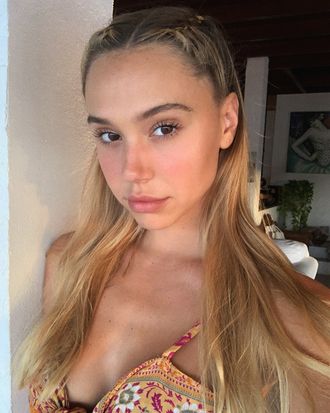 Photo: Courtesy of Alexis Ren
Since the Cut spoke with Alexis Ren, then dubbed "Instagram's teen idol," in 2016, the model has been named a Sports Illustrated Swimsuit Rookie of the Year, come in fourth place on Dancing With the Stars, starred in many a music video, and more than doubled her Instagram following. Her skin-care routine, however, has largely remained the same.
Ren started secretly using her mom's skin-care products at the age of 13. "My mom was not happy with me when she found out," she remembers, but together, the pair went to the mall and built a routine with Kiehl's and BareMinerals products. Slowly, she learned what her skin loved (makeup-free days) and what it didn't (heavy oils), the latter of which would manifest on her skin as angry bumps. "I was really insecure about it growing up. I was a ballet dancer so I constantly had my hair up in a bun, and I couldn't hide the bumps with my hair. The girls in class would make fun of me, and because of the stress, I would break out more," she says.
Ultimately, the experience helped her understand the connection between her emotions and her skin. "Now I look at things like acne not just as they are but what they're trying to tell me. Whenever I break out, I recount the last couple of days and see if there was anything that came up I haven't dealt with, or if I haven't checked in with myself for a while. I treat myself like I would treat a lover, and that has changed everything for me."
One thing she'll never give up is facials with Sonya Dakar, the Beverly Hills aesthetician who works with Gwyneth Paltrow, Jennifer Lawrence, and Jennifer Lopez. The pair met through a mutual friend three years ago, and Ren credits her with completely transforming her skin's texture. "I look at facials like going to the dentist. You brush your teeth to keep them clean and healthy, but once in a while we need a deep clean. Same with skin."
Ren also wants to make it clear that you don't have to spend a fortune to use good-quality products. "We get so caught up in the marketing that half the time we don't even know what we're buying. Sometimes I go to a grocery store and find a serum, and it works amazingly well." And above all, she believes, it's important to accept that your body and skin are ever changing. "If you don't love and accept yourself, it doesn't matter how many balms, oils, moisturizers, and serums you throw on your face. We must first believe that we are worthy of the products, that we are worthy of our own love, and we are worthy of being whoever we choose to be. Within that state, we can heal anything that needs to be healed."
Below, a look at Ren's essentials for combination skin, including the face mask she reaches for during her period, the body scrub that helped her back acne, and the cleanser she's relied on for the past three years.
For the Face
The Double Cleanse
"Due to my love for the ocean, hiking, skateboarding, surfing, and dancing, I've used waterproof mascara for the last five years. Because of this, I need a makeup remover that can tackle waterproof products. This is it. I discovered it through a friend who has a similar lifestyle, and it's gentle on the skin and melts away even the hardest makeup to get off. I was over the moon when I found it because scrubbing makeup off breaks my heart. I love having my night routine be a ritual of self-love, not a let's-get-this-over-with experience."
"Sonya Dakar is family to me, and her products feel like home. I started using the Sensi wash about three years ago, and since then, not only has the look of my skin changed but so has the texture. I used to have bumpy skin, and now it's smooth and vibrant. I use this day and night to keep my pores clean and my face refreshed."
The Mist
"I love this multiuse beauty water that I discovered through social media. Whenever I'm in my hometown of Los Angeles, my skin tends to dry up. I use this after I've put my creams on, before bed, and to set my makeup in the morning. I also spray this on my chest. One of my beauty musts is to always treat my chest the same as my face. I think of these little acts as pro-well-being, not anti-aging. It has Brazilian guarana extract (a natural source of antioxidants) and papaya extract (a natural exfoliant) that my skin eats up like cake."
The Toner
"I've used witch hazel for most of my life, and it's always been a safe place for my skin. One of the reasons we continue to break out even after washing our face is because we still have makeup and dirt residue on and then we slap cream over that, clogging pores. I make sure to take a (reusable) face pad — I like Paula's Choice Reusable Cotton Rounds — and go over my face with the witch hazel after I wash my face to make sure it's completely clean. I'll go over my skin a couple of times more if I'm not sure I got all the day off."
The Moisturizer
"This is the first product I put on my skin after I've washed and used witch hazel to get rid of any remaining residue. My skin loves this moisturizer so much. It gives a vibrance to my skin that I can't get anywhere else. The second I put it on, it sucks it up the way I drink my coffee in the morning."
The Serum
"Moisturize, moisturize, moisturize. I've used this for about a year now — I was introduced to this product through a friend; I love word of mouth. I like applying it before my makeup routine because it creates this beautiful, dewy look after I apply the foundation on top of it, and I love me a dewy look. I also love giving myself a face massage with this serum as well, to help it dissolve into the skin and release muscle tension. I apply my serum after my Sonya Dakar moisturizer because the Nano Hydrator absorbs so quickly on my skin, while my serums tend to stay on the surface for longer."
The Eye Cream
"I've only gotten into eye cream in the last year or two, but I am so glad I did — my love for the sun got me super into taking care of the delicate areas on my face. Since I'm always in the sun I knew my night routine had to be strong and eye cream was needed. The skin around our eyes is the most thin part of skin on our face. It deserves extra love.
I'm a huge fan of spending more on my skin care than my makeup, because if I treat my skin right, I don't need that much makeup. When I buy something pricey, I consider it an investment for my future well-being. I think this eye cream is worth it because it lasts a long time — you don't need to use that much, and I've found that I can skip the concealer when I use it."
The Face Oil
"I pair up this oil with my Armani serum for a perfect combination. It has commiphora oil and Ouessant honey, which both have properties that are vital in the renewal process of the skin tissue. Also, I know there's a debate on which order you apply your face oil and moisturizer, and while I've never gotten into any debates on the order of my routine, my skin loves absorbing moisturizer before putting on heavy oils and serums. I think debates on these topics can never be settled because everyone's skin is different, just like our bodies.
On top of it being an amazing oil that creates even texture on my skin, Guerlain has also announced a ten-year renewal of its support for a sustainable development partnership with the Brittany Black Bee Conservatory. The program ensures protection of a unique element of the world's natural heritage, a species of black bees found on the island of Ouessant. I'm always looking for brands who are willing to take responsibility and find ways to help our environment. Even something as simple as glass packaging makes a huge difference in the long run."
The Masks
"When I want that after-facial glow, this is my favorite. It's warm and inviting the way it sits on the face, and I wake up the next morning feeling refreshed. A friend recommended it to me because I was complaining about how dry my skin felt in the mornings. I typically leave it on overnight twice a week to really get the benefits. It has vitamin C, which promotes collagen production and helps with UV damage caused by the sun, which I need from my love of surfing and beach hangs. It also has an amazing orange smell that I absolutely love."
"I heard about this through a friend that was raving about it on a hike one day. Nothing like a bubble bath, chocolate, and a good mask when mother nature calls, and this is my go-to mask when it's that time of the month and your skin isn't very happy. It doesn't have a scent but the foam makes up for that. It's really fun. It has colloidal sulfur and oat extract to really clean those pores, and it leaves my skin supersoft."
For the Body
The Polish
"A lot of people don't know this, but I've struggled with acne on my back for a while now. It's calmed down a lot because of all the different products I've used, but brown sugar scrubs have worked the best for me to clear it up. The smell of this one is just too good to be true — I smell like a cake after my showers, and it leaves a soft moisturized feel after I let the sugar come off. Usually, I'll use it two times a week to exfoliate and moisturize all in one, and I'll scrub for around 30 to 45 seconds before I wash it all off."
The Lotion
"I'm in love with moisturizing my body. I spend a lot of time in the sun, and I like to make my tans last as long as they can, so I look for the most hydrating lotions that can keep my skin from flaking. I've been using this lotion for a few months now, and I love it. It has vitamin B, C, E, and omega-9 for the softest skin."