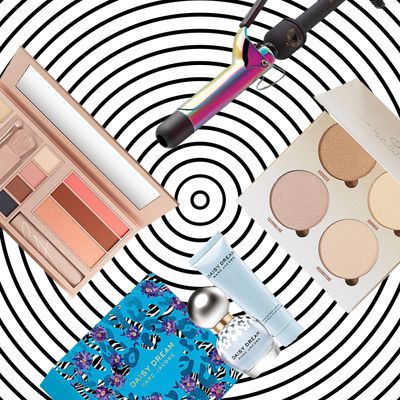 Just around the time Grandpa takes a nap is when ulta.com's Black Friday beauty bonanza starts. Starting at 6 p.m. online and at varying times in stores on Thanksgiving, the brand is doing a series of Black Friday Beauty Busters. We got a sneak peek at the list and here are our picks for the best beauty deals under $25. Read on for a creamy lip pencil, a reliable curling iron, and a magical brow pencil that works for all skin tones.
Make any lipstick of yours into a lip kit by adding a lip pencil. I like Urban Decay's because they're waterproof, super creamy, and come in a ton of colors. If you want your lipstick to last forever, use it to color in your lips, then add lipstick on top.
Original Price: $20
Anastasia makes a truly glam highlighter. Kim Kardashian loves the brand; high-school cheerleaders agree and use it for competitions. This will make your cheekbones look like they have their own spotlight in photos.
Original Price: $40
Even Cate Blanchett Uses This
A Curling Iron That Won't Quit
There are many fancy curling irons on the market, but more often than not, I see hairstylists using this one. It's affordable, it heats up relatively quickly, and it delivers even curls. I know people who have had one of these for years, even after using it every single day.
Original Price: $55
Super-Soft Brushes for Your Cheeks
YouTube tutorials and makeup artists can make you feel inadequate about your brush collection. But the truth is that fancy makeup brushes are sort of like fancy knives: Unless you're a professional, you only need a few good ones. From IT Cosmetics, these are high-quality and soft as a kitten.
Original Price: $30
This palette from Gigi Hadid has been on eBay for weeks because it sold out in the U.K. Get it for your niece who knows that the entire Hadid family tree and watches makeup tutorials for fun. What you won't find here? Foundation. What you will: everything else, including blush, highlighter, bronzer, primer, contour, eyeshadow, and powder eyeliner.
Original Price: $30
It smells like laying in the grass on a blanket while staring at fluffy clouds. Give it to a teen to expand her taste beyond Bath & Body Works.
Original Price: $67
To Protect Your Pricey Haircolor
Black Friday is a good time to stock up on beauty workhorses, like this Redken shampoo, specifically made for color-treated hair. Made without sulfates, this shampoo is specially formulated to ensure that your hair stays soft and that your color doesn't go brassy or wash down the drain.
Original Price: $16
This is IT Cosmetics' best-selling product. It's got such staying power that you actually need makeup remover to take it off at the end of the day. Apart from being creamy, easy to blend, and fine enough to draw individual hairs, the most special thing about this pencil is that the shade suits literally everyone. Depending on how hard you press the pencil down, it ranges from blonde to dark brunette. It has almost 2,000 4.5 star reviews.
Original Price: $24
If you buy something through our links, New York may earn an affiliate commission.