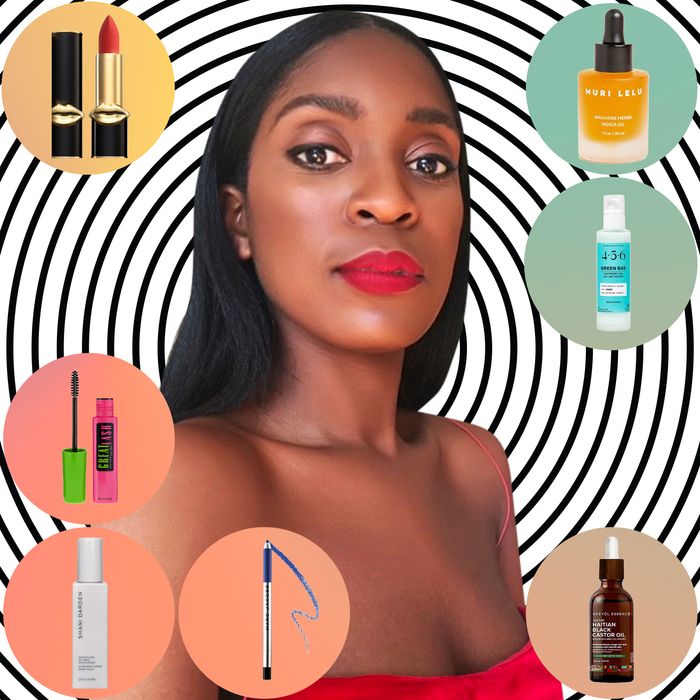 Photo-Illustration: by The Cut; Photos: Courtesy of Rajni Jacques, Retailers
On the Beauty Group, a Facebook community co-founded by the Cut and the Strategist, people chat all day long about the products they love — the ones so good they'll make you hit that little "auto-refill" box at checkout. Below, we asked one of our favorite beauty pros to share her own selections.
Growing up, "there was no La Mer" for Rajni Jacques. "I'm Caribbean — I'm Haitian — and there's so many old-school things that we would do for beauty. It wasn't necessarily about buying things," the Allure fashion and creative director remembers. "Maybe you would use cornmeal with castor oil and put it on your face. Or for hair, my mom would make a concoction of eggs and avocado and put it in the hair and put me under one of those salon-style hair dryers. Cleaning your face was done with — I know it's gonna sound so harsh — Ivory soap. All the beauty regimens that we had were super simple." It wasn't until college that Jacques was introduced to different beauty routines and products, and though she says she's more prone to "organic" ingredients as a result of her upbringing, she's open to trying everything. "If there's something that works, bet. I don't shun anything out."
Where Jacques is not willing to compromise is her trademark red lipstick. "Because I'm a T-shirt and jeans type of person, I felt like a red lip was the other accessory," she says. "The pigment is so in your face and glaring and stark, and there's so many different shades of red — I started off with more of a mauve-y, deep brown and worked myself up to the one that I love now, which is the bright red. If I come out and have no earrings on and my hair is back, the red lip is all I need." One of her current favorites is Pat McGrath's MatteTrance in Obsessed! 211.
Read on for more of Jacques's must-haves, including the blue eyeliner she loves, the $5 mascara she calls a classic, and the cleanser that keeps her maskne at bay.
The Lipstick
"Red lips are my go-to, and I'm game to try any shade in the red family — it's my dress-up accessory. Pat McGrath's reds give all the life, and a friend actually recommended this color for me. Since it's matte, I moisturize my lips beforehand, and after applying, I add a bit of gloss."
The Cleanser
"This brand is from my dermatologist, Dr. Charles. He does all skin, but specializes in melanin-rich skin. He's been my derm for the past four years, and I trust him when it comes to making sure my skin stays vibrant. He also helped me minimize scarring from my C-sections. It's important to have someone in your corner that understands why your skin is doing things — like for dark skin, there's hyperpigmentation and so forth. Also, we are all different, so creating a regimen that has your DNA and skin personality in mind is a plus. The brand is much-needed in this space. This gel truly washes all my pores out. It washes my face without drying it out, and it has kept my maskne at bay. I also use the brand's To Be Clear Exfoliant Mask once a week for upkeep!"
The Face Stone
"I keep my stone in the freezer, and every other night, after I wash my face, I put on some Maison Quiquine oil and use my gua-sha stone to boost radiance. I can see a difference for sure — my skin feels tighter, and it glows. I heard about it by word of mouth, probably someone doing it on Instagram. As for technique, I follow Mimi Quiquine, the founder, on Instagram. It's so soothing, and I can just watch her do it herself."
The Mascara
"This is just a classic. I saw my mom use it back in the day. A drugstore buy that is pure perfection."
The Body Oil
"I do my best to support Black-owned brands, so that's how I heard of Oui the People. There is nothing better than having beautiful, glowy skin without tons of oil, and this is the perfect full-body hydrator during the winter and summer months. It has a slight scent, but it is faint."
The Castor Oil
"Every Haitian knows the greatness and history of castor oil as part of the beauty routine — it's the Haitian secret sauce. It keeps my hair moisturized and follicles on point. You can use it on your skin, too!"
The Moisturizer
"This is a part of my everyday regimen. I have yet to get a facial with Shani Darden, but a friend did and that's how I found out about her and her brand. Moisturizer that doesn't feel heavy is key — I have a mixture of oily and dry skin, depending on the season, but during the day I prefer my skin less oily, hence oil-free moisturizers like Shani's. At night, I add oil to replenish my skin while I sleep. A plus: It has no scent."
The Body Gel
"This is my friend's line! Her Sun Gel wakes the body up. I usually put it on my chest and take three deep breaths while doing so because it gives a nice, chill sensation on the chest. It's like drinking water after chewing a crispy mint gum — it smells like sunshine and mint together!"
The Serum
"I've been using this for about six months now. It's a face cream that acts like a face mask, and I love the way it gives my skin a glow. A friend actually brought it to my attention. It's supple and refreshing."
The Face Oil
"I lather this oil on my neck and face when I am about to go to bed. It calms me as well as gives my skin the moisture it's been needing lately. I first heard about it through Gossamer magazine. It has a light, faint smell of weed."
The Eyeliner