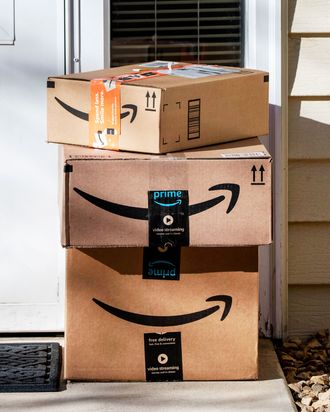 Photo: Michael Siluk/Education Images/Getty Images
Today isn't just the first day of summer — it's also the kickoff of Amazon Prime Day, the online megaretailer's answer to Black Friday. Is it a way for Jeff Bezos to earn yet more money that he won't pay taxes on? Sure. But is it also a way to get yourself a new pair of sneakers or that air fryer you've been eyeing? Also sure.
Last year, Prime Day was pushed to the fall because of the pandemic, but this year, the 48-hour event will be happening on June 21 and 22, 2021. (Yes, that's actually two days.) It kicked off at the reasonable hour of 3 a.m. ET this morning and will go through the end of the day tomorrow. But you'll want to catch most of these deals as soon as they arise, because they won't last long.
Amazon marks down products in every category from fashion to beauty to home, making this the kind of sale where you set out to buy a pair of shoes and end up with micellar water, a five-pocket winter coat, and an automatic toothbrush. If you aren't an Amazon Prime member, you'll want to start a 30-day free trial so that you can take advantage of all the perks. Just don't forget to mark your calendar to end the trial in 30 days before an unexpected charge pops up.
Below, we've rounded up some of the best deals in our favorite categories. If you want even more, we've got separate lists of the best markdowns in fashion, beauty, and home.
Photo: Amazon
Because you can never have enough pairs of cutoffs for summer.
Photo: Amazon
Reviewers love how quiet this is — you can stick it in a corner and forget it's even there.
Photo: Amazon
Wear them with boyfriend jeans and a crop top for a night out.
Photo: Amazon
Workout date in the park? No problem! This brightly colored mat is nice and thick, so you can comfortably do your yoga in the grass.
Photo: Amazon
This retinoid oil will leave you with visibly clearer skin by morning.
Photo: Amazon
Formulated with ingredients like hyaluronic acid, vitamin B3, and niacinamide, this moisturizer not only hydrates your skin but also makes it feel more firm.
Photo: Amazon
This honey-infused scrub will slough off dead skin cells for a luminous glow.
Photo: Amazon
A simple, low-profile sneaker at a very nice price.
Photo: Amazon
Working from home indefinitely but haven't settled on a desk? Multiple reviewers love how study this desk is, and it's large enough to fit two monitors if you're an overachiever.
Photo: Courtesy of the Vendor
This popular pink-capped cleanser can gently remove a full face of makeup sans sink, and it won't leave behind that unpleasant stripped feeling.
Photo: Courtesy of the Vendor
One reviewer said that this is "the lightest, airiest, dewiest, nongreasy, nicest-smelling moisturizer I have ever used." Close to 2,000 other reviewers agree.
Kindle is the go-to digital reading product so why not get a head start on your summer reading with the latest edition?
"Dewy dumpling" makeup queen Nam Vo and "Bagsnob" Tina Craig swear by this at-home radiofrequency device to tighten skin. This is a "lightning" deal, so this one goes quick.
This Amazon Prime Day best-seller is one of the most comfortable bras in existence. Not only is it breathable, but the style is also timeless.
Lay this in any room for an instant revamp.
Just in time for a masks-off summer, this lipstick comes in more than 24 colors and lasts for up to eight hours.