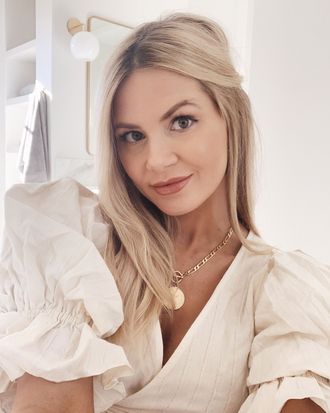 Photo: Courtesy of Amber Fillerup Clark
Amber Fillerup Clark is no stranger to melasma. Often called "the mask of pregnancy," the skin condition, usually triggered by hormonal changes or stress, produces brown patches on the face. The blogger behind Barefoot Blonde and Barefoot Blond Hair had such a serious case of eye melasma during her first two pregnancies that she would never leave the house without makeup. Now 38 weeks into her third pregnancy, Fillerup Clark has learned how to keep the condition at bay with help from an aesthetician.
"The thing about melasma is that anything that can help with the dark spots, you can't do while nursing or pregnant," she said. Ingredients like AHAs, BHAs, and retinoids are all on the 'not acceptable while pregnant' list. Instead, she searched for products that weren't harsh chemicals but would actually deliver results. Below, a look at the products that actually helped her skin, and why sun protection is ultimately the key to avoiding melasma.
The Exfoliating Masks
"Summer Fridays and Arcona are my favorite exfoliators. I recommend using either of these once or twice a week max. They are both gentle but effective. The Summer Fridays mask has pumpkin in it and smells like a pumpkin treat. It does a good job of clearing dead skin and moisturizing at the same time. It leaves your skin feeling smooth and bright. "
"This Arcona exfoliator smells so good and has been a favorite of mine for years. It has cranberry and raspberry in it! I love that is good for sensitive skin but really works to unclog my pores."
The Hydrating Masks
"I love to do masks to get extra hydration, especially after exfoliating. My skin always feels so glowy and dewy after I use the water sleeping mask. This mask feels like a light water-based gel, so I don't feel like it weighs my skin down but it hydrates so well. I like to apply this two to three times a week and sleep with it overnight. I like to exfoliate, put on a Vitamin C serum, and then use this mask as my moisturizer to lock everything in."
"This La Mer cream is not a mask, but it is pretty thick and creamy so I treat it like a mask cause it is too thick for me to use every day."
The Cleansers
"For my nighttime routine I always start with the Lancôme face wash. It is a foam cleanser so I feel like it cleans really well. It's just to make sure I get all of my makeup off."
"I follow up Lancôme with Caudalie cleansing water. I put a couple pumps on a cotton pad. I love how clean my face feels after using these two products."
The Toner
"This is another Arcona product that I have used and loved for years. After cleansing I use these as my toner. Again, they smell so good because they have cranberry in them. I rub this over my face to make sure all of my makeup it off, and it just makes my face feel extra clean. Toner levels out my skin PH and helps my skin stay clear. "
The Serums
"Melasma can cause discoloration and dark spots on the skin and the vitamin C serums help to combat pigmentation and leave you with more balanced skin tone. Remember to use this product in moderation and consult with your physician before using this."
"I heard about this product from a friend and have fallen in love with it. Not all hyaluronic acid products are safe for pregnancy so make sure you check before using a brand with this ingredient. I don't use this often, maybe two to three times a week. It helps hydrate your skin and reduces fine lines. You can use this every day but just because I am pregnant I don't want to do it too much. I try to stay on the safe side and limit use. If I wasn't pregnant, I would use it and a retinol every night."
The Moisturizer
"I use this around my eyes for moisture. It makes me look more awake in the mornings."
The Foundation
"This Laura Mercier foundation helped to cover melasma well. It is really full-coverage and gives you a dewy sheen. It isn't so thick to the point where it feels heavy but it covers what I need it to cover. It lasts all day and stays on even through my kids touching my face."
The SPF
"This is my must-have product for SPF protection. We all need to be protecting our skin no matter what, but it is especially important to help with melasma, because sun exposure can make it a lot worse. This sunscreen is an easy to apply mineral powder that comes out of the brush on the end. It is so easy to apply and doesn't make your skin greasy because it is the powder.
I keep these in my car, purse, stroller, so I never have a situation where I can't have one on hand. I love that you just need the one tube and it makes it easy to reapply throughout the day. I put it on in the morning and then whenever I will be in the sun for an extended period of time. Just brush over your face and neck and you are good to go.