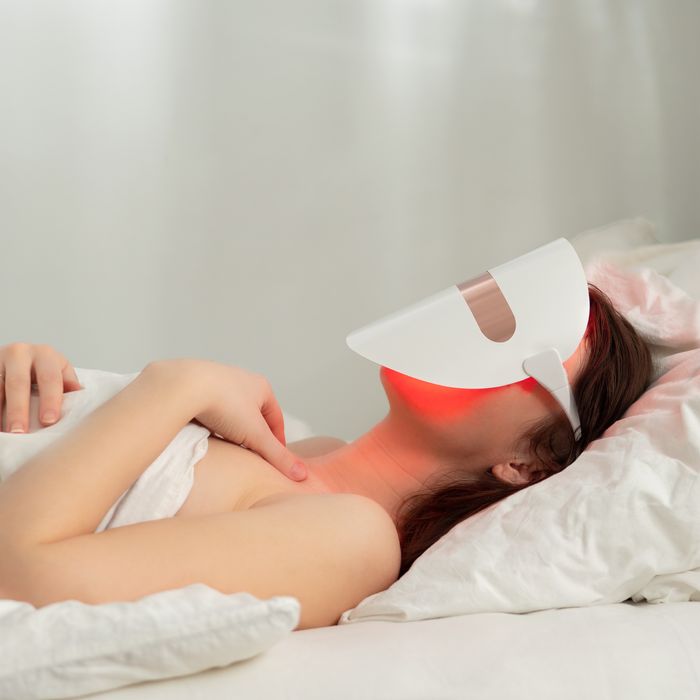 Photo: Getty Images/iStockphoto
I have a list of people I can't wait to have teary reunions with, and my facialist is definitely on there. But quarantine has made me a DIY-er, and if I can do my nails myself, I'm wondering what other expensive office treatment I can hack at home (while being totally safe — my appetite for daredevilry is subzero).
A lot of us adopted an array of at-home tools and devices during lockdown; most of these are versions of treatments performed by skin professionals. But how good are they, really? I talked to dermatologists, estheticians, and skin-care enthusiasts to find out if three of the most popular at-home technologies — microcurrent, LED, and microneedling a.k.a. dermarolling — are actually worth it.
Microcurrent Devices
How it works: Facial microcurrent devices send low-level electrical currents to stimulate the muscles under the skin. The tiny current mimics the body's own electrical impulses and charges cells by increasing their adenosine triphosphate (ATP) content. ATP is the energy "currency" that's responsible for creation of elastin and collagen, which keeps skin supple and plump. Microcurrent has been clinically proven to accelerate wound healing and stimulate facial muscles (it was first approved by the FDA to help patients with Bell's palsy, a condition that causes paralysis of the facial muscles).
DIY versus professionals: Professional microcurrent equipment used by estheticians is not necessarily higher powered, since microcurrent, by definition, is a low-level current. Pro equipment, however, does have other benefits. Professionals can adjust the depth of the current and deliver it more precisely, using wand tips rather than the fixed spheres of devices like NuFace and ZIIP.
What the pros say: In general, professionals recommend it if you're consistent and your expectations are not sky high. "A microcurrent [device] improves muscle tone and facial circulation, aids in lymphatic drainage, and enhances product penetration by using a low level of electrical current to stimulate the muscles underneath the skin," says Dr. Dendy Engelman, a board-certified dermatologist at the Shafer Clinic in New York. "You won't see results from this like you would from a professional treatment, but it will help to maintain results between appointments."
Estheticians also like the device to keep skin buoyant between facials. "One benefit of at-home devices is that they keep the lymphatic system healthier," says celebrity facialist Joanna Vargas. "They stimulate lymphatic drainage, just not as much as a professional treatment. However, if you use it regularly, it will help," she says.
What the addicts say: Makeup artist Nam Vo, a compulsive user of at-home devices, says it's not going to be a miracle. "You're not going to use the device and look like you're 15 again. I think it's preventative — if you're consistent over time, you're going to notice your muscles are tightened," she says.
"I thought it was a scam at first," says Charlotte Palermino, co-founder and CEO of skin-care brand Dieux, who says it took a solid four weeks of daily NuFace use to see subtle changes, which she noticed in pictures. "I noticed my under eye hollows were less pronounced and my cheeks looked just slightly more chiseled."
Hacking that gel: There's a whole subculture on the skin-care internet dedicated to hacking the conductive gels that come with these devices. The ones sold by the brands range from $129 for 2.7 ounces of Ziip's Golden Gel (they make more economical options, the cheapest being $50) to $14 for two ounces of NuFace's Hydrating Leave-On Gel Primer. You have to slather on a lot of gel for each treatment (Tera Peterson, NuFace's co-founder and a microcurrent esthetician, says to use as much as you would if you were icing a cake), so hacking a less expensive option to what is essentially ultrasound gel makes sense.
Ultrasound gel is, in fact, what a lot of people are using, but Peterson says that although it conducts the current, it has a goopy, inelegant texture. Aloe-vera gel is another popular substitute. Peterson's heard of some seriously crazy hacks. "People use oils, but oil blocks current, so that's a big no-no. I've also heard of [people using] K-Y jelly. It's not a 'if it looks like a pig, it is a pig' type situation. If it looks like gel, then [people think] it is conductor," she says.
Should you get one? Are you an industrious beauty user who will do these treatments diligently? You have to use these devices consistently to see results. According to Melanie Simon, the creator of Ziip and an electrical esthetician, cells are charged with ATP after a microcurrent treatment, but they cannot hold on to it for longer than about three days, no matter if the treatment is a professional one or done at home. Five minutes, five times a week is ideal for NuFace, while Simon says to use the Ziip two or three times a week.
This one's pretty to look at and has a ton of different programs and tutorials accessible via the Ziip app. Ziip also uses nanocurrents, which founder Melanie Simon says are even closer to the body's natural electrical impulses. Expect to devote two to three weeks to Ziip-ing thrice a week, and then you can vary the frequency between twice and thrice a week.
Photo: Retailer
This device needs five minutes of your day to tighten your face. Co-founder Tera Peterson multitasks with hers while watching TV or caffeinating. A nice plus is that it comes with optional attachments to target lines around the lips and eyes as well as one with a red LED light.
LED Masks
How the tech works: LED lights have been used for decades in medicine for a variety of reasons, including to heal wounds, help with arthritis symptoms, and alleviate the side effects of cancer treatments. In dermatology, they heal psoriatic lesions and scars, stimulate hair growth, and aid tissue repair.
LED therapy involves the use of light in specific wavelengths to stimulate receptors in the skin. "Just like topical ingredients, your skin cells have receptors for LED, allowing for the light to enter your cells and stimulate your skin's own production of collagen," says New York–based dermatologist Dr Dennis Gross. "They are a fantastic addition to any at-home skin-care regimen because it tackles so many skin-care concerns: fine lines and wrinkles, discoloration, inflammation, and acne, to name a few. One of my favorite recommendations is to use LED to target acne, because blue LED will never irritate or over dry the skin; it's a great way to get blemishes under control without causing further irritation," he says. The skin responds to each different wavelength or color in different ways. Red and near-infrared red (NIR) wavelengths have been the most widely studied and have the best effects on skin.
How to use it: In the past few years, a large number of companies have started making masks for home use, with LEDs of various colors embedded in them. Masks can be flexible or hard-bodied. Using one is as easy as putting it on and waiting anywhere from three to ten minutes for it to work. Some brands, like Omnilux and CurrentBody, make devices that target the neck, décolleté, and hands, too.
DIY versus professionals: A good mask, if it meets the wavelength criteria (below), is worth the investment.
What the pros say: In general, derms and estheticians are cheerleaders for LED technology. "LED has lots of research to support its effectiveness and it's deemed safe. It has not been shown to burn the skin or cause skin cancers, even with frequent usage," says Engelman. Vargas, who offers LED at her spas, approves of their clients using at-home LED masks between professional sessions. "It's healing and stimulating, and it's appropriate for all skin types and all skin tones," she says. She also encourages clients to use it when they travel.
What the addicts say: "LED, in my mind, is truly the gift that keeps giving. It helps with everything — cell turnover, healing, brightening, and stimulating collagen," says Vo. It also helps speed up the healing process after she gets lasers and microneedling. "I was also in an accident where I had second- and third-degree burns on my hand and back. LED has really helped to stimulate healing and aids overall health and skin renewal," she says.
Should you get one? Like microcurrent devices, LED masks will only work if they are used regularly. "Consistency is crucial. It must be used daily in order to achieve the effects of a single, monthly in-office LED treatment," Gross says. "If you commit to using the device daily, you will see improvements in fine lines and wrinkles, discoloration, radiance, and acne." Omnilux, a maker of medical-grade LED equipment, released the highly rated Contour mask, which is similar to CurrentBody's Skin LED Light Therapy Mask (both have red and NIR LEDs), while Dr. Dennis Gross Skincare's DRx SpectraLite FaceWare Pro is popular, too, with blue LEDs in addition to red and NIR.
Professional devices are configured to give out the precise wavelength of light for each color that will be best absorbed by the body, so get a mask that's the appropriate wavelength. For instance, red light is optimally absorbed by cells when its wavelength is exactly 633 nanometers, but anywhere between 630 to 660 nanometers is beneficial, while NIR is best between 820 to 840 nanometers, with 830 nanometers being the sweet spot. All the masks above are approximately in that ballpark. This post by blogger Goals to Get Glowing takes a deep dive into LED technology and compares several masks.
This flexible LED-studded mask combines red and near-infrared, the light wavelengths that have been proven to have the greatest effect on the skin. The treatment time is just ten minutes, so the multitasking potential is high.
This hard-bodied, handsome devil can get you there quicker. In just three minutes, a trinity of blue, red, and near-infrared LEDs target signs of aging as well as acne. It could also double up as a sculptural décor feature of the post-pandemic era.
Omnilux recently started making beauty equipment, leveraging on their history as a medical-grade LED equipment manufacturer. The Contour Face mask, outfitted with red and near-infrared LEDs, is backordered till the end of April but promises to be worth the wait.
Microneedling and Dermarolling
How the tech works: Microneedling or collagen-induction therapy works on the premise that causing small, deliberate injuries (using sterile needles) to the skin can stimulate it to pump out more collagen in order to heal those wounds. Many laser therapies, like Fraxel, work on similar lines by triggering the body's natural healing process. For microneedling, a group of needles are punched into or rolled on the face (using a dermaroller). Microneedling is said to help with acne scarring and hyperpigmentation, and results in smooth, glowing skin. It's also said to help skin-care products penetrate better, making them more effective. Home rollers aren't too painful, but topical anesthetics are typically applied before professional microneedling.
DIY versus professionals: The main difference is in the size of needles — those for home use are much shorter than those deployed by estheticians or dermatologists for in-office procedures. "The at-home ones don't pierce the skin as deeply as the medical grade devices. The depth of the penetration can be controlled by a professional, wherein they can use needles that are longer, ones that are 0.25 to 2.5 millimeters," says Engelman.
That's a big reason why derms think at-home microneedling devices don't work as well as expected when it comes to pumping out collagen and resurfacing the pits caused by acne scars. "At-home needles aren't strong enough to penetrate into the deep layers of the skin and stimulate collagen production, which is the primary goal in-office. It's unlikely consumers will experience drastic changes to their acne scars versus what an in-office treatment would offer," says Gross. He also points out that it's key for this procedure to be performed by a trained professional who caters the device to individual skin types and watches the skin's reaction in real time in order to adjust as needed.
For Dr Lara Devgan, a New York–based plastic surgeon, the degree at which needles are positioned in the roller form is cause for concern. "Needles should penetrate the skin vertically to minimize surface level trauma and the potential for scarring. When needles are in a roller conformation, they penetrate the dermis at an angle, which means they cause more superficial skin injury and have a greater risk of scarring. In-office microneedling treatments use a vertical vector of penetration to avoid this," she says.
What the pros say: The biggest cause of concern for most derms is the sterility of the needles. "I don't love the idea of at home microneedling. Any treatment that breaks the skin can cause infection, tissue injury, scarring, and textural irregularities. For this reason, it's most appropriate to do procedures like this in a clinical setting where sterilization procedures and dermal integrity can be most respected," says Devgan. Gross, too, would prefer you leave this to trained professionals. "In my experience, I've seen more people come into my office looking to repair damage done from at-home microneedling or dermarolling versus success stories. If consumers push too heavily on the needles or do not properly cleanse the device, they can end up with tears in the skin and breakouts that can severely damage the skin," he says.
What the addicts say: Vo thinks microneedling is good for everything from pigmentation issues and boosting collagen to renewing the skin. However, she says she prefers to have it done at a salon. "It's a little more intense, so I feel more comfortable getting it professionally done. I use rollers at home, and they still renew my skin. But I prefer to go more hardcore," she says. Vo thinks her home sessions make her serums penetrate deeper, but when she goes professional, she really sees scars and other issues go away.
Should you get one? Probably not right now. As things stand, devices that only penetrate through the stratum corneum, or outermost layers of skin, don't require FDA clearance. And since most at-home devices are not FDA-cleared, that means they only affect the stratum corneum, so the more tangible benefits, like acne-scar reduction, might be out of reach. But if anecdotal evidence from Vo and other dermarolling devotees is enough to convince you, just make sure to sterilize the living bejesus out of your device and don't apply too much pressure.
In conclusion, follow the science. The most effective technologies out there are the ones that have serious research behind them. If the modality you pick needs FDA clearance, make sure the brand you buy has that in place. And if you're ever in doubt, defer to a professional. It's tempting to bypass the middleman, but there are some things that only a zillion years of medical school and hands-on training can achieve.