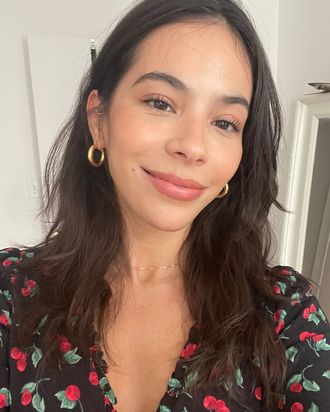 Photo: Courtesy of Andrea Córdova
Want more skin care? Join the Beauty Group on Facebook.
It all started with a spider bite. Andrea Córdova, a literary publicist at Penguin Random House, was prescribed a steroid cream and started getting rashes, hundreds of angry red bumps that itched so much they affected her sleep.
Córdova turned to Reddit and other internet message boards, where she discovered she had developed POD (perioral dermatitis) from the cream. "It was amazing and infuriating how little attention this skin condition gets, seeing how many people suffer from it," she said.
The publicist began to try out every product, oil, serum, and supplement people said had worked for their POD. Some were successful; some (like apple-cider vinegar and tea-tree oil) were not. Eventually, she found what works for her: avoiding topical steroids, steering clear of fluoride in dental products, removing products with sodium lauryl sulfate (SLS) from the rotation, and eliminating other known irritants like essential oils and other fragrances (like citral, linalool, and geraniol). Hydrating and anti-inflammatory ingredients are key.
Below, a detailed look at how Córdova keeps her POD at bay, including a $10 retinol, the antioxidant serum she uses instead of vitamin C, and the cleanser she has used for years.
Morning
The Cleanser
"It's not the most glamorous cleanser, but when I was deep-diving for POD relief, this cleanser was the most mentioned. It's like the Canadian equivalent to Cetaphil, minus the parabens. When you go to reviews, the most used term is perioral dermatitis. I really believe this product has done the most to keep my POD at bay — spending four years together with this cleanser makes this the longest relationship I've ever had. Whenever I've tried to switch to other cleansers, I notice that bumps start to appear. It is magic. I rinse with it for at least one minute."
The Toner
"I use this toner if I'm going to wear makeup or if I'm going to use an exfoliating serum. It's gentle with soothing properties like colloidal oatmeal, wild oats, and honey. I use a cotton pad to apply it since the consistency is pretty thick. My skin feels clean and not stripped after using it."
"If I'm focusing on hydration or my skin barrier, I use this toner. It's extremely gentle with polyhydroxy acid (PHA). There is no burn, it doesn't strip my skin of its natural oils, and my face isn't red after. The combination of gluconolactone and aloe leaves a great canvas to layer serums, too."
The Antibiotic
"This was prescribed by my doctor, Dr. Rebecca Kleinerman on the Upper East Side, who is one of the very few dermatologists who mention treating POD on their sites. I try only to apply this when I see bumps or redness. Within a day or two, it disappears."
The Serums
"I was super-late to hop on the Paula's Choice train, but it's an amazing brand. Flaxseed, chia seed, olive oil, squalane, and ceramides make this the ultimate skin-barrier builder, so I use it morning and night."
"Vitamin C irritates my skin. I didn't want it to be true because it's a staple, but I noticed that when I stopped using vitamin C, my skin was less irritated. I was also using a high-dosage amount — around 15 to 20 percent.
"Antioxidants are extremely important in a skin-care routine because they protect the skin against environmental stressors — and living in New York, there are a lot. I decided to go with this serum because of the amount of the study-backed natural ingredients, such as goji berry, açai, elderberry, and licorice (great for hyperpigmentation). It makes my skin plump and preps it for sunscreen."
"For two months, I used only this serum and my prescription cream, and it healed my barrier completely. It's not the cheapest serum, so now I only use this if I notice redness or irritation."
The Spot Treatment
"Another message-board-vetted product. Amazon reviews are divided between actual use on babies and treatment for POD. Calendula is a natural oil that contains anti-bacterial, anti-inflammatory, and anti-fungal properties. This is enormously helpful when I have a spot. Note that there was a formula change a year or so ago, so there may be additives now. Another option is any diaper-rash cream with zinc oxide in it — the zinc oxide helps with acne and soothes skin."
The Repairing Balm
The Sunscreen
"Another recommendation from my amazing dermatologist, Dr. Kleinerman. Again, it has the trinity of POD-fighting ingredients: zinc oxide, niacinamide, and sodium hyaluronate. It melts into your skin so easily and seamlessly that it doesn't even feel like sunscreen."
The Mist
"If I start to feel a burning or tingling sensation creeping on my skin, I give my skin a nice spray of this mineral water."
Nighttime
The Cleansing Oil
"I double cleanse only if I wore makeup or if my face is feeling particularly dirty because I try to not overwash my skin. I first go in with DHC Cleansing Oil. I picked this up in Japan, and it is incredibly nourishing. It gets all the makeup, dirt, gunk, and general nastiness that comes with living in the city. The second cleanse is my good ol' Spectro Jel (see above)."
The Retinol
Photo: Courtesy of the Inkey List
"I use retinol only once a week. It's been working really well, but I think using it more than once a week with a skin condition might be too much."
"This product is relatively new, and I was nervous to try it out. But with its 10 percent lactic acid and 11 kinds of peptides, I knew this would be a powerful anti-aging serum. Lactic acid is also one of the more gentle exfoliants for the skin. It brightens, cleanses, and works against hyperpigmentation. It does make my skin tingle, but I haven't noticed any irritation after. The effect on my skin is noticeable the next day; it's firmer and brighter."
The Moisturizer
"I feel bad for splurging on this, but then again, I don't. It's my hard-earned money. Plus, it delivers. You only need one pump to cover your entire face. POD changes your skin forever: the texture, the skin barrier. My skin is dry and reactive. This moisturizer lasts forever, and I only use it on nights that I use a retinol. There is no dimethicone, and if you run the ingredients on skincarisma.com (a lifesaver if you want to understand what ingredients you are putting on your face), it checks out. I honestly think this is my strongest anti-aging product. I don't know what wizardry is inside this, but I'm 29 years old, grew up in South Florida spending decades in the sun without sunscreen, and I don't have a single wrinkle. This also is the only moisturizer I've gone to sleep with and woken up with no dryness."
The Anti-Inflammatory Tea
"I've been drinking this amazing tea since I was 23. It's another thing I discovered on the internet when I was trying to find cures for hormonal acne. I was surprised to see tea being reviewed on Acne.org. I bought it and haven't turned back. I drink two cups a day, every single day, and it helps with my hormonal acne. It contains rooibos, hibiscus, red clover, and more antioxidants that help internally with inflammation."