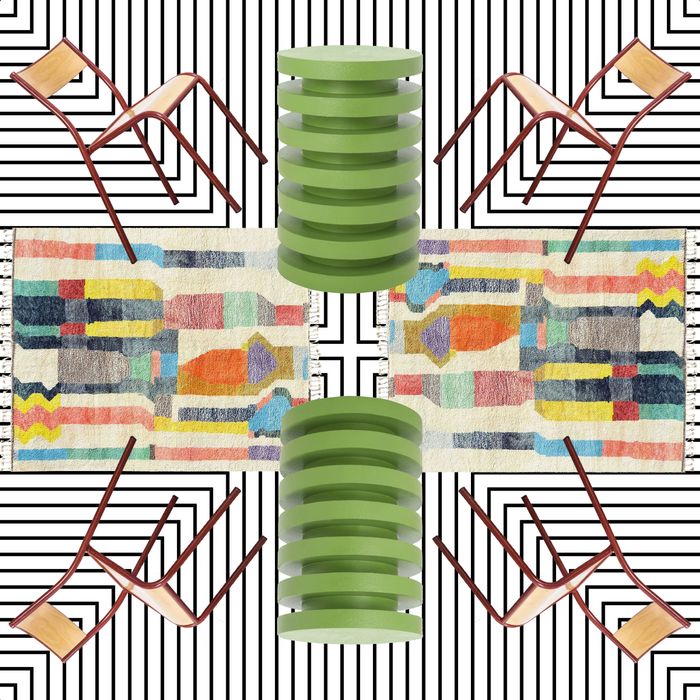 Photo-Illustration: by The Cut; Photos: Retailers
For more of the Cut's favorite fashion, beauty, and home finds, sign up for the weekly Cut Shop Newsletter.
As much as Instagram can be a wellspring of inspiration, there is a certain (and inevitable) point at which it also becomes an arbiter of sameness. We started seeing this happen with fashion trends throughout the mid- to late 2010s (off-the-shoulder tops, fur-lined Gucci loafers, ridiculously small sunglasses, prairie dresses). Now, because of copious amounts of time spent inside during the early stages of the pandemic, we're seeing the same thing happen with home-décor trends (Togo sofas, Cesca dining chairs, mushroom lamps, etc.).
It's an interesting phenomenon to observe in any context but especially with home décor, which has a greater sense of permanence than the average outfit. The resulting ubiquity can feel almost eerie at times, as if we were living in a Sims-style video game in which there are only a limited number of preset options for appointing millennial living spaces. I think that's why I have an increasing appreciation for home aesthetics that feel less intentional and a bit more random. There is nothing chic-er to me than a home that sports a collection of very particular things that have been owned and loved for a very long time — whether by the current owner or someone else.
There are many possible paths to cultivating that kind of space — some more happenstance, like incorporating hand-me-down décor from friends or relatives, and others more deliberate, like sourcing one-of-a-kind vintage pieces or off-kilter finds from around the internet.
To get you started on the latter front, below is a list of recommended alternatives to some of the biggest Instagram home-décor trends I've watched crescendo over the past couple of years. (Of course, don't fret if you have one of the items I'm suggesting a replacement for. There's a reason they are or were trending in the first place, and that reason is probably because they look really cool. As long as the trendy item is styled with an assortment of other personal things, it can absolutely work in a way that still feels unique to you). Okay? Okay! Disclaimer over. Scroll on, beloveds.
Instead of a tiled-cube side table
Consider a rippled-edge side table
Writer Sydney Gore was asking the right questions when she wrote a piece for The Strategist last summer entitled "Why Are Tiled-Cube Tables Suddenly Everywhere?" Naturally, the answer lies in some part with Instagram's recent penchant for pastel-colored playfulness — as infectious as a belly laugh. Instead, I would search for ripple- or bubble-edge side tables. They scratch the same fun, oversize objet itch but feel softer and more sculptural thanks to their more rounded edges.
Instead of a boob vase
Consider a fish vase
I think I could write an additional 1,000 words just about the fact that every other vase these days seems to have a pair of areolas. For the record, I am a fan, but I also think it's nice to have an equally irreverent but still PG-rated option for when your dad is paying you a visit — like, say, a whimsical fish-shaped vase.
Instead of Murano glasses
Consider coin-spot glasses
Murano-glass tumblers have been all the rage these days, particularly the speckled-confetti styles. For an equally colorful and cheerful alternative, I'm really into coin-spot tumblers. A lot of the vintage sets online come with a matching pitcher (so precious!). They're fuddy-duddy in the best way, like something you borrowed from your grandmother and never gave back.
Instead of a checkered Berber rug
Consider an abstract Beni Ourain rug
As much as trends can start to become kind of cringe at their peak, there's something special about the rare times when you discover one that actually speaks to your personal style and that you deliberately choose to hold on to even when its place in the Zeitgeist starts to dip. Checkerboard rugs (and checkerboard home décor in general) falls into that bucket for me. I'm not sick of it yet, and I don't know if and when I ever will be. But if you are, which is completely justifiable, consider an abstract patterned Beni Ourain rug.
For context, many of the checkered rugs you've probably seen on Instagram are Berber rugs from Morocco (or are inspired by them). ​​The three most famous categories of berber rugs are the Beni Ourain, made of high wool, the Boucharouette, made of recycled fabrics, and the Azilal, typically made of wool and cotton. Beni Ourain rugs are considered the best because their designs are typically one of a kind and made from the highest-quality wool. There are thousands of beautiful abstract-patterned Beni Ourain rugs on Etsy that I wholeheartedly recommend surfing through.
Instead of a Togo sofa
Consider a modular floor sofa
Michel Ducaroy designed the iconic Togo sofa in 1973, and it's still in production today — a truly impressive feat, and again, I definitely understand the appeal (grown-up beanbag vibes!). But thanks to Instagram, they've become so ubiquitous they're starting to give me the same feeling I get when I eat too much sour candy: "This is delicious, but I need to taste something different now, please!"
If you're in the same boat and you're shopping for a sofa, modular floor sofas are a great alternative. Like Togo sofas, they have an element of "cozy futon" but with a little more structure, and there are so many different shapes, configurations, and colors out there that you can put together something really distinctive.
Instead of a mushroom lamp
Consider a Sicilian pigna lamp
I totally get the mushroom-lamp frenzy. Mushrooms are adorable, and mushrooms that illuminate your room with a warm glow are perhaps even more so. But if you're feeling mushroomed out and in the mood for something a little different, check out Sicilian pigna lamps on Etsy and eBay. They're pine-cone shaped (pigna means pinecone in Italian) and, like mushroom lamps, come in a wide array of ceramic colors, but their vibe is more Italian villa than teen bedroom.
Instead of Cesca dining chairs
Consider French Mullca stacking chairs
Marcel Breuer's famous cantilever chairs with chrome armrests and caned backs are another iconic style — there's even one displayed at the Museum of Art in New York. For something different that has the same "neutral but still interesting" effect, consider a set of French Mullca stacking chairs. These were originally designed in the 1940s as school chairs in France and feature charming tubular frames with wooden seats. Best of all, they are stackable, perfect for clearing out of the way when you're having a party in a small apartment.