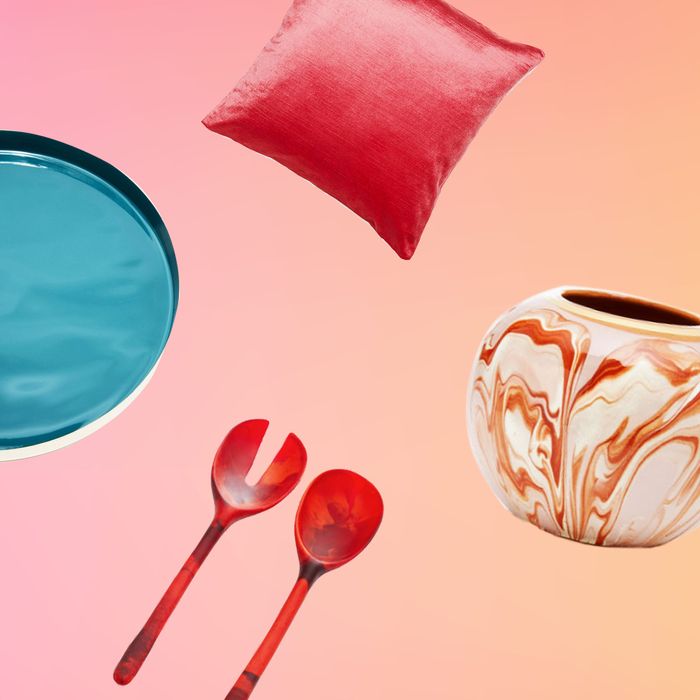 Pretty Things: A week dedicated to beautiful objects.
Transforming an apartment into what design people call "a space" requires some effort, especially when you're not looking to spend tons of money. But the reward is well worth it. The trick? Finding affordable accents like iridescent plates, tiny glassware that could be plucked from a charming Parisian café, or deceptively real faux flowers. Find out where to buy all of those, plus more of our favorite apartment-decorating ideas, ahead.
Reviewer's love Safavieh's shaggy rug, especially in the classic white shade, but why not try of-the-moment melodramatic purple? Not only will it hide dirt better, it'll serve as a colorful focal point in your space.
Delicate, Multipurpose Containers
In colors like green and pink, these tiny canisters can store cotton pads or jewelry, or even act as tea lights.
Realistic-Looking Faux Flowers
Can't keep a plant alive? Get a fake one that looks just as good. If you're not into cherry blossoms, Urban Outfitters has an entire collection of other greenery that might suit your taste.
Don't want to spend a lot to spruce up your place? Try these affordable throw-pillow covers, which come in an array of expensive-looking jewel tones. If you need the pillows too, they're $7 each.
Restaurant-Worthy Platters
Lately, it seems like all of the trendiest restaurants are using the same soft-colored, perfectly imperfect plates. To bring that look home, try these guys in shades of purple, rust red, robin's-egg blue, and more.
Conversely, if you want something that has a bit more flash, try dishware with a luminous glaze. These holographic plates are cooler than your standard minimalist table settings, but still sophisticated.
Glassware Like a French Girl
Use these for wine, water, or orange juice while pretending you're sitting at a bistro in the Marais.
Photo: Mattia Aquila/Copyright: Mattia Aquila
All the charm of something you found at a yard sale, but with the modern convenience of being dishwasher-safe.
An Expensive-Looking Lamp
The perfect size for a side table or a desk, this lamp gets praise for its elegant design and affordable price tag.
Another Expensive-Looking Lamp
This one doesn't have as many reviews, but if you're into clean, light-filled spaces with touches of texture, it will fit in perfectly.
At night, it'll set the mood, while in the daylight, it'll serve as stunning tabletop décor.
Made in Morocco in limited quantities, these tiny vases would look equally nice empty or with a few sprigs of flowers.
A Durable and Eye-Catching Tray
We've been big fans of this company's substantial brass-and-enamel trays and bowls for years now. They come in rich colors like peacock blue or deep red, which really liven up a space — even if you only buy one.
Look closely among the flowers and you'll see that artist Ted Feighan has inserted vintage images of surfers, beachgoers, and camera-toting hikers — very Freakebana.
A Millenial-Pink Bowl Set
Sure, you can use them to whip up a fancy-looking cake, but they're just as good for showcasing salads, pastas, or even popcorn.
Pale-pink sand and frothy white waves make for an unabashedly pretty wall hanging.
Australia's Dinosaur Designs makes colorful resin pieces ranging from bowls to platters to ornaments. Most are quite expensive, but these salad servers offer maximum visual impact at a slightly lower price.
Street-style star J.J. Martin isn't afraid of a colorful print, and it's no surprise that her home line is equally maximalist. Try these place mats when you've become bored of your minimal-yet-tasteful plates.
A crisp white bed can be inviting to some, sterile to others. If you're in the latter group, try this embroidered duvet. It adds texture and a homey feeling without being too jarring against a light-colored sheet set.
If you buy something through our links, New York may earn an affiliate commission.