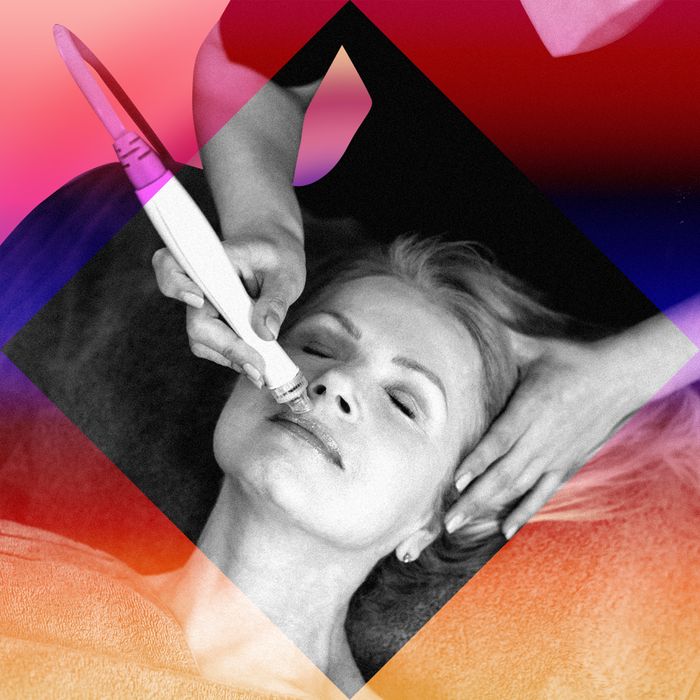 Photo-Illustration: by The Cut; Photo: Getty Images
This column first ran in Valerie Monroe's newsletter, How Not to F*ck Up Your Face, which you can subscribe to on Substack.
You've probably heard by now about the "Bold Glamour" TikTok filter, which contours your face, lifts your brows, plumps your lips, and zhuzhes you up in red-carpet-style makeup. I recently tried it — with alarming results. According to a story from an MIT Technology Review newsletter, The Technocrat, the "Bold Glamour" filter has been used more than 16 million times since its release. As pointed out in the story, the aesthetic is impressive (which doesn't necessarily mean flattering), but the most remarkable thing about it is that it doesn't glitch, as other filters can, when you move. In other words, it's nearly impossible to tell that the face you're looking at isn't real.
There are obvious reasons to be wary, if not scared, of the advanced technology the filter uses — among them its effect on the mental health of young girls, who are most vulnerable to the deleterious standards of an unattainable, racist, and classist beauty culture.
Another MIT Technology Review story reports subtler problems having to do with the use of AI in beauty culture, particularly in ways we're likely unaware of.
For example, maybe you didn't know that Microsoft backed a "robot beauty pageant" in 2016, which challenged entrants to develop the best AI to determine attractiveness. In March 2020, TikTok's parent company, ByteDance, came under criticism for a memo, reported by Business Insider,  that instructed content moderators to suppress videos that displayed, among other things, "ugly facial looks," people who were "chubby," those with "a disformatted face" or "lack of front teeth," and "senior people with too many wrinkles." And in 2018, Twitter released an auto-cropping tool for photographs that appeared to prioritize white people, which, when tested on images of Barack Obama and Mitch McConnell, consistently cropped out the former president.
Obviously, the effects of this kind of manipulation are troubling.
In our corner of the store, it seems the opportunities to feel crappy about the way we look are becoming increasingly available — and dangerous — as filters become harder to detect. My best advice for now: Look away! Look away!
Continuing the thread of precarious beauty issues, a reader question.
Q: My facialist has recommended a series of treatments using a Jet Plasma pen. I'm tempted because she assures me it will make a noticeable difference in improving the crepey skin on my neck and otherwise rejuvenate my 53-year-old face. It's not cheap: She recommends eight treatments at $2,000. I've done some research online and have found mostly good things — but I'd love your expert opinion on whether this treatment is effective and/or worth the cost!
A: First, thank you for bringing the Jet Plasma pen to my attention. You remind me that — as someone famously said — the more I know, the more I know I don't know.
As far as my expert opinion goes: I don't have one. But something about your question activated my spidey senses. So I emailed HNTFUYF superhero (and DermDiva) Heidi Waldorf.
"It's concerning that you're not seeing a doctor for a plasma-pen treatment," says Waldorf. Why? In a word (a delicious one): electrofulguration. "The tip of the plasma pen is held just above the skin to pass an electric arc of current, which causes more superficial damage than [safer, but less delicious-sounding] electrodesiccation, where the device tip actually touches the skin," Waldorf explains.
These forms of electrosurgery have been used since the 1920s. (Fun fact: Another name for the device is a "bovie," as a neurosurgeon named William Bovie was the first to use it.) Both forms can be used for hemostasis (to control bleeding during surgery) or ablation (to destroy skin tags and seborrheic keratoses).
Plasma pens are marketed for skin tightening, particularly around the eyes, says Waldorf. Although there are people in aesthetic medicine and surgery who like to use them, the procedures are controversial. In fact, these devices were recalled in Canada in 2018, citing safety concerns. Though electrofulguration can trigger skin tightening when the micro-injuries to the skin stimulate collagen regeneration, there are risks associated with variability in treatment, says Waldorf. So … yikes: The use of too much electric current and/or current applied too close to or on the skin will cause a burn with subsequent risk of scarring, infection, and hyperpigmentation. When used on the eyelids, there's also the risk of blindness. Particularly relevant to you, dear reader, the risk of scarring is even higher on the neck than the face due to fewer sebaceous glands and hair follicles.
Rather than plunking down $2,000 for a treatment that could leave you needing more treatment, Waldorf suggests you consult with a board-certified dermatologist. Surgical-specialty residency programs include practicing the effective use of electrosurgery.
Valerie Monroe was beauty director at O, The Oprah Magazine, where she wrote the monthly "Ask Val" column for nearly 16 years. Now she writes the weekly newsletter How Not to F*ck Up Your Face. Her goal continues to be to shift our thinking in the beauty arena from self-criticism to self-compassion and to learn how to be loving witnesses to ourselves and one another as we age.